Cricut's bundle deals are always BIG savings. If you've had your eye on a Cricut Joy the time is now to buy!
The Cricut Joy's compact and stylish design make it easy to store on a shelve or in a cupboard and pull it out when you need it. It cuts over 50 types of material including vinyl, paper, iron-on, cardstock, and more. You can cut large pieces up to 4 ft or repeat cuts up to 20 ft. Great for making tags, signs, bookmarks, or whatever your creative heart can think of. This is great for making custom vinyl labels for your kids items for school, your lunch at work, and more.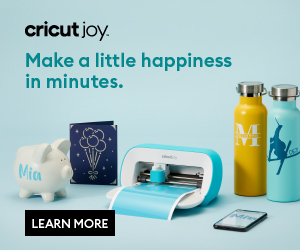 It can draw any shape and writes in different styles. If you already have a Cricut Maker or Cricut Explore Air 2, this little machine makes a great addition.
So the Cricut Joy usually runs for $179.99 by itself but you can check out the amazing Cricut Joy Bundle deals to get more bang for your buck right now.
Get this Cricut Joy Label Maker Bundle or this Cricut Joy Insert Card Bundle for only $199.99. You get the machine and the materials you need to get started with each one! Cricut also now has payment options with Affirm.
While you're there, check out the deals on the Cricut Easy Press too. So when you cut out those iron-on designs you can easily transfer it to your surface.
Cricut items make great gifts too. Valentine's Day is coming up. There is a note on the site though that due to unusually high demand and shipping delays due to COVID that orders are taking about 2 weeks. So if you're you're thinking about it for a Valentine's gift you're gonna want to order pronto!
This post does contain affiliate links. I will earn a commission from sales made through my links.