We received complimentary tickets as part of the Pittsburgh Kids Guide. 
There are times that you try something out for the first time and it's just not what you thought it would be. Then there are other times you try something new out and you wonder when you'll be able to do it again.  Pittsburgh Mills Sky Trail is one of those experiences.
Located in the Pittsburgh Mills Mall, Pittsburgh Mills Sky Trail is a 32-foot tall, 2 level ropes course complete with 30 exciting elements including zig-zag beams, cargo nets, angled rope ladders, crisscross walks and more. Participants choose their own path through the elements and go at their own pace. The ropes course is also equipped with a Sky Rail zip line connection measuring 69′ long. Participants soar down the length of the ropes course on a self guided zipping experience and are able to enjoy it's thrills over and over. For young adventurers, there's a specially designed Sky Tykes ropes course for kids ages 2-7.
We went on Halloween, October 31. I really didn't know what to expect. Would it be super busy? Will it be worth the drive from Johnstown? Will all the kids be able to get the same enjoyment out of it? Valid question considering my 4  kids range from 2 years to 13 years old. When we arrived we found it right next to the food court.  It was quite an impressive set up considering it was in a mall.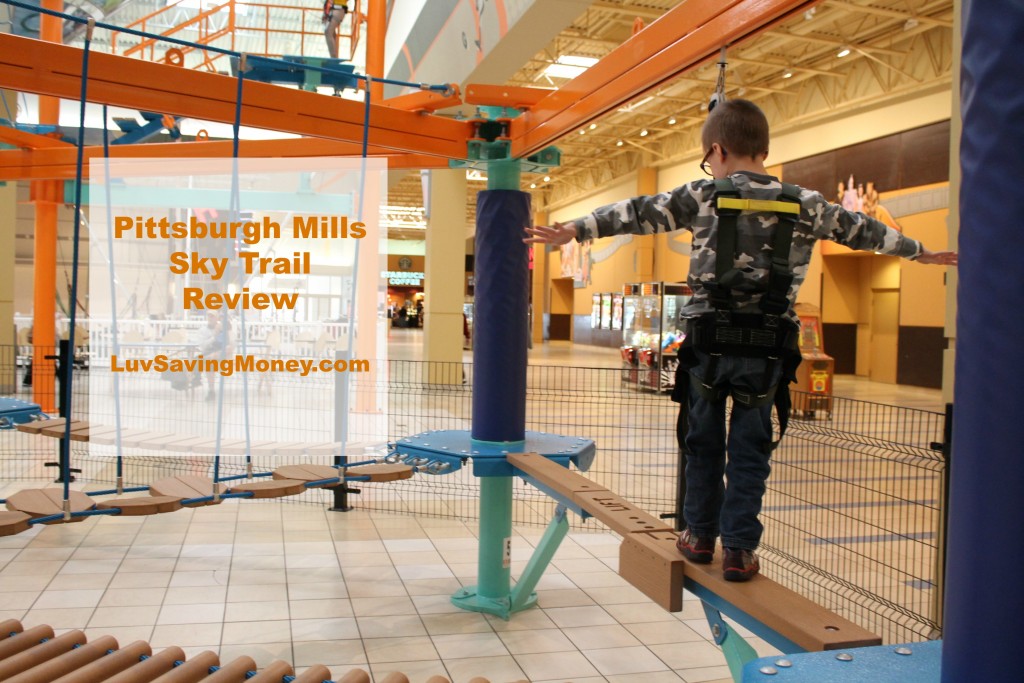 It says it's fun for ages 2-102. The staff gave us a friendly greeting.  They got all 4 of my kids lined up and fitted with the proper size harnesses.  They went over the safety rules with us. The boys were ready to jump into the big kids Sky Trail while my daughter was anxious to try out the Sky Tykes.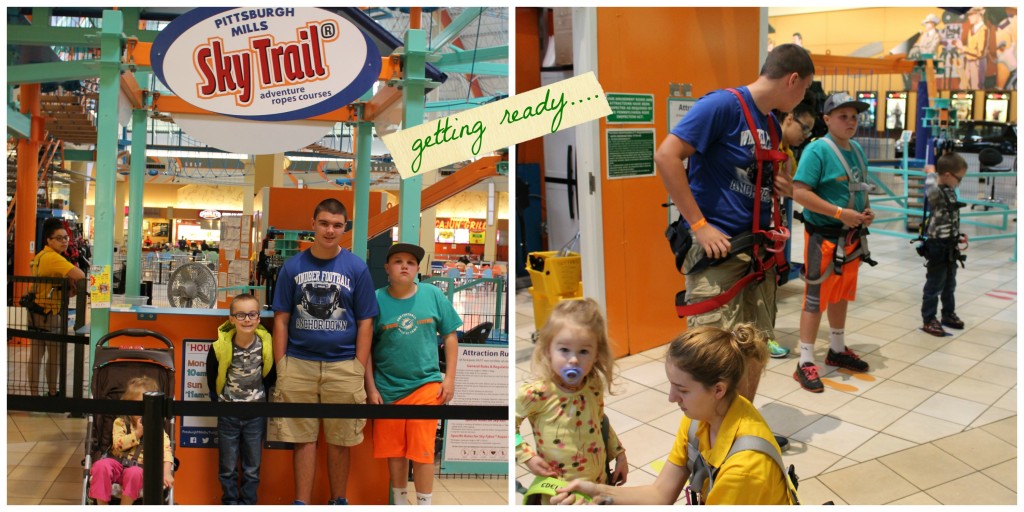 My 6 year old was right in the middle where he could have done the big kids Sky Trail or use the Sky Tykes area.  He jumped right into the Sky Trail.  All 3 of the boys started on the Sky Trail while I took my 2 year old daughter over to the Sky Tykes area.  She wanted to climb but she was a little bit nervous. It didn't stop her though.  Most of the time she wanted mommy to hold her hand.
The nice part is the harnesses are fitted to each person.  They are hooked up to tethers that slide along the bars. They never detach except manually to go on the zip line but they had another staff member assisting people with that.  I'm a nervous Nelly but I had very little concerns with my kids climbing around over my head 12-18 feet in the air. Even if they would lose their footing, they weren't going anywhere. There were plenty of staff there to help too.
My 6 year old ended up getting cold feet on the big kids trails so he came down and decided to try the Sky Tykes area.  After playing on that area for a bit he decided he was ready to go back on the grown up area.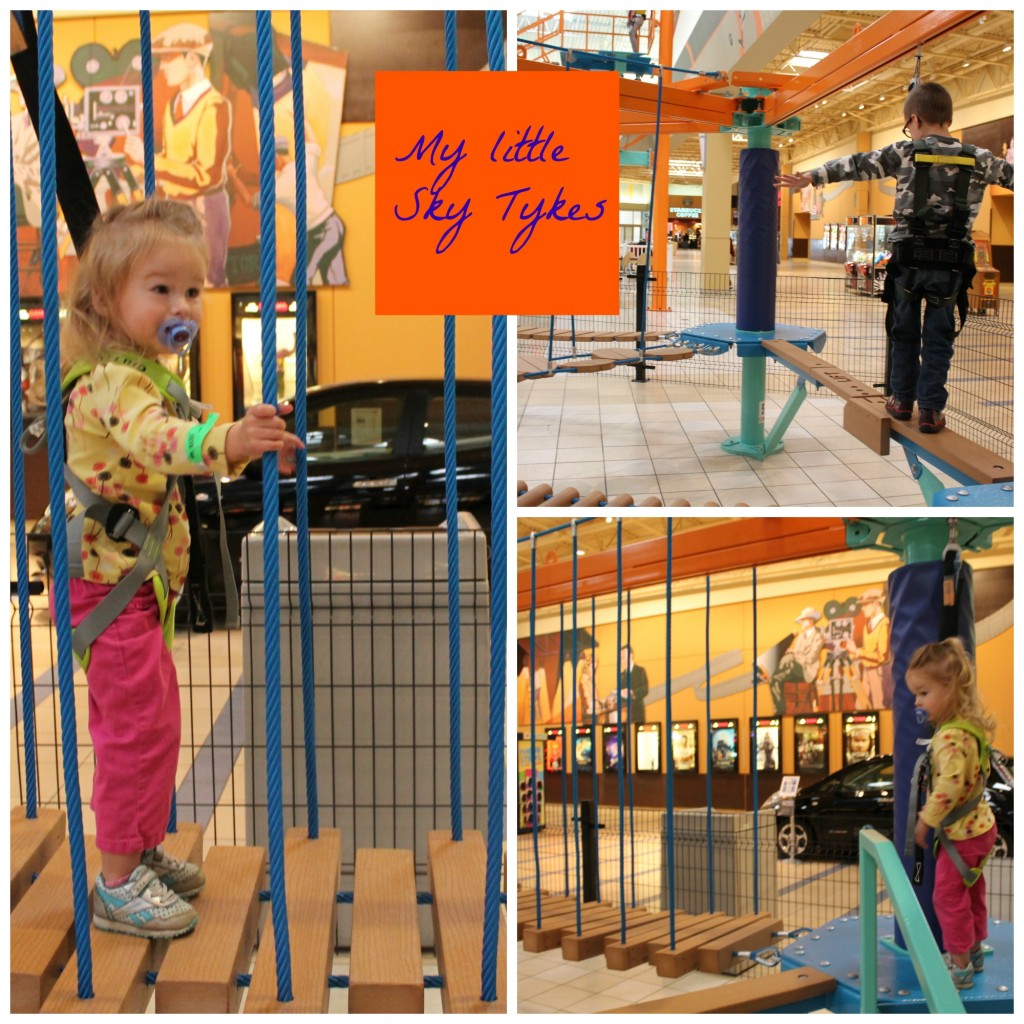 That practice on the Sky Tykes area must have been just what my 6 year old needed because he was almost keeping pace with his big brothers, 11 and 13 years old respectively.  Almost, my older boys had no fear what so ever.  I kinda wish I would have tried it myself.  But I had the opportunity to talk to the assistant manager and other staff and get some great pictures.  I can't say enough about how friendly and helpful the staff were.  Everyone had a great time.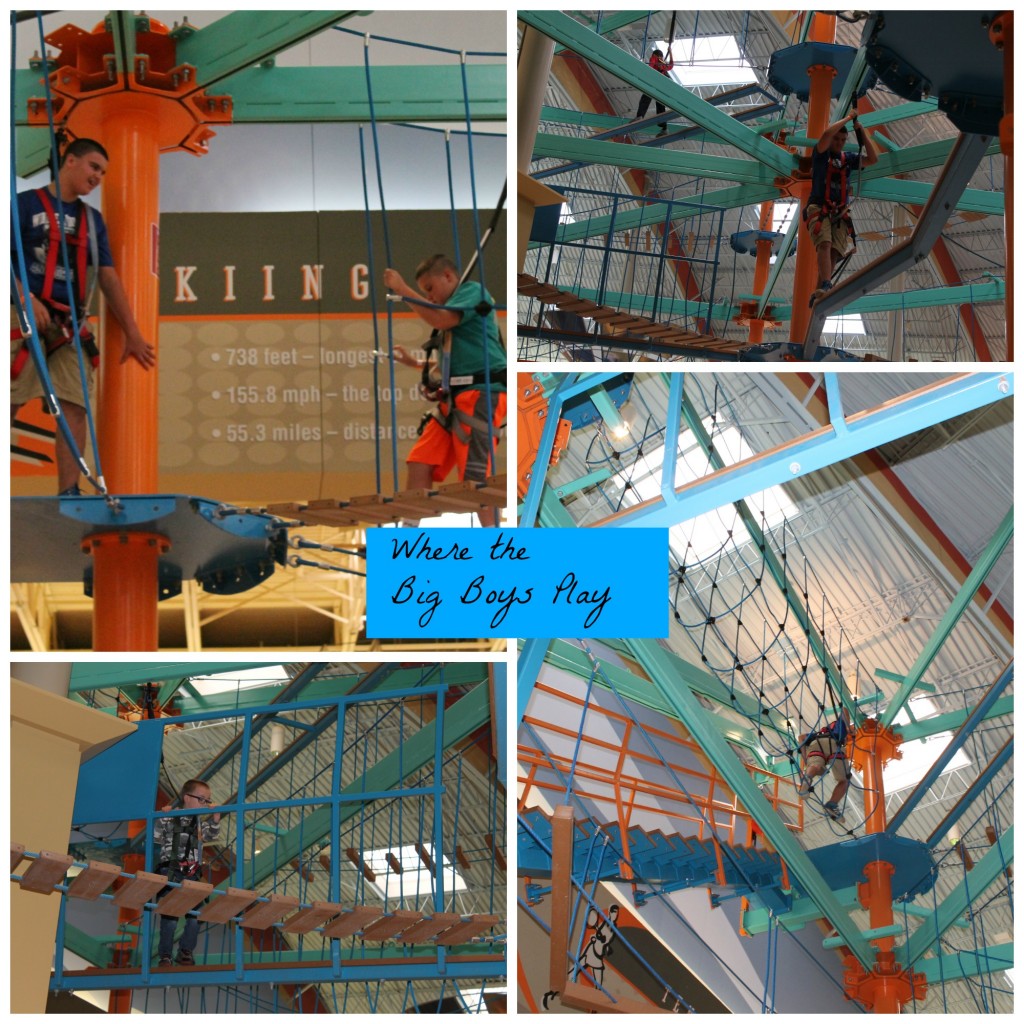 This would be a great activity to jump in the car on a runny or cold winter day and get your kids active.  Break the boredom and try this place out. Seriously fun for the whole family.  Save your self some money too with a coupon from the Pittsburgh Kids Guide!  It's $14 for those 48″ or taller and $7 for those under 48″ tall.
Be sure to stop by Pittsburgh Mills Sky Trail facebook page too tell them Luv Saving Money sent ya!
I'll leave you with a clip of my 11 year old doing the zip line section of the Sky Trail: