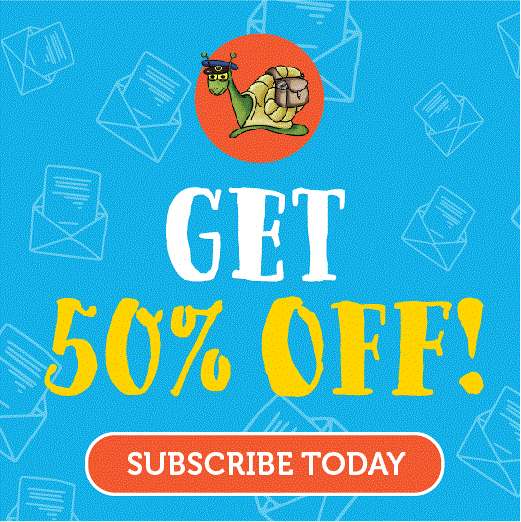 Kids love getting stuff in the mail. I know mine do. Snail Mail for Kids is a new opportunity for them to get something fun and personalized through the mail.
Snail Mail for kids will send your kids a personalized letter once a week. You can choose monthly, 3 month or 6 month plans. You kids or grand kids will receive letters personalized to them with fun things included like stickers, trading cards, souvenirs, and more.
I know my kids would be coming home from school going "Did my snail mail come in yet?" Everyone likes getting something fun in the mail right? Hmm maybe they should make this for adults too lol
I was surprised to see how affordable it was to get weekly mailings. You can get your first box for 50% off!
My question personally was, ok I have 2 kids that would enjoy this I guess I'd have to pay for 2 subscriptions. NOPE it actually says that if you have 2 children it says they can include 2 kids and 2 enclosures at no additional cost. I think that's awesome. If you have more than 2 kids you can have the letters addressed to the entire family. IE The Smith Family. That's awesome. As a mom of 4, so often I've had to pass on things because I just couldn't afford to do it for everyone. It's hard to get a subscription box for one kid then another kids going "Can I get one too?"
While some subscription services can get pretty expensive this one is much more affordable especially for families with multiple children!
I think this could be an interesting way to encourage reading in kids. My youngest is 6 years old and learning to read. She's doing pretty well but, anything I can do to encourage a love of reading, I'll try it.
Snail Mail for Kids is also giftable. Just choose the gift option.
This post does contain affiliate links. I will get a small commission from sales made through my links.