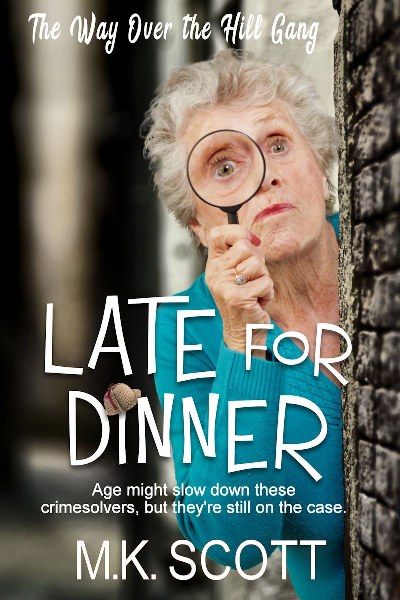 Late for Dinner The Way Over the Hill Gang Book 1 by M.K. Scott Genre: Cozy Mystery
Marcy Collins proved her investigative skills in the field time and time again, but after an accident leaves her disabled, she's forced into early retirement in a senior convalescent center. Although her mind and body may not be what they used to be, her steadfast determination to fight crime and advocate for victims continues. When her well-meaning former partner is assigned with helping to keep her mind agile, he unknowingly inspires her to search for clues in a long-forgotten cold case. Before he knows what's happening, Marcy assembles a team of sharp-eyed, witty, and often cantankerous senior sleuths to bring a criminal to justice and help her regain some of what she thought she'd lost for good. Follow the former detective and her team of unconventional sleuths as they dig through the clues and wind their way down a treacherous path of deception, tomfoolery, and murder! **Only .99 cents!!**
Add to GoodreadsAmazon * Apple * B&N * Kobo The senior sleuths are hot on the trail of a veteran's murderer and a missing dog in a cold case that's raising eyebrows and causing a stir in their tightknit community. The clock is ticking. Only a few short days before the victim's home is razed and all the potential evidence is wiped clean. With new complications at every turn, the Senior Sleuths feel the heat as the impossible deadline approaches. Can they close this case before the truth is buried for good? **Only .99 cents!!**
Add to GoodreadsAmazon * Apple * B&N * Kobo
Late For Square Dancing The Way Over the Hill Gang Book 4
A missing woman. A surprising suspect. A curious conundrum. The senior sleuths have a knack for sniffing out trouble, but when a missing woman cold case falls in their laps, all hands must be on deck to solve it. Unfortunately, this case hits a little too close to home, and quickly becomes an active case with dire consequences if they're not careful. To complicate matters, Heloise is planning an authentic barn dance for the residents of Greener Pastures Convalescent Center. She needs the senior sleuths' help, and that means they must forgo their investigation. The group will have to employ their best tactics to stay under the radar to root out the true culprit and avoid a barn dance disaster. **Only .99 cents!!**
Add to GoodreadsAmazon * Apple * B&N * Kobo
M. K. Scott is the husband and wife writing team behind The Painted Lady Inn Mysteries. Morgan K Wyatt is the general wordsmith, while her husband, Scott, is the grammar hammer and physics specialist. He uses his engineering skills to explain how fast a body falls when pushed over a cliff and various other felonious activities. The Internet and experts in the field provide forensic information, while the recipes and B and B details require a more hands on approach. Morgan's daughter, who manages a hotel, provides guest horror stories to fuel the plot lines. The couple's dog, Chance, is the inspiration behind Jasper, Donna's dog. Murder Mansion is the first book in The Painted Lady Inn Mysteries. Overall, it is a fun series to create and read. Website * Blog * Facebook * Twitter * Instagram * Bookbub * Amazon * Goodreads

At a table closest to the door, three people sat: a short, bald man, and two women. The
first had her blonde hair arranged in an elaborate style and lacquered into place by a liberal dose
of hair spray. She winced a little but had her head tilted in the direction of a wiry woman whose
lips were moving.
"This is how it works, Lola," the woman explained while gesturing to the dancers. "The
man calls out the moves for the dancers, then they have to do what he tells them to do."
"Eunice," Lola sighed and managed an eye roll at the same time, "I know how square-
dancing works. This isn't my first encounter, you know."
"Ha!" Eunice tossed her head, bouncing her gray-threaded curls. "I figured that being a
former Vegas showgirl, your extent of dancing involved teetering around on high heels, waving
feather fans."
The man sitting with them coughed, earning a sympathetic glance from Lola. "You okay,
Gus? Need some water?"
He met her gaze, then shook his head as he pushed up to standing. "Think I'll go back to
my room and get some water."
Both women watched Gus leave, then Eunice leaned closer to say, "He has no clue what
you said. He's already hard of hearing, but with…" She gestured to a nearby speaker. "…the
music blasting, he doesn't hear a word."
While the music may have a few residents tapping their toes, it did nothing for those who
could hear. Lola pursed her lips and wrinkled her nose before speaking. "You'd think they're
trying to deafen the rest of us. I'm leaving, too." Lola reached for her walker and stood. She
glanced back over her shoulder to address Eunice's earlier comment. "Showgirl routines are
choreographed. Some of it is quite complicated. We certainly never needed someone yelling
instructions on a microphone."
Eunice gave a derisive sniff. Even though both she and Lola were part of Senior Sleuths,
a covert group within the center that solved cold cases, it was still fun to poke at the woman.
After all, what woman wouldn't feel a little uncomfortable around a former showgirl. Getting the
aged blonde riled up evened the playing field, especially considering Eunice's skinny form and
acerbic nature didn't make her popular with the opposite gender. Thank goodness for Gus, who
had been waiting for a forceful woman to take charge of him.
Making friends was not something Eunice did easily. Her father once told her she should
laugh at the other children's jokes and occasionally compliment them on something they did. He
also told her to be honest at all times. Talk about a paradox. It was hard to be honest and popular.
Eventually, she settled on being honest and helpful, even when the help wasn't wanted. Was it
too late to change her ways? Better yet, did she want to?
One of the lady dancers, whose colorful skirt stood out with its multitude of petticoats,
interrupted Eunice's reflections and invited her to join in. Someone had deliberately picked her.
Woo hoo! She jumped up and tried to ignore that most of the other attendees were in
wheelchairs. That had nothing to do with them picking her. Obviously, the dancer recognized in
Eunice a born square dancer.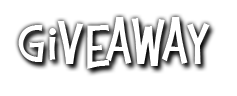 $50 Amazon Follow the tour HERE for special content and a giveaway!a Rafflecopter giveaway