I received the Dirt Devil Endura Max XL at no cost review through Bzzagent. I decided to write a review on my blog about this particular vacuum because I really have a lot to say about it.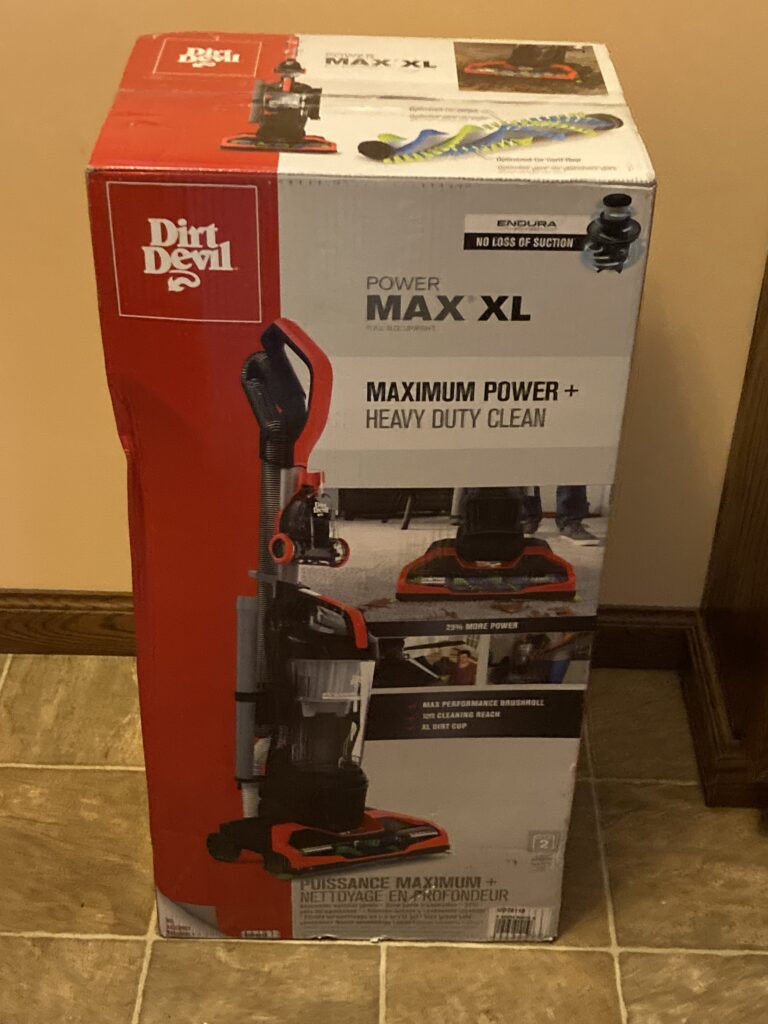 I want to start by saying, I've gone through over my fair share of vacuums. I've tried everything from higher end pricier vacuums like Dyson to budget friendly Walmart specials. I've mostly bought brand new vacuums but I did roll the dice on a few refurbs. Vacuums never seem to last more than a year or 2 for us no matter the style, price, or brand. We are a family of 6 with 3 cats. I run a robot vacuum daily and run an upright vacuum at least twice a week, sometime more. I do that because the robot vacuum just doesn't get all the tighter areas and corners. I've also tried two different brands robot vacuums for the record. So I feel like I have a good comparison and can give a fair judgment on a vacuum.
So I received the Dirt Devil Endura Max XL in the mail. I unbox the vacuum and find my owner's manual and set up info. I've set up quite a few vacuums. I found this one to be just a little confusing. Instead of the hose being one piece it's actually two pieces. The written instructions for setup are minimal and the pictures are black and white and not very detailed. The pictures make it seem like the hose is all one piece but of course it's not. I tried looking up youtube videos but to no avail. I finally figured out where it should go and I was ready to use the vacuum.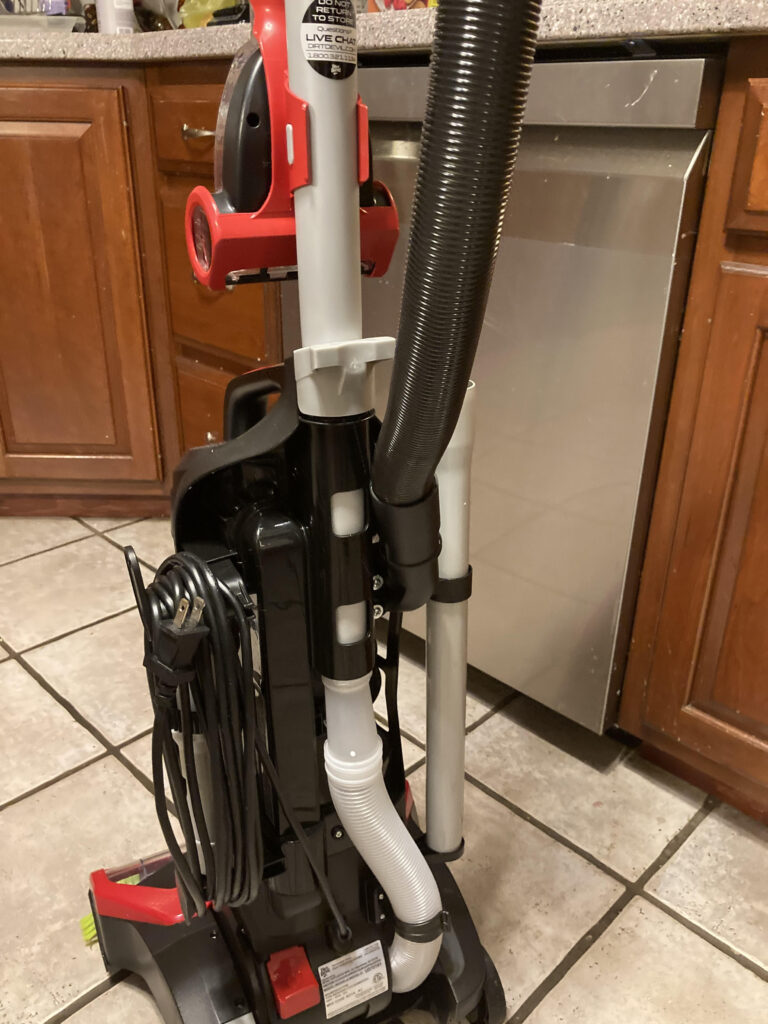 After the slight confusion with the set up, I also noticed that the materials used for the suction tube, hose, and suction tube release button were a pretty cheap plastic. It does not seem like it will be very durable. Especially in my house which is apparently hard on vacuums.
So I turn the vacuum on and, oh my goodness, it is absolutely the loudest vacuum I've ever owned. Even my husband was complaining about the noise. This vacuum also vibrates much more than I'm used to with other vacuums I've owned. I found myself not wanting to run the vacuum after the kids go to bed (which is usually the time I like to do it. I'm a night owl.) I also don't want to run this vacuum in the mornings because my husband works night shift and I don't want to wake him up.
So is there any good news Ang?
Yes, I can't say I should just throw the whole vacuum away. The suction does appear to be pretty good. I had no issue vacuuming up popcorn, getting crumbs out of corners in the kitchen or vacuuming up cat hair. It's really light weight for the size of the vacuum so it's not a burden to carry it upstairs.
It's multi-surface with different surface settings. I had no issues using it on my tile floors in my kitchen, hardwood floors in the living room, or carpeting in the bedrooms. It came with a couple attachments which were easy to apply and use on my furniture.
The canister works much like any other canister vacuum I've owned. Easy to open and empty the contents of the canister. Easy to replace the filter when needed.
The power cord length, I would say, is sufficient. I've had vacuums with longer cords, I've had vacuums with shorter cords. If I was wishing, I'd have the cord be another 3 feet longer or so but this part isn't a deal breaker for me.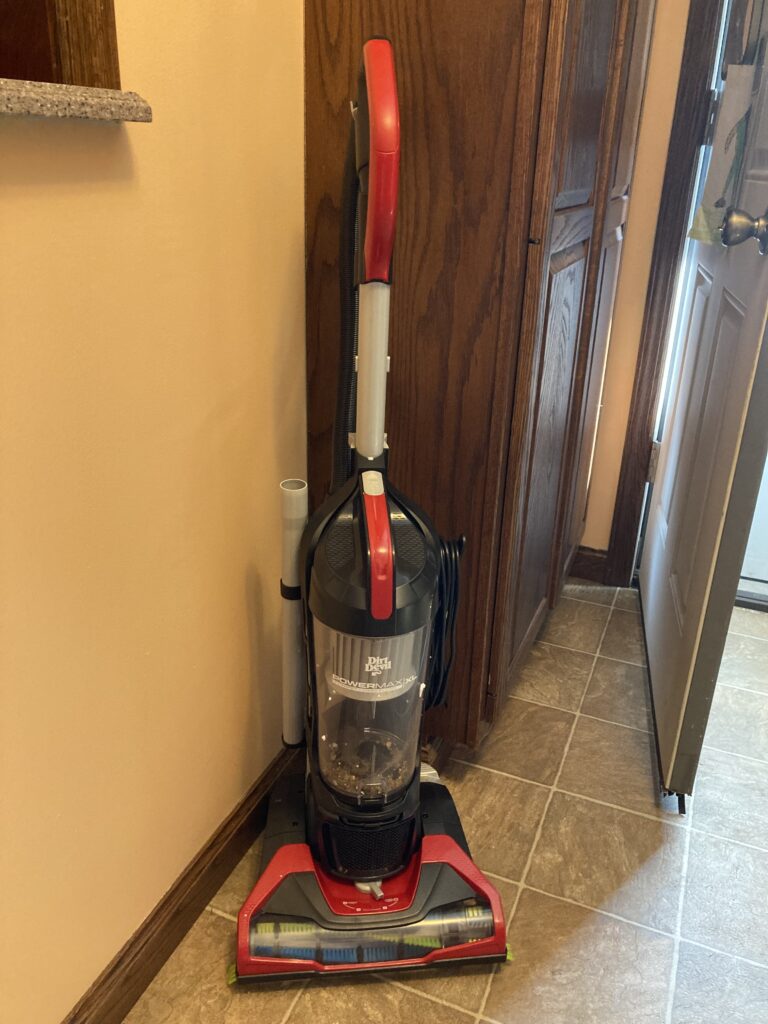 In Summary
If the noise isn't an issue for you, you need a light-weight vacuum, and you're not hard on vacuums like my family is then this would probably work out for you. It does the job.
Depending on the site, this vacuum is being listed with a retail price of $90 – $96. Had I paid that price out of pocket for this vacuum I would have been very disappointed. I don't see myself using this vacuum much in my house especially since I have other options available. I think this will be one that I send off with one of my older boys to college or to their first place to get them started.