I received free VIP ticket to the event. Also received free products and samples while attending the event. No other compensation has been received. Any opinions expressed are my own. This giveaway is sponsored by LuvSavingMoney.com and not the businesses mentioned in this post.
I'm a mom of 4. My children range in age from 4 to 15 years old. I was invited to attend The Mother of All Baby Showers at Heinz Field in Pittsburgh on July 27. The Mother of All Baby Showers is geared towards those expecting up to parents of preschool age children. My hubby and I have completed our family so I wondered what info I could get out of attending The Mother of All Baby Showers. The answer would be, opening my eyes to the resources, products, and information out there in my area. Even for a mom of 4 like me.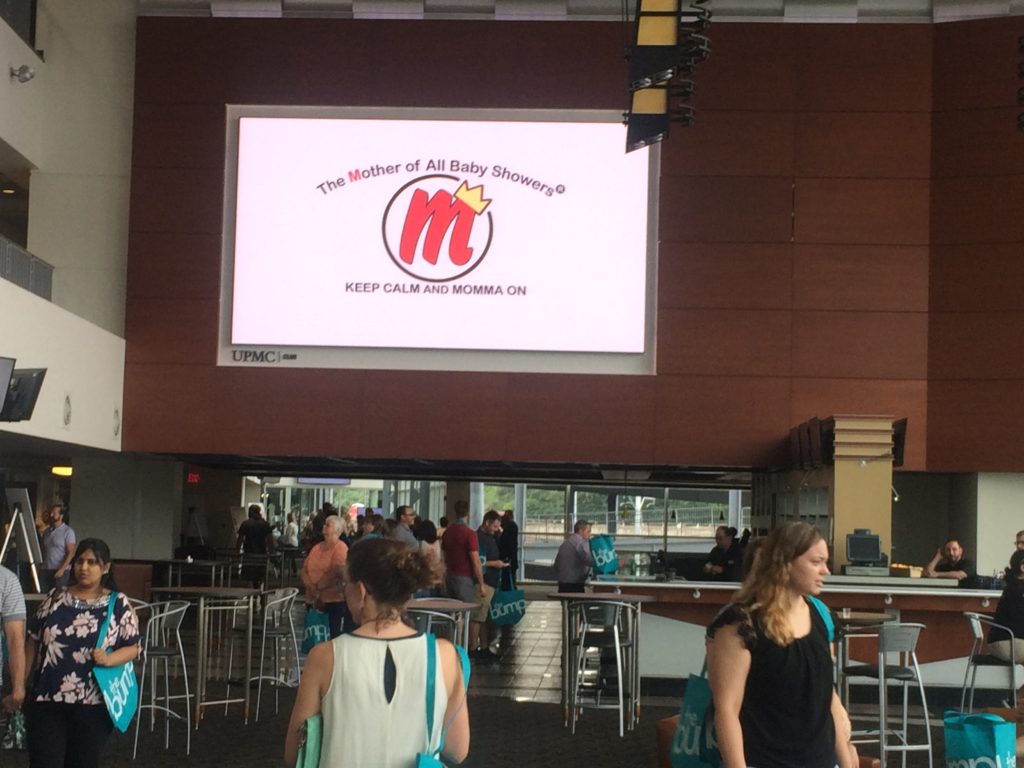 My hubby and I received a VIP couples ticket to go. VIP tickets allowed us entry into the MOABS 30 minutes before general ticket holders. When we walked in we were greeted warmly by the staff. It was hard deciding where to start. There were so many tables with vendors available to talk to. Everything from services, to products, to clothing, and even food. I could highlight all the vendors but this blog post would turn into a small novel rather than an easy to read post lol.
As my hubby and I walked around checking things out and talking to people. The first service that really jumped out to me was Jeremiah's Place. Lisa Perry MPM and Executive Director of Jeremiah's Place was so nice to talk to. As she told me about the services they provide at Jeremiah's Place I just thought "Yes, yes we need this! Why aren't there more places like Jeremiah's Place!"
You can get plenty of info on their site but it's Pittsburgh's only crisis nursery providing FREE childcare for children ages 0-6 yrs for a few hours for up to a few days depending on the situation. It could be used when a parent is hospitalized, when you need someone to watch a child for an interview, when a parent just needs a break, homelessness, domestic violence situations and more. If you're in the Pittsburgh area definitely check out Jeremiah's place or donate. You can call or visit to do an intake with them so when you do need them they'll have your info.
When I talked to Lisa you could just tell how caring she is and how passionate she is about the services they provide.
Twitter: @jeremiahsplace
Facebook: facebook.com/jeremiahsplace
The next service that really stuck out to me was from First Comes Love in Pittsburgh. Daria Minton is a licensed Marriage and Family Therapist. She provides workshops for "Bringing Baby Home", "Emotion Coaching" and "7 Principles" workshop for couples.
I spoke with her and her husband at The Mother of All Baby Showers. They were super sweet people. Definitely someone I would feel confident calling when in need of these services.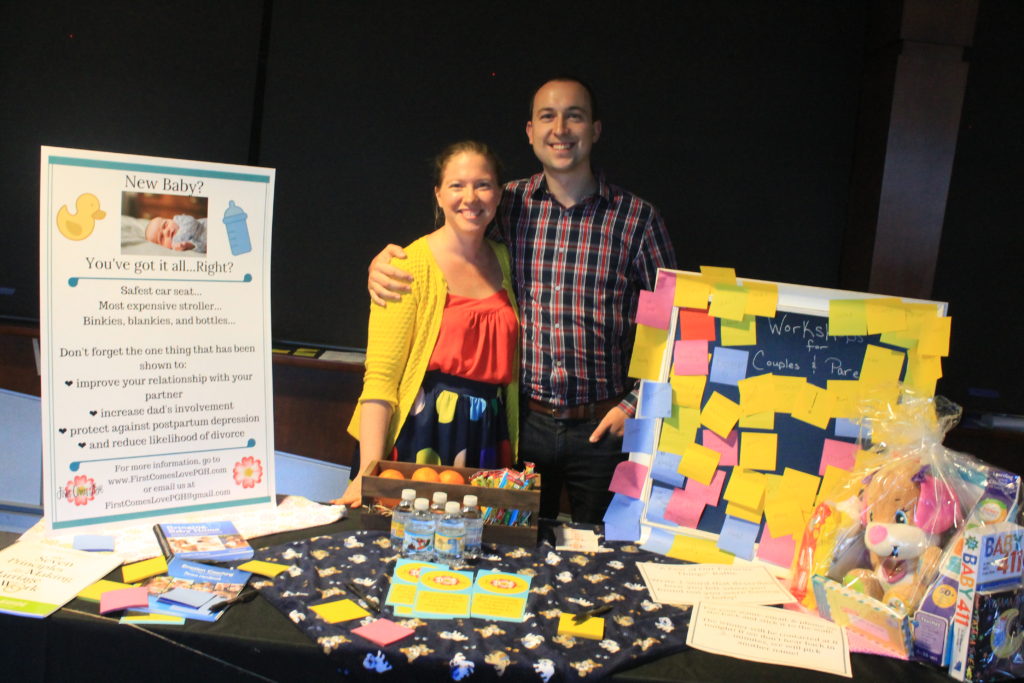 Check out First Comes Love Pittsburgh for services and locations.
Find First Comes Love on Facebook: facebook.com/firstcomeslovepgh
If you're a parent in Pittsburgh you're gonna want to know about Kidsburgh.org a resource for parents to find everything kid related in Pittsburgh: playgrounds, child care centers, events, and more. They also have an app for those living in or visiting the Pittsburgh area to help you find things in your part of Pittsburgh!
Twitter: @KidsburghPgh
Facebook: facebook.com/KidsburghPgh
Instagram: instagram.com/KidsburghPgh
At the Mother of All Baby Showers Pittsburgh attendees could take advantage of free chair or table massages provided by ELEMENTS Massage from Wexford, PA. Even after a few hours of giving massages and dealing with the droves of people they still were smiling and happy to help.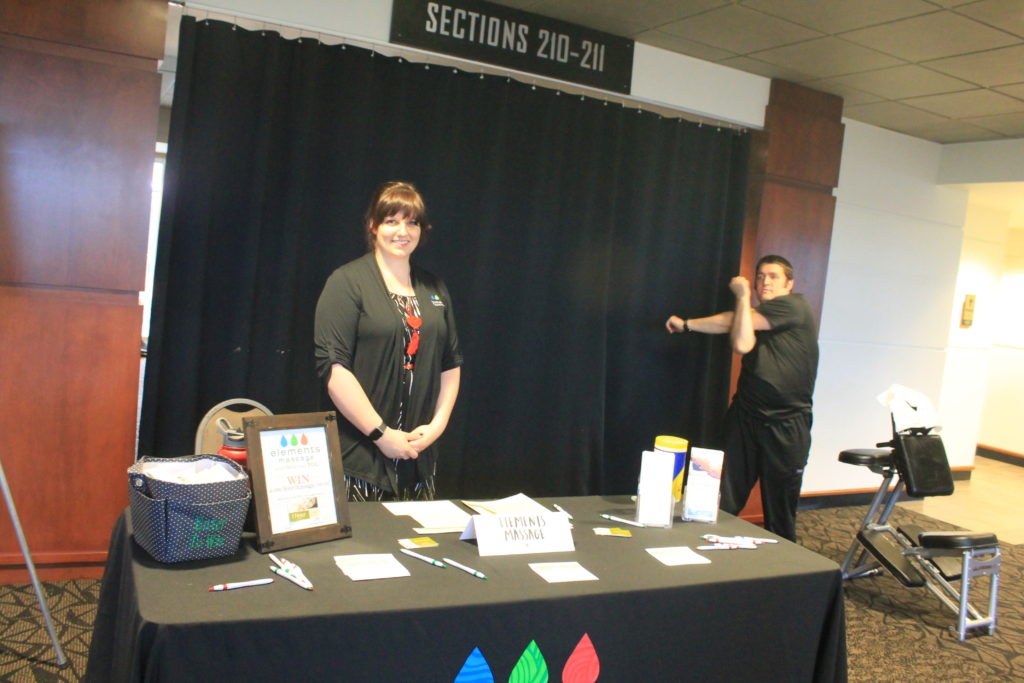 Facebook: facebook.com/ElementsMassageWexford
Twitter: @ElementsMassage
Instagram: instagram.com/elementstherapeuticmassage
Of course there was all the new products and services from companies like DIONO, Combi, Baby K'tan, Enfamil, Goldfish Swim School, and so many more. It was cool to see the newest things on the market, be able to touch and try, and ask questions to the experts. The women I talked to from DIONO was very helpful in helping me understand the best types of car seat for my 4 yr old and why. I was ready to put her in a booster but her taking the time with me really opened my eyes.
Oh and speaking of experts they had several speakers you could listen to. Experts in their field for everything from pregnancy to the working parent.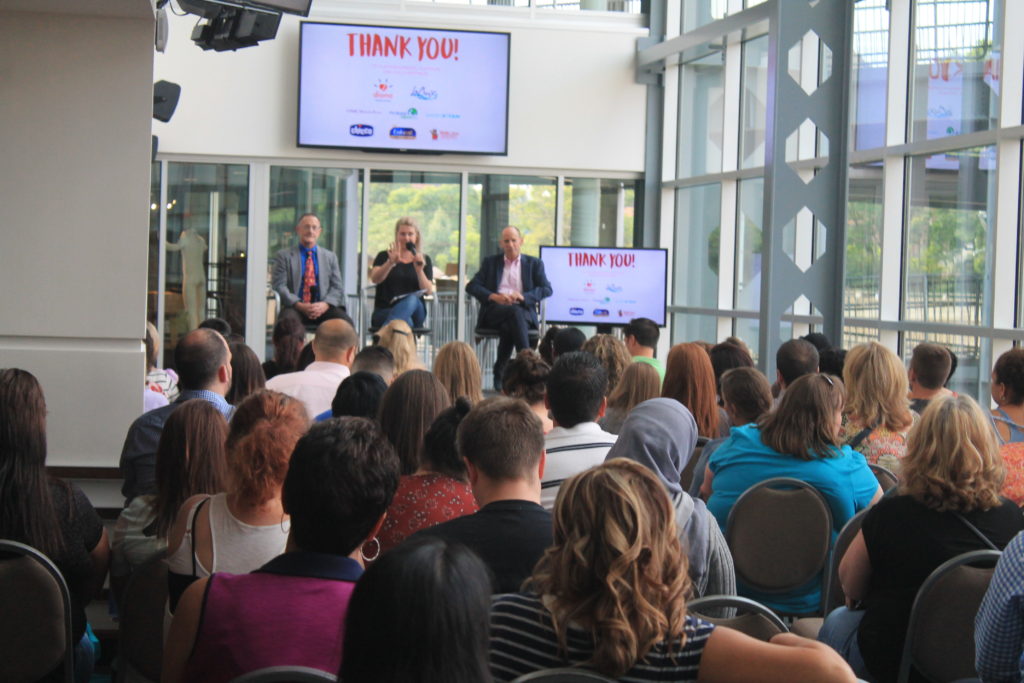 Of course, I can't talk about The Mother of All Baby Showers without talking about the $20,000 in giveaways they did. Everyone was given door prize tickets when they walked in. They called numbers throughout the evening with people winning everything from gift baskets, to strollers, car seats, and gift certificates.
As a VIP ticket holder I also received an amazing VIP swag bag with a Baby K'tan diaper bag absolutely stuffed with things from treats, coupons, baby items, formula, a travel wipe warmer, pens, and other swag. Y'all I looked up that baby K'tan diaper bag. It retails for $50 just by itself! VIP couple tickets were $60. With all the things it was stuffed with and all the things you got to try and experience I would absolutely say buying the VIP ticket is totally worth it!
Check out the Mother of All Baby Showers site to see if a MOABS is coming to your area! I'm gonna leave you with a few more pics from MOABS Pittsburgh at Heinz field. I will definitely go back next year if they come back to Pittsburgh!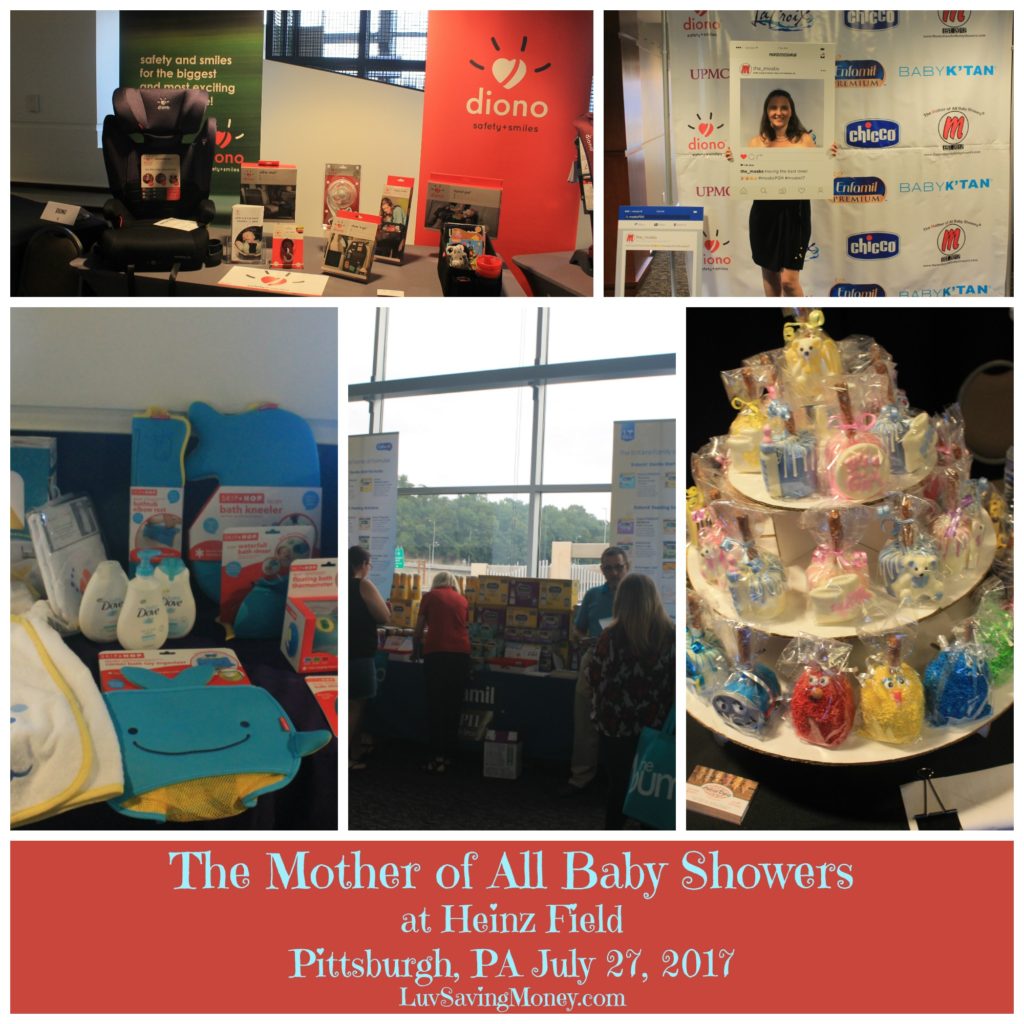 Oh and one more thing. Because they were all so generous and I got some awesome stuff for babies I'm gonna do a giveaway for my LuvSavingMoney readers. I'm going to give you some swag too!
GIVEAWAY
1 Luv Saving Money reader will win some MOABS swag that includes
The Bump reusable tote
DIONO travel wipe warmer
Dr Brown's natural flow Options 4 oz bottle
Dr Brown's 0-6 month pacifier 2 pack (blue)
bib
digital thermometer
Camilia Homeopathic teething relief
Babee Talk stroller toy
coupons and samples