December 16, 2016 is the 9th annual Free Shipping day. Yes it's a real day. You get free shipping from many participating retailers and receive your order by Christmas Eve. Perfect for all you last minutes shoppers!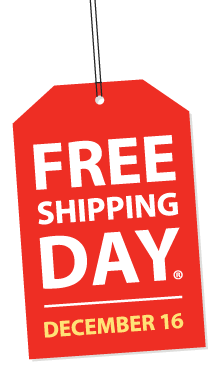 More retailers are signing on this year including ones that have not participated in Free Shipping Day in the past: Lululemon, GameStop, Banana Republic, American Eagle, G.H. Bass Co., J Crew Factory, and Buffalo by David Bitton are some new ones this year. Walmart is participating for the 2nd year in a row.
Event found Luke Knowles says they always see last minutes sign ups from stores just hours before the event goes live too.  Currently, 972 merchants are signed up to participate.
Large retailers as well as independent online retailers participate. Merchants can still sign up here.
Free Shipping Day is only ONE day, this year it's Friday December 16. Get your last minutes online shopping done and save with free shipping!