**I received the below mentioned product in order to complete a review. No other compensation has been received. Any opinions expressed are my own**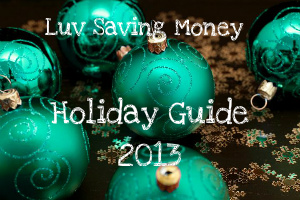 Before receiving Eau Flirt by Harvey Prince perfume to review I had not heard of it.   I decided to do some research on it.  I wanted to see what others were saying about it,  kind of prepare myself . I'm kinda picky about my perfumes.  I want the scent to last but I don't want it to be overpowering.  I prefer light, fresh, and sweet scents.  I don't like anything too musky or spicy.  I came across this clip from the show The Doctors .
Eau Flirt has notes of pumpkin and lavender.  Lavender is definitely a scent I like but I wasn't sure about how I'd feel about a pumpkin lavender combo.  When I opened up the box I got, what seemed to me, like a strong citrus type scent.  I like citrus scents too but I still wasn't sure.  You know that perfumes can smell different on different people.
I sprayed a little on, that's when I could actually smell the pumpkin notes and the lavender.  This scent was amazing. It lasted for hours too. This is a perfect perfume for me.  It gently lets you know it's there it's not in your face and overpowering.   I had sprayed some on and was holding my baby girl . I set her down and my son's friend picked up my daughter and said "oh she smells good!"  After he was done holding her I picked her up and realized some of my perfume was on her clothes.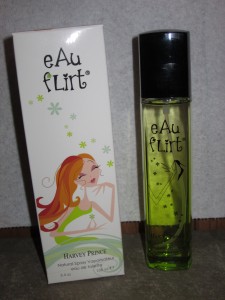 The bottle I received is a 3/4 oz spray bottle.  Very generous sized perfume.  I've worn it every day since I received it.  If you are looking for a perfume to wear for the holidays or to give as a gift, this one is definitely a winner.  The New York Times said it's "The olfactory equivalent of a little red dress".  I thought that was an accurate description.
You can find Harvey Prince on Facebook:  https://www.facebook.com/HarveyPrince and on Twitter: @harveyprince
Eau Flirt is available on the Harvey Prince website: http://www.harveyprince.com for $55 for a 3.4 oz bottle.
GIVEAWAY
3 Luv Saving Money readers will win
a 3.4 oz bottle of Eau Flirt by Harvey Prince
US and Canada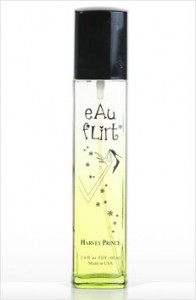 I received one or more of the products mentioned above for free using Tomoson.com. Regardless, I only recommend products or services I use personally and believe will be good for my readers.