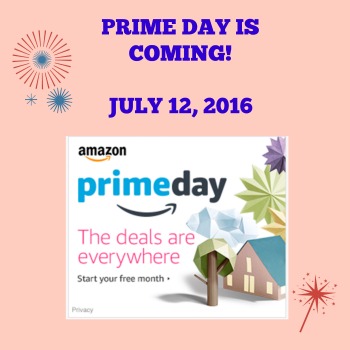 Amazon's Prime Day is coming July 12. I've had prime for years It's well worth it for me.  The Free shipping, the free streaming music (I have the app on my phone then stream it using bluetooth in my car), the free prime movies for my Fire TV Stick with Voice Remote
, just so many benefits. It actually saves me money.
Then of course there is Prim Day. Where if you have Amazon Prime you can get in on special deals all day long only for Prime members.

But don't worry if you don't have Prime. You still have time to get in on Prime day without spending any money on Prime. You can get a free 30 day trial of Amazon Prime at any time. Sign up, get in on the deals. If you like it, you don't have to do anything. If you don't like it, just cancel after Prime day.
There is also a Countdown to Prime Day – Prime Music Giveaway
 so you can get in on that too.
Want to sign up for your free 30 day trial of Amazon Prime before Prime Day? Just use this link:  Happy Amazon Prime Day July 12 – Exclusive Deals for Prime Members – Start Free 30-Day Trial
Do you already have a Prime membership? What is your favorite part of Amazon Prime?
This post does contain Amazon affiliate links. Regardless I only post legitimate offers from trusted sites.