How We Ended Up Choosing Proform Studio Pro Bike
I had a gym membership. I wasn't a "gym person" until I found the right gym for me. I looked forward to it. I had a routine. Then when the pandemic hit, like many, the gyms closed down. I was lost. I tried to do workouts at home but it just wasn't the same.
We first got a Proform treadmill around March. Shipping was fairly quick then and I had no issues. This is when we were also introduced to the iFit app. It wasn't something I didn't think we needed but immediately fell in love with. I was doing the beginners running series with Tommy Rivers Puzey and it was amazing. I had never been able to run my whole life. Even in my younger days when I was in better shape. This built me up to running more than anything else ever had. And when I didn't feel like running, I could do a restoring walk in the mountains, or beach or whatever.
I missed the exercise bikes from the gym though. I had tried a spin class at my local community building and it peaked my interest. I had full intention of doing more classes but…stupid pandemic.
I would have never asked for a studio bike but my hubby brought up the idea of getting an exercise bike. I had already had my eyes on the Proform Studio Pro bike. It was built similar to the spin class bikes and we already had ifit so I could start doing the ifit cycle classes. Thankfully my hubby was in agreement.
Now The Wait, And Shipping Experience
We ordered it around the 2nd week of September. When we ordered it said they were behind on orders (again due to the pandemic) and we should expect our bike around Oct 12. You might know that home exercise equipment company sales have greatly increased during the pandemic so most exercise equipment whether it be bikes, treadmills, benches, etc have been behind with shipping. For a while it was also hard to find hand weights and kettlebells too
Well it was Oct 9 (a Friday) and we hadn't heard a thing so I used the customer service chat to see what the deal was. I was told our bike had been sent to the shipping warehouse and we should receive our bike "shortly". That pacified me enough though I was super anxious to get our bike. We did not receive our bike until Oct 30.
When we received it we noticed there was a fairly big hole in the side of the box and it had very obviously been taped over. So someone saw the whole, taped it, but never bother to make sure the product was ok.
My 17 year old loves putting stuff together so he put it together for us. He said "uh mom, there's a problem" The back of the monitor had a sizeable crack in it. I was so upset. The monitor is what you use to view your classes. We tested the monitor and it still worked but I worried about the safety. I don't want to be using it and have sparks fly out or something. I also saw that the smaller box that the monitor was packed in, also had a whole in it and we deducted it must have been located where the whole was in the big box.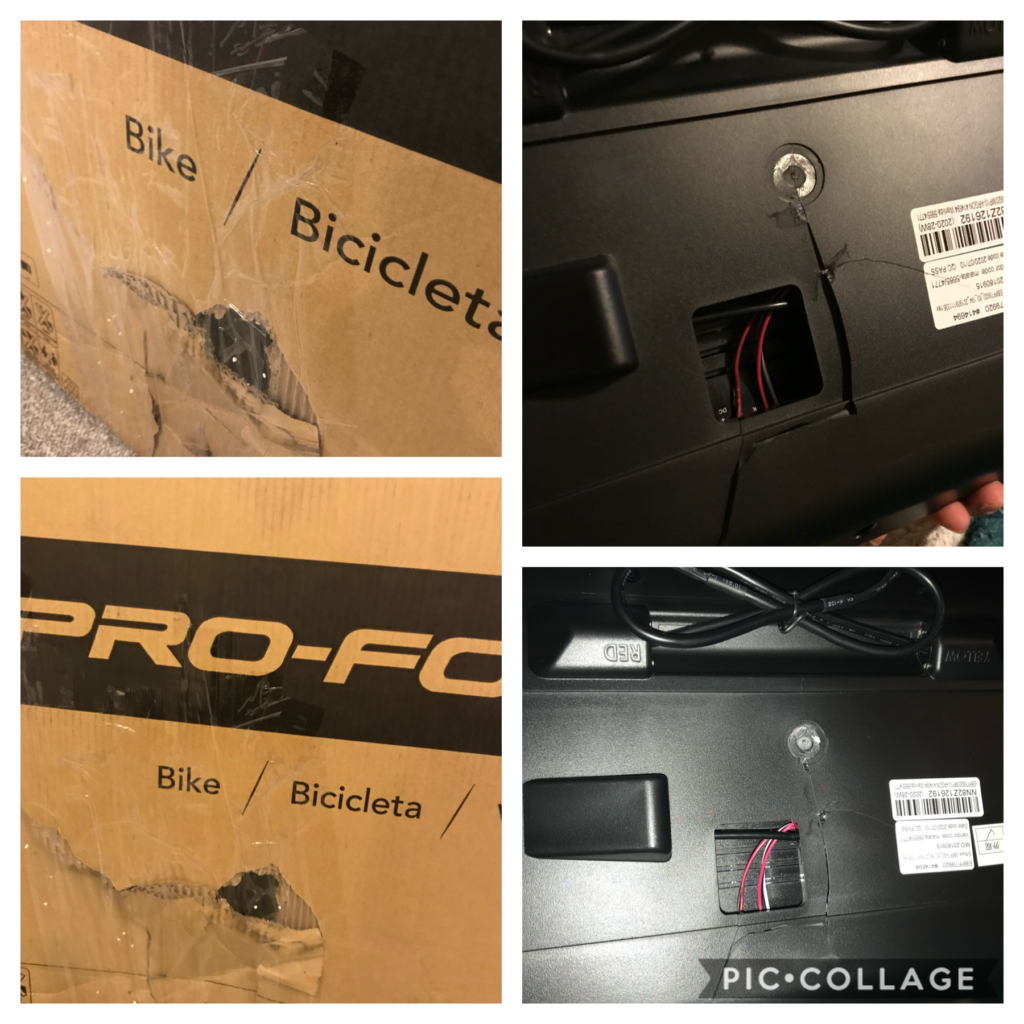 I contacted the company and they didn't give me a hard time at all. They said they'd send a new monitor out. Unfortunately that was back in November and we've yet to receive the replacement monitor. Fortunately the cracked monitor has been working and you don't leave the bike plugged in when you're not using it anyway so we just went with it.
We had also heard NOTHING about the 3 yr iFit family membership we were supposed to receive with it. Again it took a few phone calls and several emails to finally get our iFit membership set up. Then we realized we've received ZERO information about our financing. We were told, via another phone call, that our info was sent to the financier and we should receive our finance packet "soon". After almost 2 months we finally received financing info and could start paying for our bike. We were worried with how disorganized everything had been that they would ding our credit because we weren't paying but we were trying, we really really were.
After The Initial Fiasco, (And Some Calm Down Time)
My husband and I have been regularly using our Proform Studio Pro bike. I can honestly say I love it. It's easy to adjust. The iFit app works great. My hubby and I will swap workout brags. So I did a 4.5 mile bike ride in the Moab desert today. Cool, I did 10 miles in Japan today. It's fun though because it gives us ideas and helps motivate each other.
The seat did take some getting used to. We ended up buying one of those gel bike seat cushions from Amazon and that helped. Over time, we got "used" to it and the seat isn't uncomfortable anymore.
The bike is very adjustable. I'm 5′ 4″ and my hubby is 6 foot even. We have no issues adjusting for either of us. The ifit family account allows up to 5 people on the account. They must be invited by email so whoever you add in your family has to have an email account.
You do not need special cycling shoes like you do with some studio bikes. I just use regular running shoes. There are straps on the pedals and teeth on the pedals to help ensure your feet don't slide.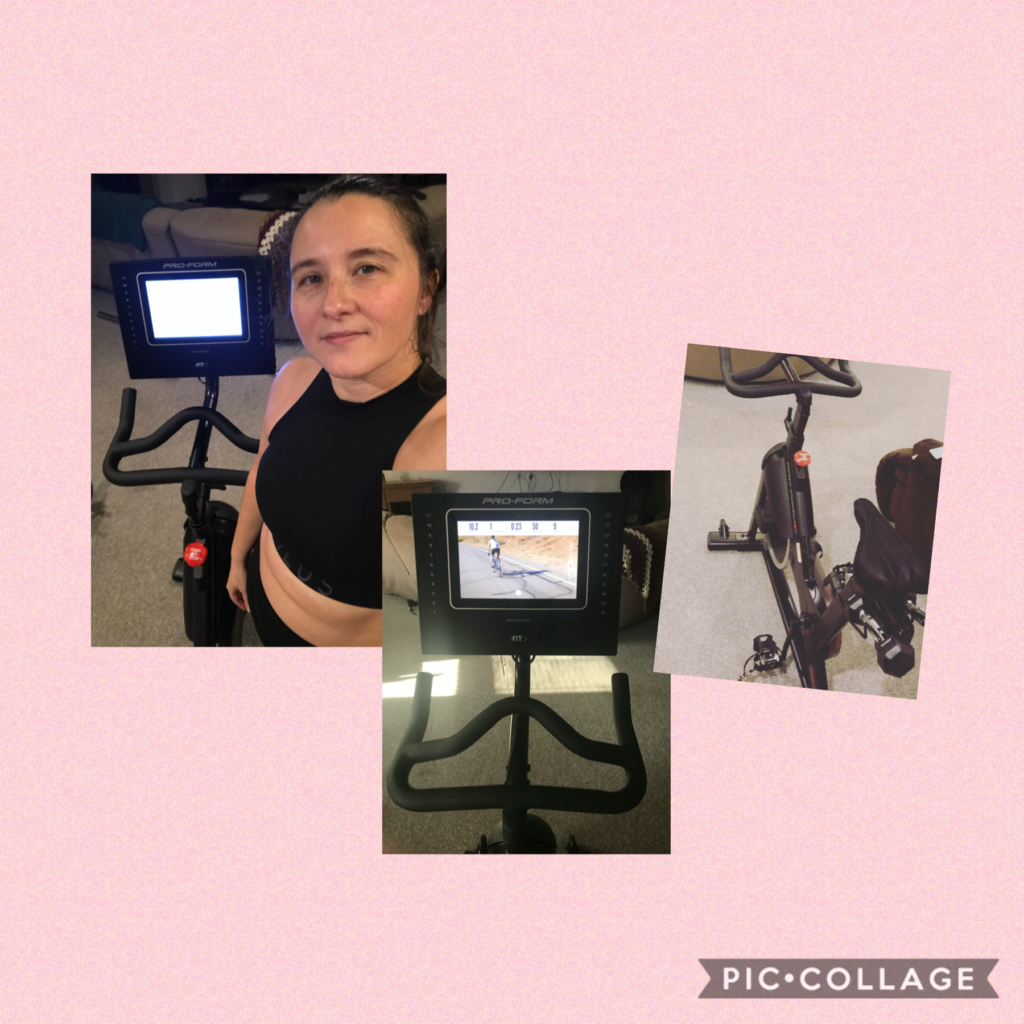 So What Can You Do On The Bike With The iFit App
There are lots of options depending on your fitness and cycling level. Workouts have a difficulty level bar. I tend to stick around 1, 2, or 3 for now. They go up to as high a like 10 or something.
There are many different setting and types of workouts: spin classes, mountain biking, endurance rides, recovery rides, interval training, and classes that include both bike work and off the bike work. Oh that reminds me, the Proform Studio Pro also come with 3 lb hand weights. There's tons of different settings from dessert, mountain, beach, forest, studio, and international.
They recently added feed.fm so music can play during your workouts but you have the option to turn the music down/up/off. There are also challenges you can participate in and live classes if you like. Just since we got our bike they've added several new features. They's constantly adding new classes and challenges too.
Overall Opinion
Love the bike. I know that the shipping and customer service issues were not the norm and is strained due to the pandemic. We had no issue at all when we got our treadmill earlier in the year.
The iFit app is awesome and continues to improve all the time. If we were to get another piece of equipment we'd definitely look at buying another piece compatible with iFit.
The bike is very adjustable and well made. It's sturdy and hold up to 250 lbs. My husband was slightly over that so before we ordered we asked if that would be an issue or void the warranty if we were to order. Being as it was only a few pounds over they told us it would not.
If you'd like me to do a post on our treadmill, I'd be happy to. Just let me know.
This is NOT a sponsored post. We bought the Proform Studio Pro bike ourselves. There is an Amazon affiliate link in the post.