I will be receiving free admission as part of the US Family Guide blogger program to review Pittsburgh Mills Sky Trails.
Pittsburgh Mills Sky Trail is a 32-foot tall, 2 level ropes course complete with 30 exciting elements including zig-zag beams, cargo nets, angled rope ladders, crisscross walks and more. Participants choose their own path through the elements and go at their own pace. The ropes course is also equipped with a Sky Rail zip line connection measuring 69′ long. Participants soar down the length of the ropes course on a self guided zipping experience and are able to enjoy it's thrills over and over. For young adventurers, there's a specially designed Sky Tykes ropes course for kids ages 2-7.

I know for sure this is something my boys would love to try.  I wondered though, how it could be for toddlers.  I'm thinking "I don't even know if I would go up that high!" but then I saw this picture and it all made sense.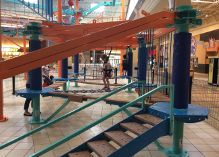 SAVE Ropes Course COUPON Pittsburgh Mills #SkyTrail @SkyTrailMills Ages 2-102 http://pittsburghkidsguide.com/coupon.php?regionid=58&bid=12019&lid=16685&dealid=1955 
Gift cards available too!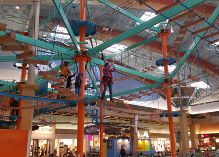 Follow Pittsburgh Mills Sky Trail on facebook for more info!