I did not receive compensation for this post. Any opinions expressed are my own.
Through HALO's Safer Way To Seep  In-Hospital program  hospitals and NICUs across the country replaced nursing blankets with SleepSack Swaddles increasing parent education on safe infant sleep practices from day one.  HALO SleepSack Swaddles are now used in over 1400 hospitals across the country.
HALO had also introduced the Bassinest Swivel Sleeper making it safer to have baby close to you at night without bed sharing.  I remember as a new parent, with ALL 4 of my kids. I was always so nervous the first few nights they actually slept for a couple hours without waking.  I'd get up and check on them just to make sure they were ok.  I remember all the safety rules for safe infant sleeping and was a bit obsessive about it. I wanted to do everything I could to make my baby safe.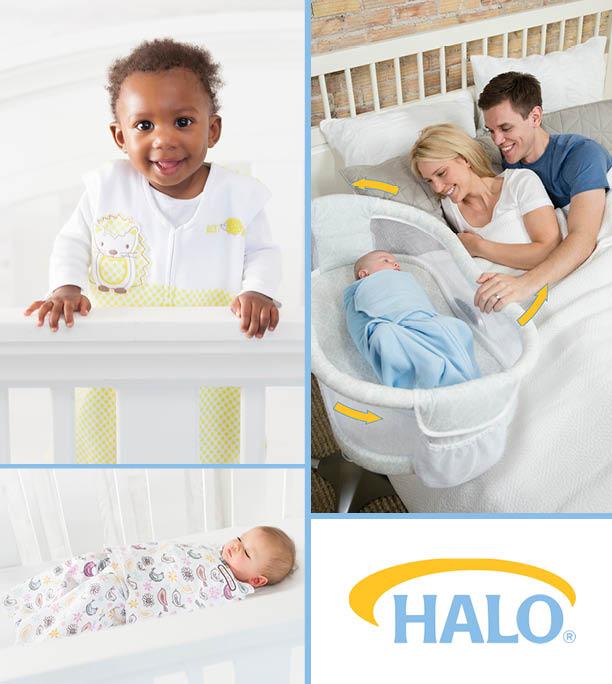 Here the safe sleep practices from HALO:
ALWAYS
Place baby to sleep on his or her back at naptime and at night time.
Use a crib that meets current safety standards with a firm mattress that fits snugly and is covered with only a tight-fitting crib sheet.
Remove all soft bedding and toys from your baby's sleep area (this includes loose blankets, bumpers, pillows and positioners). The American Academy of Pediatrics suggests using a wearable blanket instead of loose blankets to keep your baby warm.
Offer a pacifier when putting baby to sleep. If breastfeeding, introduce pacifier after one month or after breastfeeding has been established.
Breastfeed, if possible, but when finished, put your baby back to sleep in his or her separate safe sleep area alongside your bed.
Room share, but don't bed share. Bed sharing can put a child at risk of suffocation.
NEVER
Never put your baby to sleep on any soft surface (adult beds, sofas, chairs, water beds, quilts, sheep skins etc.)
Never dress your baby too warmly for sleep; keep room temperature 68-72 degrees Fahrenheit.
Never allow anyone to smoke around your baby or take your baby into a room or car where someone has recently smoked.
From July 20-July 26 HALO is promoting their "Safe Sleep from the Start" campaign on Facebook where they are giving away a HALO Bassinest and a SleepSack Swaddle to one lucky winner.  Upload a picture of your baby in a SleepSack Swaddle or SleepSack and use hashtag #Halofromthestart  for full rules visit the HALO facebook page.
GIVEAWAY
1 Luv Saving Money reader will win 
a HALO SleepSack Swaddle (newborn or small) OR 
HALO SleepSack (small, medium, or large)
Open to US and Canada