As a family of 6 planning, budgeting, and saving are a must if we want to take a vacation. Honestly we only go on vacation every other year.  That works out best financially for us. When we do go on vacation we try to make sure we plan properly to ensure we can enjoy ourselves.  If you're lucky enough to live close enough to make the beach a day trip you can probably budget a little easier.  For us, where the closest beach coast is a 6 hour drive, it takes a little more planning.
Decide on your destination.  Of course that's a no brainer.  Can't go on vacation if you don't know where you're going.  We went to Myrtle Beach, SC last vacation.  This year we're headed to Ocean City Maryland.  We figured the shorter drive would be better for baby. For a family of 6 to fly, just about anywhere, it just wasn't in our budget. Though to be honest, we got a better price for an ocean view condo in Myrtle Beach than we did for Oceanfront in Ocean City.  Even ocean view was much more expensive than Myrtle Beach. BUT…consider cost of gas (trip will be about half the distance) If you can't decide on a specific beach, pricing out places to stay might help you decided.
Will you be driving or flying?  As I mentioned above, for a my family of 6 to fly..anywhere really, it's just not in our budget.  We like to drive, especially with little ones because it's a little more cost effective and we can control stops, most of the time.  There are some good deals out there for flights though if you're beach vacation is a bit farther away.
If your driving, plan ahead.  Packing a small cooler with water and other drinks as well as light snacks can cut down on the cost of fast food and things along the way.  You can even pack a full lunch and stop at a nice rest area for lunch.  There are plenty along the way with picnic tables, restrooms, and a few we've stopped at even have playgrounds for the kids to burn off some energy and stretch their legs.
Where will you be staying?  There are soooo many option: hotel, beach rental (House or condo), Bed and Breakfast, RV campground, stay with family.  Of course if you have family close that you want to/can stay with that's usually cheaper but if you don't weigh your options.  We knew we wanted to be right on the beach.  There are plenty of hotels and condos right on the beach but they will cost more.  Also the room choices differ.  Know your definitions.
Ocean View: This means somewhere in your unit you will have a partial view of the ocean.  When we stayed at Myrtle Beach we had an ocean view.  The balcony from our bedroom had a view of the ocean on the left side but we were facing another building.  It could also mean you could see some of the ocean from a window. This is NOT the same as Ocean front. Ocean view is a nice option if you want to see the ocean but can't afford the Oceanfront. Below is a picture of the Ocean View from our bedroom balcony.  Not bad right?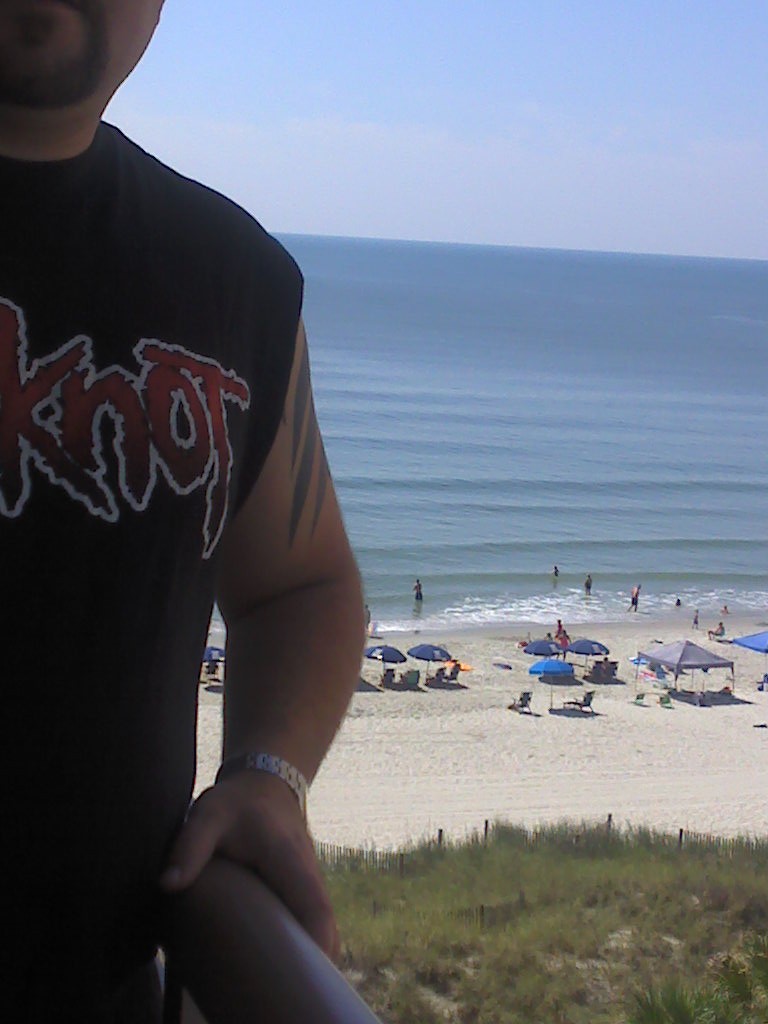 Oceanfront: This means you should be directly facing the ocean.  You should be able to see a full view of the ocean and beach from at least some of the windows or your balcony.
Poolview: This option is generally one of the cheaper options.  You will probably not have a view of the ocean but should be able to see the establishments pool.
There may be other options too where they might be cheaper
When looking into your place to stay, check all the options.  Some hotels may offer free continental breakfast which could save you a lot of money, especially if you're staying for a week or more.  Does your room have a refridgerator, stove, and or microwave?  If so this could save you money on food as well.  What kinds of amenities does the establishment have?  I looked into places that had lazy rivers, playgrounds for the kids, direct beach access, gyms, and activities just for anyone staying at the resort/hotel/condo.  This could save you a lot of money on entertainment as well.  Not to mention the big beautiful beach and ocean.
Look for FREE activities in the area. You may surprised at what there is free to do in the area.  When we went to Myrtle Beach we found out that they do free family movies on the beach.  They weren't new releases or anything but the experiences of watching a big inflatable screen on the beach is unique in itself.  I was happy to see the Ocean City Maryland offers the same thing.  It seems there was always fireworks too.  Myrtle beach had them near the boardwalk and you can watch for free.  Nothing like watching fireworks over the ocean.  Depending on when you're going you might also find other family activities on the beach, parades, or community events.  I suggest checking the beaches tourist website.  They're always chalk full of info for things to do.  Other free activities we love are watching the sun rise and set over the ocean, collecting shells, making sand castles, and simply relaxing on the beach.
Last but not least, I suggest creating an itinerary for your trip before you go.  I did a post on http://www.pomocochryslerjeepofhampton.com/planning-an-itinerary-for-vacations.htm to give you an idea how to do an itinerary.  It can be as specific or general as you want.  Search online and find restaurants you might want to try, attractions you'd like to visit, etc.  You can easily find prices and even menus sometimes online to give you an idea what you'll be spending.  You can estimate the cost for each activity and this can give you an idea of how much you'll need for your trip.
What are your tips for a budget friendly beach vacation?