Not only does the powerful enchantress need to learn how to navigate the new world, Cassia soon realizes one very important thing – her soulmate is still alive. With the help of her familiar, a majestic white wolf with the ability to speak telepathically, Cassia struggles to reach her lost love. Along the way, Cas is distracted by a handsome man who will stop at nothing to help her get her beloved back.
Will Cassia reach her lost love in time?
Is the evil her soulmate sacrificed himself for truly destroyed?
Can her newly kindled friendship stand up to the scrutiny of her familiar?
Turn the page to see how Cas deals with the multiple men in her life while struggling to get the one man she has always loved back.
**This is a slow-burn reverse harem romance. The action slowly builds throughout the series, and the main character has more than one love interest. Though book one is relatively mild, the following books in this series include explicit language, graphic scenes, and some BDSM action. This series is not recommended for readers under 18 and may be a trigger for some.
Cassia, the most powerful enchantress born in centuries, is so busy living her happy new life that she doesn't realize people are searching for her. While Cas spends her time bonding with the boy next door, the soulmate she doesn't remember exhausts every option on his hunt to find her.
Unfortunately, he isn't the only one hunting…
An evil from her past is back with a vengeance and will do everything imaginable to destroy Cassia and her mates – including feasting on unsuspecting humans and tormenting the other enchanted.
Can Cassia's true love find her before evil destroys them all?
Will Braxton finally risk everything and reveal his secret?
Book 2 of The Lost Lunason Series really heats up and will leave you begging for more!
This is not a standalone and should be read after "While My Soulmate Slumbers."
Celestia has made the ultimate sacrifice for her sister, unfortunately, this is the worst time for her to be so vulnerable.
Secrets are revealed that leave Cas wanting more than just answers, and her three muscular mates hope to giver her everything she desires.
If you thought Chasing Cas was hot, you won't believe the action in book three!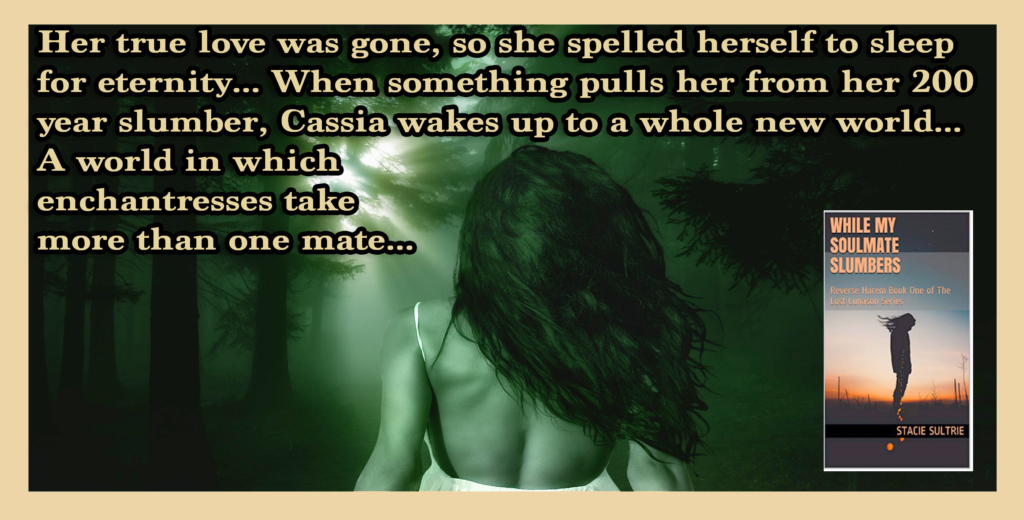 Chasing Cas:
"Jordan!" Cassia's entire face turned red, but she didn't try to move away.
"Hmm? What's the matter," Jordan asked, "don't you like to feel what you do to me?
What did you think would happen when you came out here dressed in that?"
Cas peered up into his eyes and put one arm around his neck. She used her pointer
finger on the other hand to make a 'come here' gesture, and Jordan instantly obeyed. He
lowered his head assuming she wanted to kiss him, but Cas turned her face at the last minute.
She pulled him lower so she could whisper in his ear, "I thought that it would be so much fun to
tease you!" She disappeared in a cloud of green and Jordan fell face first into the water.
"Oh, Sweetness," Jordan said, standing upright. "You are in so much trouble!" He
searched the nearby area but found no sign of the little enchantress. "Come out come out
wherever you are," he called. Jordan turned and searched the horizon wondering if she had
ported further away than he'd assumed. Suddenly, a gigantic wave came barreling toward him,
crashing into him and knocking him in the water once again.
Jordan stood up sputtering, and the first thing he heard was Cassia's uncontrollable
laughter coming from the shore. He glanced in her direction in time to witness her fall to her
knees in the sand, holding her belly in hysterics. Jordan ported to her before Cas had an
opportunity to move, and swiftly pinned her to the ground with his muscular torso. He locked her
wrists above her head and straddled her waist, dripping water into her doe-eyed face. "Gotcha,"
he said, and leaned down to kiss her.
---
Cas was shocked when Vita's bonds began to disintegrate, knowing that she embedded an
immense amount of power into the magical chains. Vita spat in her face and then started to
laugh. "I thought you were powerful," she said, and flung Cassia across the room. Cassia used
her magic and Braxton's strength to propel herself at Vita, speeding through the disheveled
dining room like a train racing through a subway tunnel. Cas barreled into Vita, sending them
both hurtling through the wall into the kitchen.
Vita snagged a splintered piece of wood and swung it at Cassia's head. Cas ducked
the blow seconds before it could land, but Vita smashed her in the mouth with her opposite
elbow. Vita called air and sent Cassia flying across the kitchen. Cas let out a groan of agony
when she landed on the breakfast table, shattering it like glass into several pieces. She felt a
sharp pain in her chest and knew instinctively that her rib was broken. Cassia struggled to catch
her breath as Vita rose to her feet and approached her battered form. "You repulsive, feeble
excuse for an enchantress," Vita said, taking another step in Cassia's direction. "You are no
better than a useless human." Another step brought her within touching distance. "I will enjoy
destroying you, Cas, but I'm going to love taking your mates."