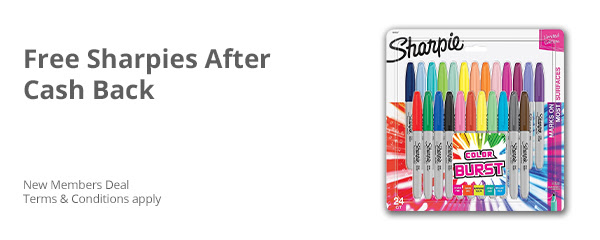 I love Sharpies. So many uses for them. Kids' school projects, labeling items, science projects, color coding items, crafts, classroom donations, um I'm sure I'm forgetting stuff. I always keep several different colors of Sharpies on hand for various needs.
TopCashBack is one of my favorite cash back sites. They consistently have some of the highest cash back on the sites I want to shop. They also do contests and bonuses from time to time. I scored 20% cash back and a $2.50 bonus on an ADIDAS outfit for my son just two weeks ago because of a special promotion they had.
If you've haven't signed up for TopCashBack yet you're in luck. Sign up through this post (link below) and you can get a pack of Sharpies FREE after cash back! This is for new members only that go through this link.
Step 1: 
OFFER LINK 
Using my link, signup for a FREE TopCashback account.This offer is for new TopCashback members only.
Step 2:
Follow the directions listed on the offer page to purchase. You must spend at least $13.99 to receive $13.99 cash back.
Step 3:
Within 7 days of purchase, $13.99 will appear in your TopCashback account. You'll be able to withdraw this within 14 days of purchase. You can withdraw the money straight to your checking, PayPal, or claim as gift cards.
Tips:
Important: Check your email to confirm your email address. Click on the link in your email to authenticate your new account.
Want to purchase more than $13.99? Make a second transaction instead of adding more to an existing cart to maximize additional cash back.
Terms & Conditions:Note: Transactions must contain at least $13.99 worth of purchases to ensure the $13.99 cash back is credited to TopCashback accounts. Transactions may initially track lower, but within the 14 days after purchase it will be uplifted and turn payable at the amount of $13.99. Transactions may take up to 7 days to appear in your TopCashback account. The deal is open until 11:59pm PST on 8/16/2020 or until supplies run out; whichever happens first; applicable for purchases made directly after clicking through TopCashback. Only one TopCashback account is permitted per member.  Cannot be combined with other TopCashback freebie offers.  Do not close the window, open any new tabs, or use non-TopCashback approved coupons while checking out.
I want to know, what do you use Sharpies for? Are there uses I didn't name? If you have your own blog and have crafts/science project ideas, etc feel free to leave a link to your Sharpie related how-to in the comments. I'd love to check it out.