A few years ago I learned how to make vanilla extract. Then I took a holiday cookie baking class at a local college and the instructor couldn't say enough about making your own vanilla extract. So I finally decided to try it a few years ago and now I don't know that I'll ever buy store bought vanilla extract again.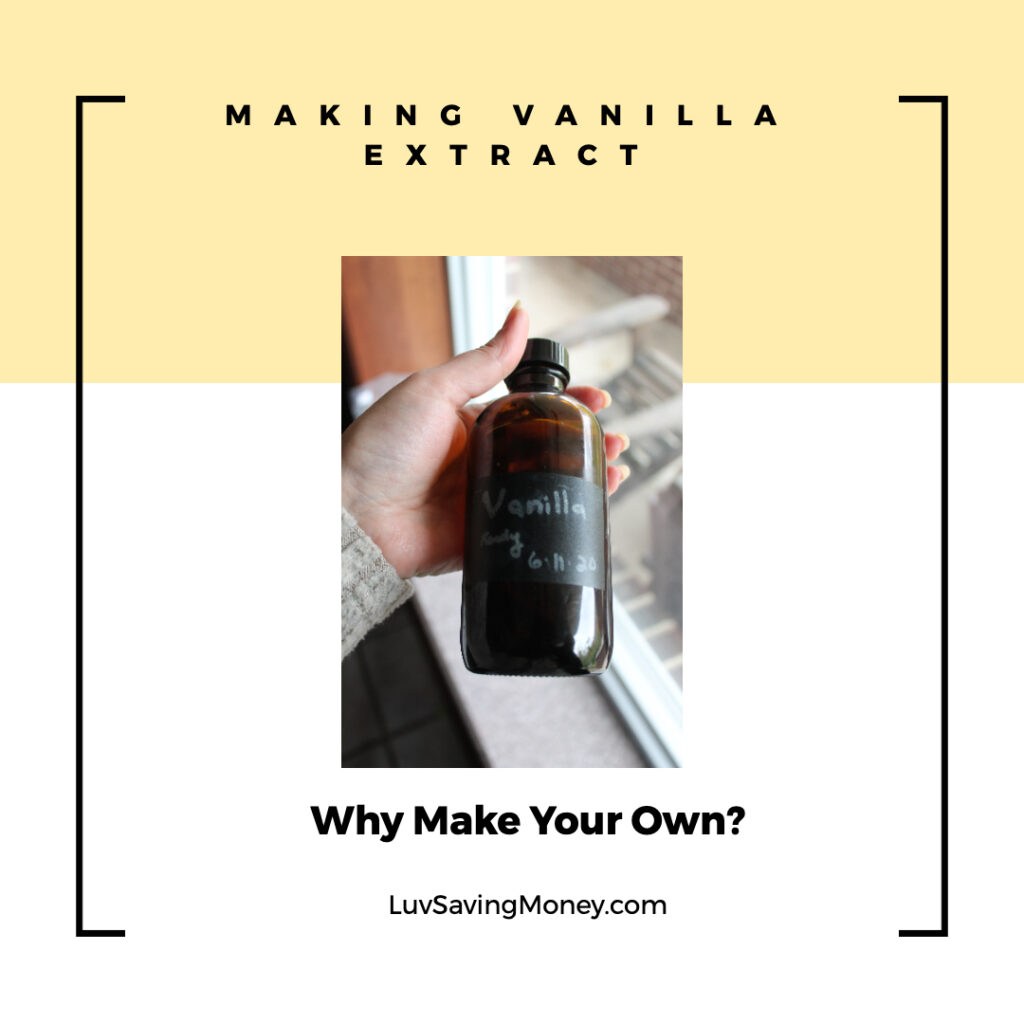 Benefits to making Your own vanilla extract
There are several benefits to making you own vanilla extra. My personal favorite, having vanilla forever. Once you make your first bottle of vanilla extract you only have to top it off with more alcohol or alcohol alternative to keep it going. You can add another vanilla bean over time if it seems like the flavor is getting weaker.
Making your own vanilla extract means you can also make awesome homemade gifts. Make a large batch of vanilla extract when you start. Get a few resealable bottles. Add a cute ribbon and tag and you got yourself useful and appreciated homemade gifts that are ready to go once brewed.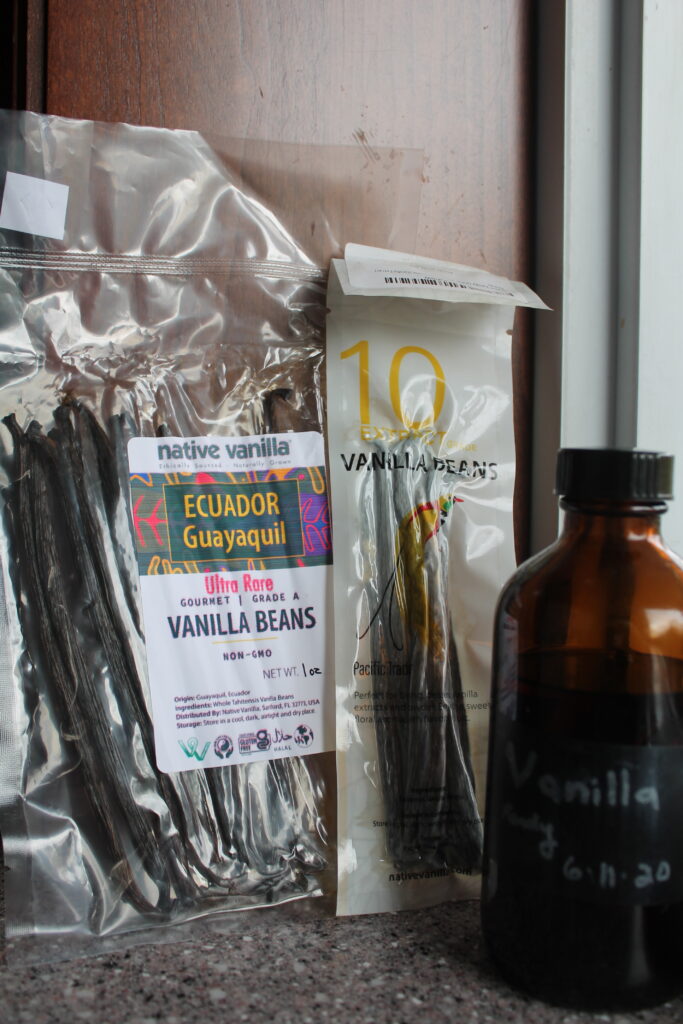 Another benefit? You control what's in your vanilla extract. Alcohol or no alcohol. You choose the beans: Madagascar? Tahitian? New Guinea? The choice is yours. Do you love to bake? Make yourself a big 'ol bottle. Use an empty re-sealable bottle or jar that you already have or get a cute fancy bottle.
How to make vanilla extract without alcohol
There could be a number of reasons someone may not want to make vanilla extract with alcohol. If the person making it is in recovery or maybe someone you're gift it to is in recovery. Add that extra touch to show you care by making your vanilla extract with food grade vegetable glycerine instead of alcohol.
Alcohol can affect some health conditions such as diabetes, liver disease, and isn't recommended with certain medications. When in doubt making your extract with food grade vegetable glycerine is a safer choice.
what do you need to make vanilla extract
You actually don't need a lot.
vanilla beans
alcohol (such as vodka or white rum) or food grade vegetable glycerine
a clean, resealable bottle or jar
a small knife such as a pairing knife
small funnel
patience
Vanilla beans can be expensive depending on what type you choose, name brand, and the grade of the beans. My absolute favorite place….pretty much the only place I'll get my vanilla beans is Native Vanilla. You don't have to get the top of the line vanilla beans. In fact, grade B beans are perfect for making vanilla extract. Native Vanilla also offers great sales and discounts periodically throughout the year including bogo deals. You can also find Native Vanilla products on Amazon.
As far as the liquid you're using. I actually just buy a cheap bottle of vodka to make mine. I keep the bottle then to top off my vanilla extract throughout the year as needed. I pay maybe $12-$13 for a cheap bottle of vodka and that will last me about 2 years of top offs for my vanilla extract. Obviously it will vary depending on how much vanilla extract you use, how many bottles you need to top off, and how big your bottle(s) is. Some people will use other clear alcohols too such as white rum, or gin. You can try it different ways and see which way you like it. I personally prefer vodka because it really doesn't have a flavor. I did make one bottle with white rum but it does give it a different flavor.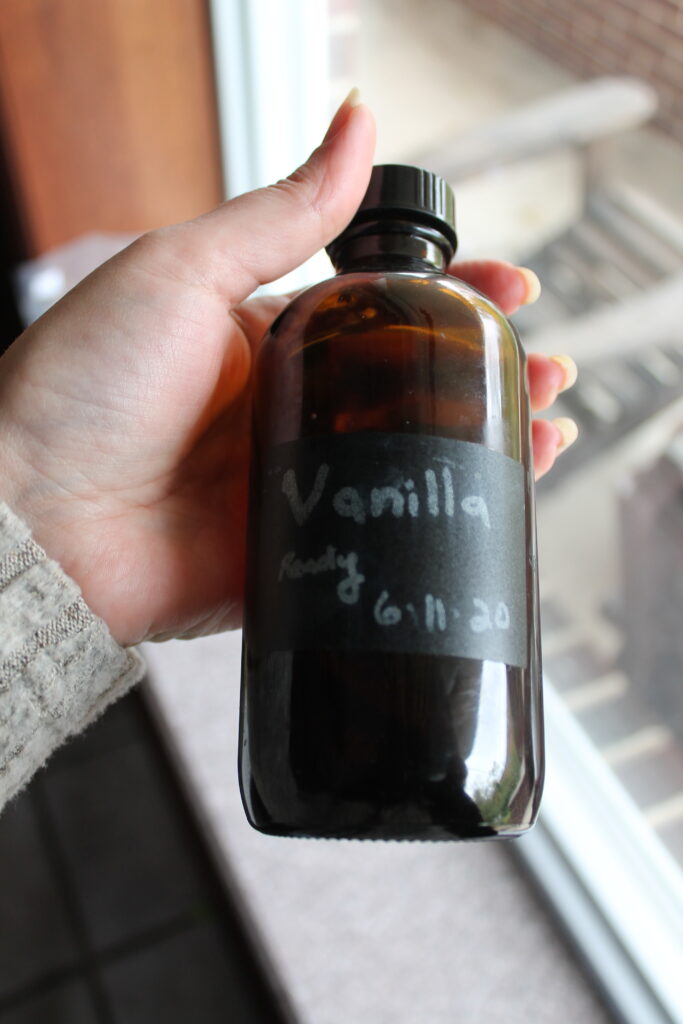 I've also tried a number of different bottles and jars to see what I like better. I made a big batch the first time I made it to give out some as gifts. I used mason jars but I didn't care for that as much as I'd have to dip my measuring spoon and if I tried to pour it didn't always give me a controlled pour. I bought these amber glass bottles on Amazon and are my favorite for extract making. The come in different size to from 4 oz to 32 oz.
How to make vanilla extract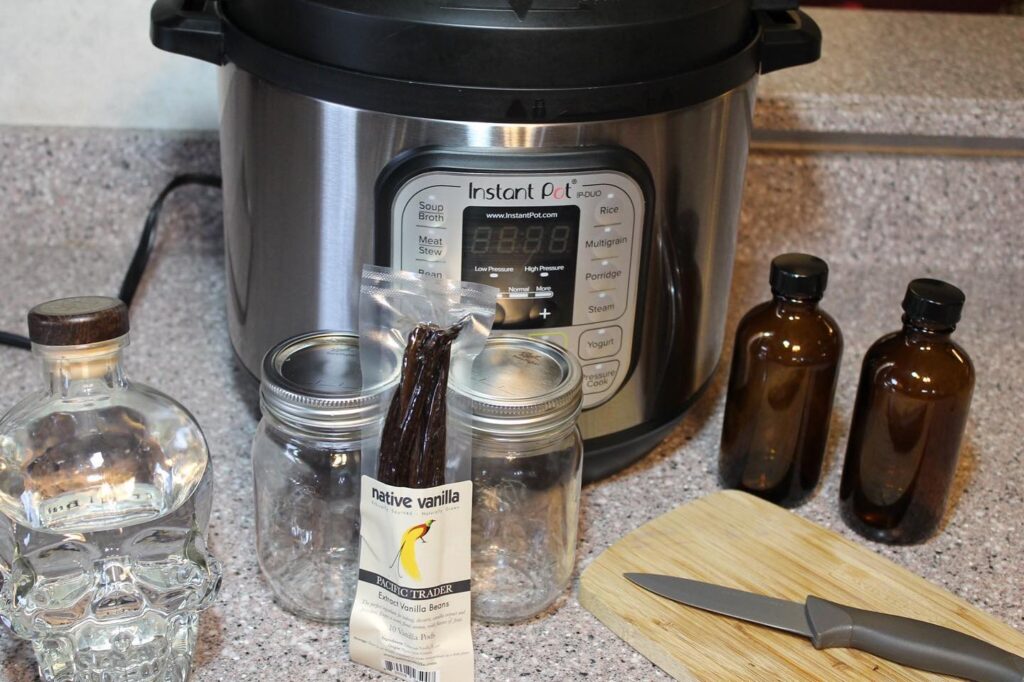 Once you have your items gathered from the above list you can start making your extract.
Step 1: Carefully slice your vanilla beans down the middle to open them up. I also like to trim the tips off of the vanilla beans too.
Step 2: Pour or funnel your alcohol or vegetable glycerine into you bottle.
Step 3: Add your vanilla beans to the liquid in the jar. I like to add 4-5 vanilla beans per 16 oz jar. You may need more for a larger jar/bottle.
Step 4: Seal your jar and store it in a dark place. I keep mine in my spice cupboard. I also find it helpful to add a sticker to the jar to let me know when i started the extract.
Step 5: Patience. This is where that part comes in. It takes about 6 months for the vanilla beans to infuse with the liquid until you have vanilla extract.
6 months? can I make it faster?
The answer is yes. One way to do this is to "brew" vanilla extract in an Instant Pot. Using this method the vanilla extract can be ready in two months. I'll be honest. I tried this method and after two months my vanilla extract just wasn't strong enough for me. I ended up letting it sit in my cupboard for an additional 2 months until I was happy with it. So this method did shave 2 months off. There are plenty of how-to's for Instant Pot vanilla extract on Pinterest.
Other options for gifting
Native Vanilla vanilla extract making kit includes most the items needed to make vanilla extract. It includes the bottle, directions, and vanilla beans and comes in a giftable wooden box. I've actually bought this kit a few times to give as a gift. It's different, it's useful, and easy. The recipients I've given them too loved it. When I've gifted it I've also bought a bottle of cheap vodka or vegetable glycerine to gift with it.
Native Vanilla also has recipes on their site and information about vanilla.
Have you tried making your own vanilla extract? Do you think you would give it a try?
**This post does contain affiliate links. I will earn a small commission from sales made through my links. This post is NOT sponsored.**