When I'm looking for a family game for my family of 6, there are several things I look for.
Will it be fun for everyone in my family from the adults down to my toddler?
Is there an added benefits to the game? IE. educational, physical activity, non-electronics based
Please don't let there be a million pieces and and 30 page booklet of rules!
Toss'n Towel has all these benefits and then some. Toss'n Towel Towel was created by Robert F. Smith, 45 yr old  blind Entrepreneur who was born into music royalty (His father was grammy winner and singer OC Smith). His philantropic Little Green Apple Projects was started to promote a million acts of intentional kindness. Toss'n Towel was created as a way to build on that project. There is even a Little Green Apples Toss'n Towel game. Which is the one I received to review.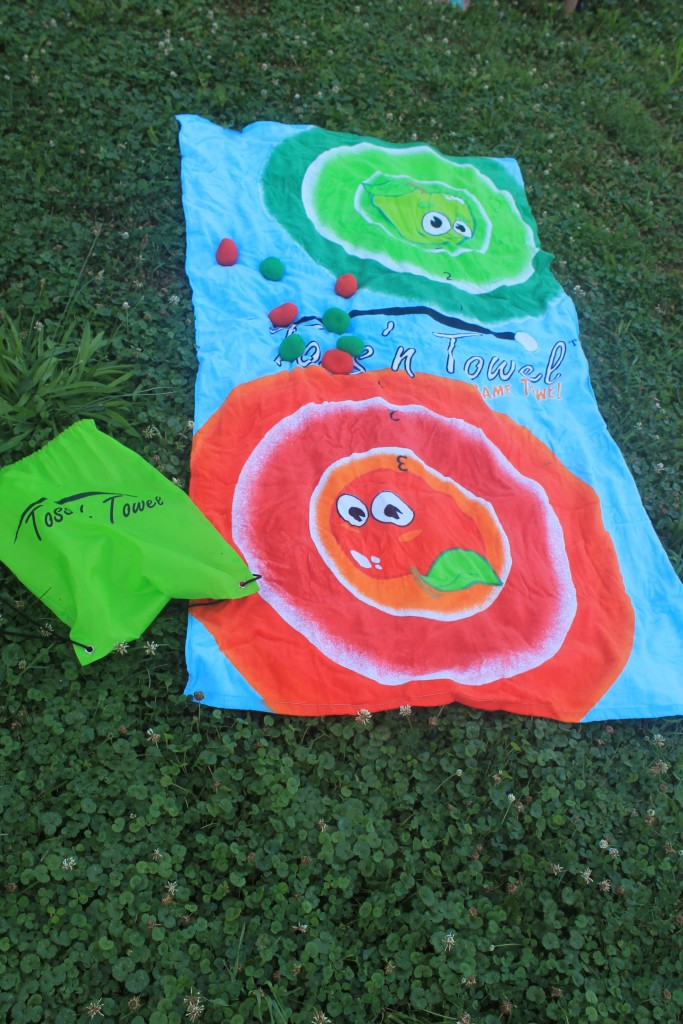 The game comes with a carrying case, the "game board" which is a towel, and 8 tossing socks (4 of each color) You can see they have a target on each side with different number. They don't come with a rule book. They encourage you to make up your own way to play which we did. My littlest 2 kids, 3 of my nieces, and myself all played a game. We made a line on both sides of the towel. We decided to play as teams of 3 on 3.  I didn't know how it was going to go with so many little ones so I decided to say we'll play to 15 to start. The kids actually played well with some guidance from me.  They wanted to keep playing. Really they just enjoyed throwing the bean sacks and trying to hit the target.

The kids had fun. This would have been great to have when we went to the beach. You can play this game indoor or outdoors.
Robert also has an indiegogo campaign going on right now for the Little Green Apples project using Toss'n Towel.  He wants to send 10,000 Toss'n Towel games to veterans, deployed military, and senior centers. In addition to the Little Green Apples project, a portion of the proceeds will go to help these three charities: Boys and Girls Club of America (select regional clubs), Pitch In for Baseball, and National Alliance of Resident Services in Affordable and Assisted Housing (NAR-SAAH)
Please consider helping along Robert's indiegogo campaign. Depending on the denomination you choose you can get your own Toss'n Towel game or other incentives for donating.  If you can't donate, would you consider sharing the campaign?  Or buy your Toss'n Towel game here
I did received the above mentioned/pictured product at no cost in order to complete an honest review. Any opinions expressed are my own.