My daughter loves all those encapsulated toys and miniature toys. Things like L.O.L. Surprise, My Little Pet Shop, etc etc. Reading the description for the VIP Pets S1 Mousse Bottle Surprise, I know my daughter would love it. I'm thinking this will be a fun addition to her Easter basket this year. For reference, my daughter will be 8 in a couple weeks. She's been playing with these types of toys for about 3 years now.
Just take a look at these! Aren't they fun and cute?
The VIP Pets are the most fashionable pets around. There are 6 characters with 2 different looks, all with their own personalities and hobbies. However there is something that connects them all… their passion for all things hair! These fabulous pets come with 9 surprises to unbox and 12 inches of super long hair to style .
The VIP Pets like to wear their hair in different styles depending on the occasion but they need your help to create the perfect look. Unbox 6 unique and personalized accessories! My daughter enjoys that part. Of course, she loves to see what character she gets but the accessories add to the fun.
Once you've washed her hair you will discover her unique style! PLUS, there is a special water reveal on their face to showcase a special face design! 12 different dolls to collect in Series 1! Become a professional hair stylist just like Fabio and Fabia! My daughter thinks it's absolute magic when things color change. She gets so excited.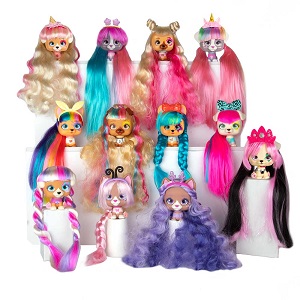 Shop for VIP Pets S1 Mousse Bottle Surprise Hair Reveal Doll at Target, Walmart and Amazon.
This post does contain affiliate links. I will earn a small commission from actions taken through my links. Any opinions expressed are my own.