I received a product sample in order to complete this post. Any opinions expressed are my own.
Years ago I used a rechargeable electric toothbrush from another brand.  It worked fine but one of the reasons I stopped using it was the big recharging base took up space and the replacement toothbrush heads were ridiculously expensive.  When Smile Brilliant offered for me to try their cariPRO Ultrasonic Electric toothbrush I wanted to check out their website first.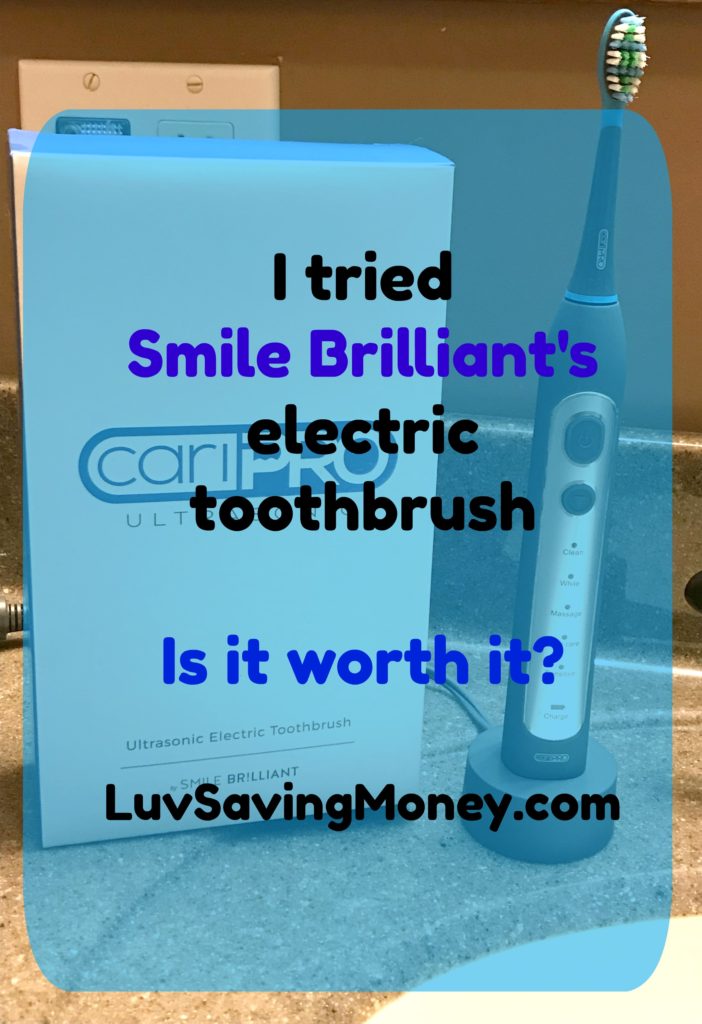 The charging base looks small but is it really? 
When I looked at the website it looked like the charging base was quite small. We're a family of 6, space is at a premium in our house so that was important to me.  The base actually is quite small, approximately 2 inches wide.  You don't have to leave the base out all the time though because the charge last a long time.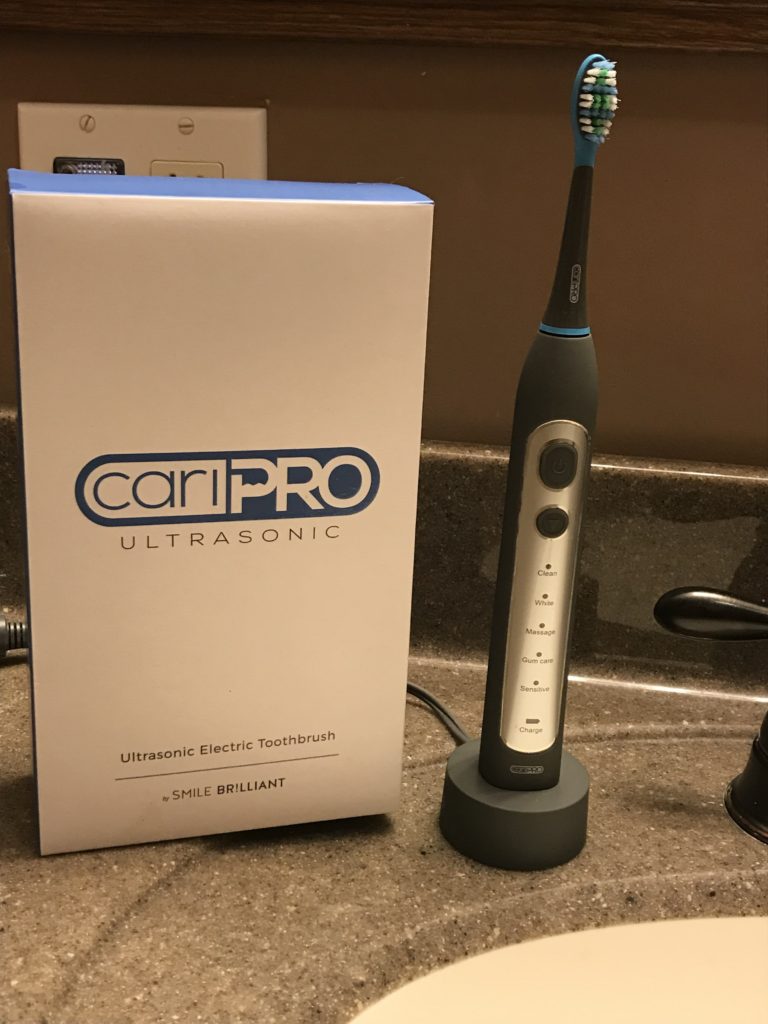 How long does the charge last?
Charging is easy. You just plug the base into an outlet and set your toothbrush on the base.  The charge light will glow red while charging until fully charged when it will turn green.  If you're in a hurry you only need to charge your brush for a few minutes to brush your teeth. When it's fully charged however the charge lasts for up to 30 days with twice a day brushing.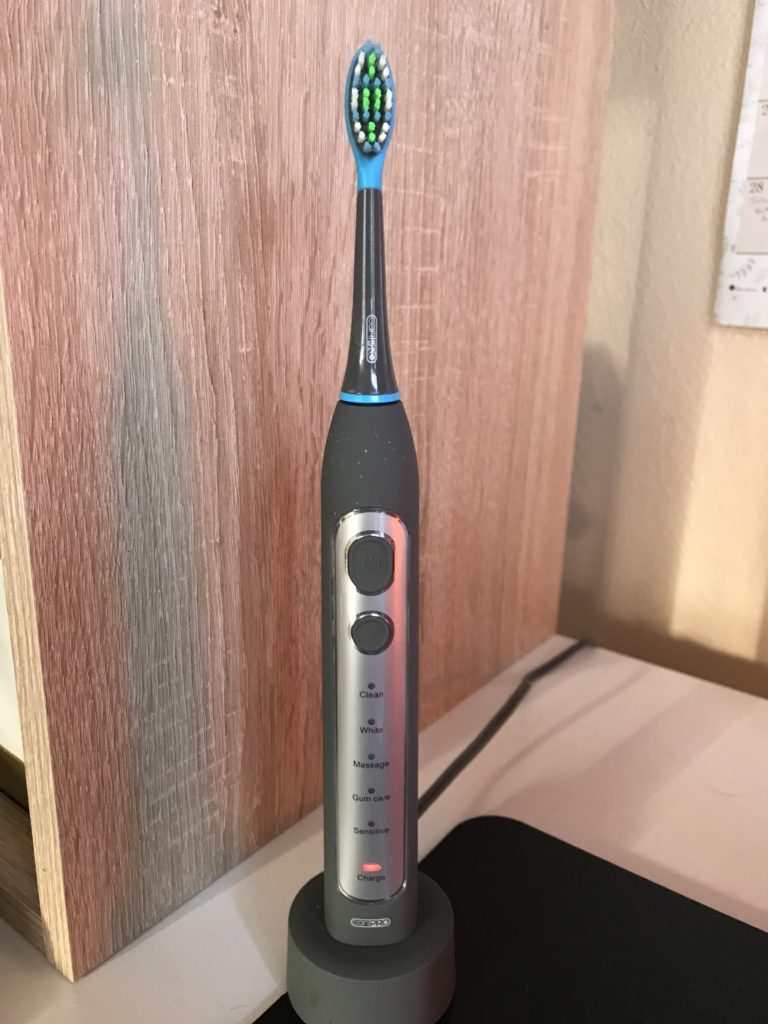 What are the features of the cariPRO Ultrasonic electric toothbrush? 
The cariPRO Ultrasonic electric toothbrush has 5 different settings: clean, white, massage, gum care, and sensitive.  I have sensitive teeth but wanted to try all the settings.  I found, for me, I liked the clean setting and gum care setting the best. The sensitive setting had a "tickle" feeling to me.
The cariPRO is also waterproof so no worries if it gets wet or even if you want to brush your teeth in the shower.  Hey I'm not judging.
The brush runs for 2 minutes with a pause every 30 seconds to change areas in your mouth.
The cariPRO has smooth, almost satin-like feel making it comfortable to hold it in your hand.
60 day trial – you get to try it in your home for 60 days, if you don't like it, ship it back and get your money back.  There is also a 2 year warranty!
The brush heads also have a tongue scraper on the back.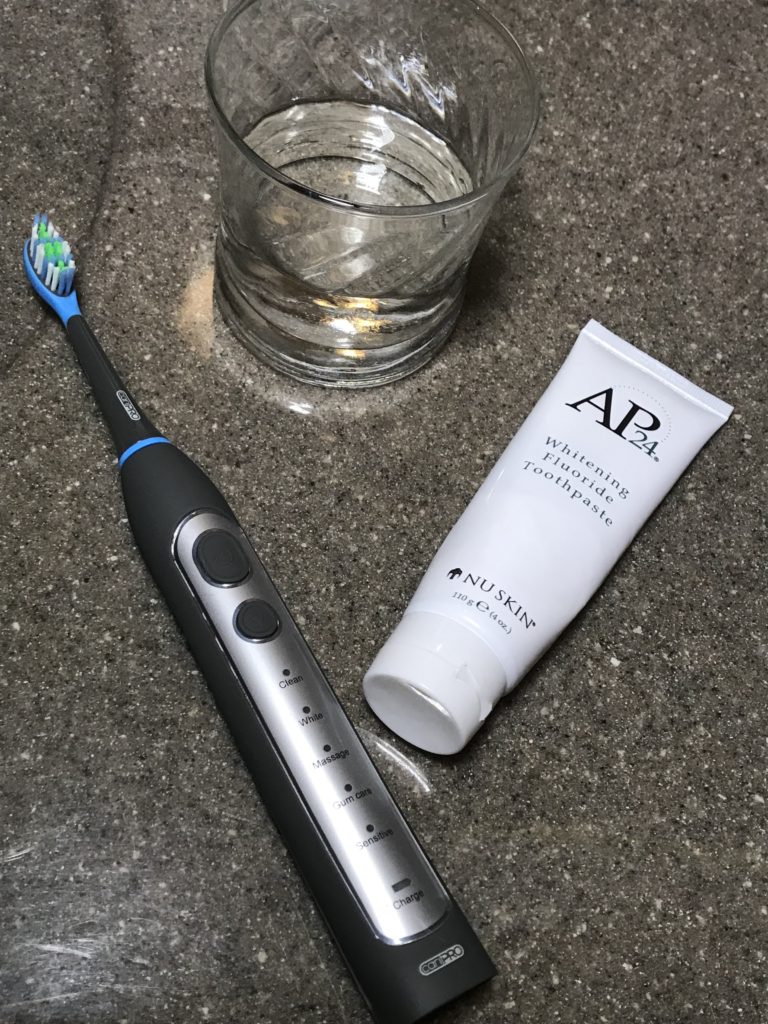 How much does it cost?
A valid question.  There are 3 different packages available for the cariPRO Ultrasonic electric toothbrush on the Smile Brilliant site.
Individual package – this is what I got to review.  I received the cariPRO, one charging base, and 2 brush heads.  This package runs $119.  Shipping is free.
Deluxe package – you get one cariPRO, one charging base and 4 brush heads. If you change your brush heads every 6 months that works out to 2 years worth of brush heads.  This package is $129 with free shipping.
Couples package – this one is definitely the best deal when you compare the prices to the other packages.  You get 2 yes TWO cariPRO electric toothbrushes, 2 charging bases, and 4 brush heads.  that breaks down to each person getting a toothbrush, 2 brush heads and a charging base for only $99.50 each since the couples package is $199 with free shipping.
All packages have a 60 day trial and 2 year warranty along with free shipping
Yea but how much are the Smile Brilliant replacement electric toothbrush heads? 
This is where I was really impressed.
You can get 2 replacement toothbrush heads for $13 and free shipping.  That's $6.50 per toothbrush head
A better deal, get 4 replacement toothbrush heads for $23. That breaks down to $5.75 per toothbrush heads.
Best deal, get 8 replacement toothbrush heads for $43 that's $5.38 per brush head.
Why should I use an electric toothbrush over a regular toothbrush?
I asked the same question.  You can check the Smile Brilliant FAQ Here.  The short of it is, it's 7X more effective at removing plaque than a manual toothbrush.  For me, another benefit is the fact that it runs for 2 minutes.  Admittedly, I don't always brush my teeth for two minutes with a manual. The cariPRO electric toothbrush runs for 2 minutes so it makes it easy to do that.  The cariPRO can also help improve gum health.   In my personal opinion, I also like the feel of the cariPRO electric toothbrush on my gums. It's sort of like a masseuse for my mouth.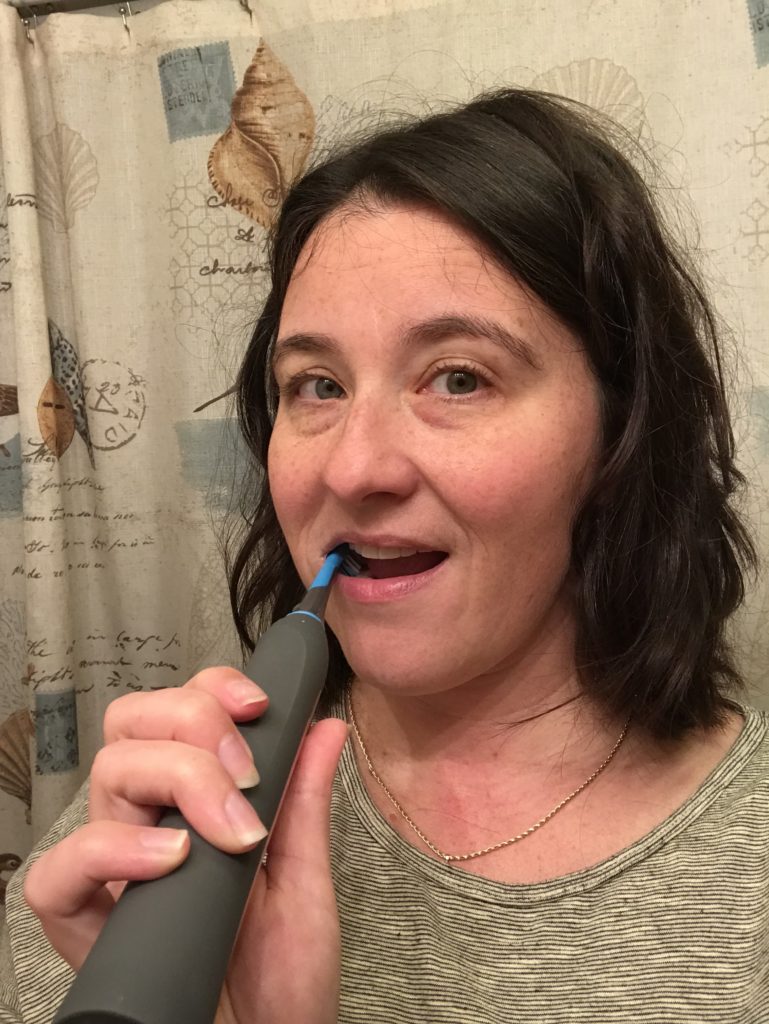 What is it missing?
This is a matter of opinion. Because it runs for 2 minutes and only gives a brief, second pause to change quadrants in the mouth, I'd like to see a couple second break after 1 minute to spit.  I know that's gross but I have a sensitive gag reflex.  I either have to try to spit with it running in my mouth or take it out of my mouth to spit and have it splatter on the mirror.  I've tried to hold off until it was done running but I end up gagging lol.
Where can I get one? 
Go to the Smile Brilliant website and use code: angiewith2-20 to get 20% off your very own cariPRO Ultrasonic electric toothbrush!
GIVEAWAY
Smile Brilliant has set up a giveaway for a $119 Smile Brilliant credit to be used for anything on the site
Enter to win a $119 Smile Brilliant credit