Ah Chips! The staple snack food at parties and get togethers. A savory snack when you want something salty. If you try to Google "origin of chips" I found that there are a lot of stories: they were invented by accident, they were invented in a restaurant in New York, and so on. I might not be a chip expert but I've tried a few chips in my day.
There are chips of all flavors: ranch, salt and vinegar (one of my personal favorites), jalapeno, BBQ, even dill pickle (another fave of mine) Even if the typical potato chip is off the menu for you there are plenty of "chip" alternatives. Veggie chips, avocado chips, even "cheese" chips. However you think of chips, they're delicious.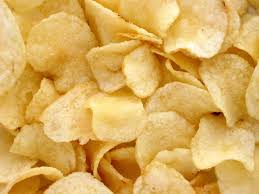 Quick Cheese Chips
What you need:String cheese
String cheese
parchment paper
microwaveable plate
I discovered this little tip while trying to follow a keto diet. Regular potato chips were off the menu but plenty of dips had the green light. This may sound weird but if you can't eat the typical potato chips these are yummy and so easy.
Take a stick of string cheese and cut it into coin-like slices. Place a piece of parchment paper on a microwaveable plate. Then place the cheese coins on top of the parchment paper spaced apart. Microwave on high for about 30 seconds (depending on your microwave) If not quite melted you can add 10 seconds at a time. Let cook then enjoy. Not super crispy but you get the textured saltiness of a potato chip.
Avocado Chips
What you need:
1 whole avocado
slice of lemon
1/2 cup shredded parmesan cheese
1/2 tsp garlic powder
1/2 tsp salt of your choice (I used sea salt)
2 Tbsp flour of choice (can use regular flour but I normally use brown rice flour or almond flour)
parchment paper
Preheat oven to 400 degrees. Cut the avocado in half and scoop the out the fruit into a bowl. Add the parmesan cheese, flour, and seasoning. Squeeze the juice of the lemon slice into bowl. Mix thoroughly (hand mixer works best).
Place parchment paper on a baking sheet. Using a teaspoon, scoop the avocado mixture onto the parchment paper. Flatten it with the back of the spoon and spread it a little so it's only about 1/4 inch thick. Bake in the oven for 15 min. Flip over and bake another 10 min. Chips should be slightly browned on both sides and not mushy.
Microwave Potato Chips
I had bought a microwave chip maker a few years ago from one of those home parties a friend was having. But there are plenty of microwave chip makers available and they're really affordable.
I don't use it often but when I'm craving potato chips and don't have any or when I need to figure out something to do with potatoes before they go bad I like to use this option. Simply slice the potatoes thin, a mandolin slicer works nice. Put the sliced potatoes on the microwave chip maker and microwave. They come with recipes and cooking times so it's super easy.
I find it usually takes a little longer in my microwave than what the time suggests.