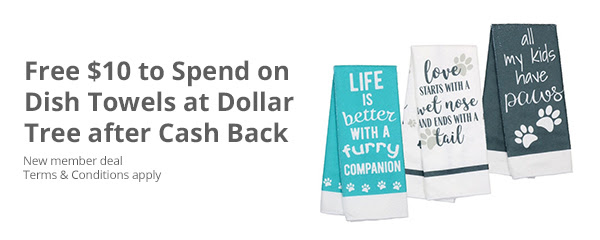 I figure, there's two types of people that are gonna venture onto this post. The first one "Oh boy TEN free dish towels, how do I get them?" Then there will be the ones that are curious but thinking "What on Earth do I need 10 free dish towels for?" I hear you and I'm here to help.
5 Ideas for Using Your FREE Dish Towels
The holidays are coming. Using them as part of a gift, or use them as useful gift wrap or gift bag packing. Your recipient gets an additional gift and it's more environmentally friendly than disposable gift wrap/filling.
Packing for holiday decorations. Instead of wrapping up your breakables in paper or plastic bags when taking down your decorations, wrap them in dish towels.
Dish towel crafts. Seriously it's a thing. Do a search for dish towel crafts in your search engine and you'll get all kinds of cool ideas.
Baby doll blankets. I've done this for my daughter. Hand towels and dish cloths are perfect size for some of he baby dolls.
Pet supplies. Use them for lining small pet bed, make cute doggie scarves with them, use them for washable pet clean up cloths, etc.
Now, ready to get your free dish cloths?
Step 1: 
OFFER LINK 
Using my link, signup for a FREE TopCashback account.This offer is for new TopCashback members only.
Step 2:
Follow the directions listed on the offer page to purchase. You must spend at least $10.00 to receive $10.00 cash back.
Step 3:
Within 7 days of purchase, $10.00 will appear in your TopCashback account. You'll be able to withdraw this within 14 days of purchase. You can withdraw the money straight to your checking, PayPal, or claim as gift cards.
Tips:
Important: Check your email to confirm your email address. Click on the link in your email to authenticate your new account.
Want to purchase more than $10.00? Make a second transaction instead of adding more to an existing cart to maximize additional cash back.
Terms & Conditions:Note: Transactions must contain at least $10.00 worth of purchases (before tax +shipping) to ensure the $10.00 cash back is credited to TopCashback accounts. Transactions may initially track lower, but within the 14 days after purchase it will be uplifted and turn payable at the amount of $10.00. Transactions may take up to 7 days to appear in your TopCashback account. The deal is open until 11:59pm PST on 10/21/2020 or until supplies run out; whichever happens first; applicable for purchases made directly after clicking through TopCashback. Only one TopCashback account is permitted per member.  Cannot be combined with other TopCashback freebie offers.  Do not close the window, open any new tabs, or use non-TopCashback approved coupons while checking out.
I've been a member of TopCashBack for a couple years now. It's one of my favorite cash back sites with consistently higher cash back then many of the other cash back sites. I still encourage you to compare because I certainly do. I go with whoever is offering the most cash back for the purchase I'm ready to make.