I have so many deals that I find each day. I have Amazon sellers that send me lists of deals with coupon codes. I find good deals through the daily deals. Sometimes I'll stumble on a coupon deal while browsing for something in particular. Here are some of my favorite deals for today.
If you like this blog feature, please let me know in the comments. This post does contain affiliate links. As I find more deals throughout the day I will update this post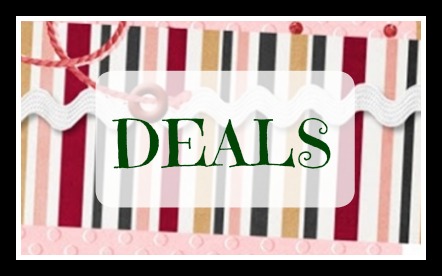 Adult Clothing + Shoes
40% off sitewide at Reebok with code: MOM40 exp 5/9/22
Pocket leggings for women as low as $6.40 with code: NHPU955C
Women's one piece swimsuit deal $12.09 – $15.39 with code: 45S2UABL code expires 5/8/22 several colors to choose from
Champion Women's jersey shorts $11.25
Men's Tommy Hilfiger thermal jogger $19.99 (reg $32.50)
Women's mesh shorts 2 pack $14.96
6 pack boys athletic shorts $25.44
Champion Women's Mesh Shorts $15 (reg $20)
Women's summer sleeveless maxi dress deal $17.39 with code: HNQ8ITWL code expires 9/30/22
Beauty and Self Care
50% off hair care deals with new deals daily until 5/13/22
Smile Brilliant sale: 30% off electric toothbrushes, bundle deals, and more ends Sunday
MAC lipsticks deal as low as $13.80
Gel nail polish set pack of 6, several colors to choose from $6.49 with code: XXCWVYFG code exp 5/15/22
5 pc waterproof shower cap $6.4o with code: K5ERJKRY code exp 5/9/22
Vera Wang Princess Eau de Toilette 3.4 oz $25
Gel polish nail kit with UV lamp 50% off with code: 50U1HTHF code expires 5/14/22
Urban Decay Naked Wild West eyeshadow palette 50% off
40% off Urban Decay Stay Naked liquid foundation and concealer
Urban Decay Lash Freak Volumizing Mascara $13 (reg $26)
Urban Decay Naked Reloaded eyeshadow palette $22 (reg $44)
Urban Decay Eternals eye shadow palette $22.75 (reg $65)
Craft and Stationary
Cricut Easypres mini press $34.95
Electronics and Gaming
Gardening
Buy one get one free on select plants, bulbs, bushes, and trees at Nature Hills Nursery
Gift Cards
10% off Chipotle gift cards 5/5/22 ONLY
10% off Instacart gift cards 5/5/22 ONLY
GROCERY
3 pack Tresemme 28 oz shampoo $7.40 or even less with subscribe and save
48 ct Ferrero Rocher collection $14.97 (reg $20.96)
Household
Macaron baking set $10.49 with code: 9DFUTUOM code exp 5/20/22
Pillowfort Kids Dining – plastic dinnerware pieces as low as 26 cents each when you clip the 30% off Pillowfort coupon
25% off sitewide at Pfaltzgraff with code: SUN25
Jewelry and Accessories
Dooney & Bourke Wexford Leather Crossbody Pouchette $59 with code: CLEARANCE
Hoop earrings $4.99 with code: IOJWEQHA code exp 5/15/22
Laptop bag $11.99 with code: KHUM6BPG code exp 5/10/22
Kendra Scott clearance at Nordstrom rack as much as 70% off
Under Armour backpack $19.97
Kate Spade huggies earrings $15
Kids Clothing + Shoes
Vanilla Star Girls faux sherpa tie-dye lined hoodie and joggers $10 size 4 – 6 available
Girls Reebok 2 pc hoodie and sweatpants $13.50 sizes 4 – 16
Boys fleece joggers sizes 4 – 18 only $9.50 (reg $16)
Outdoor
Inflatable Paddle board SUP with accessories $177.34 (Reg $239) with code: PLHH4PT5 code expire 5/5/22 ENDS TODAY!
Large beach blanket waterproof $8.24 with code: KHW4ZNHH code expires 5/6/22 ENDS SOON!
Pets
Cat water fountain $24.99 when you clip $15 off coupon
3 pack cat toys $1.97
Seasonal
Sports, Fitness, Health
NordicTrack Studio Smart Bike with 7″ Smart HD touchscreen and 30 days of iFit $597 (reg $997)
Yoga towels $8.99 and Yoga mat bag with side pockets on sale $9.99
Subscription Deals
30% off Evive blend free smoothies with code: WELLNESS30 exp 5/31/22
Tools and Garage
Milwaukee M18 18 Volt Cordless Compact Drill/Combo Kit 2 tools with 2 2.0 Ah batteries, charger, and bag $199 (reg $229)
TOYS
50% off select toys and collectibles TODAY ONLY
Vtech Glitter Me Kitten $21.99 (reg $34.99)
Dollhouse/bus playset $23.99 with code: YJR5KMV6 code exp 5/8/22
Rocket play tent $14.99 with code: 50EOBSGA code expire 5/6/22 ENDS TOMORROW
Toddler busy board $24.99 with code: YZUSHG48 code expires 5/7/22
38 pc tea set with tea pot, treat stand, and more $16.79 with code: 3BYRUDHI code expires 5/15/22
21 pc Doll outfits and accessories set for 18 inch dolls $13.89 with code: RGHGYH2S code expires 5/31/22
Barbie with Pool Playset $12.18
If you find any deals that are expired or don't work, please let me know and I'll remove them. If there are any particular deals you are looking for, I'd love to know. I'll try to find them.
Luv Saving Money is not responsible for shipping, charges, or customer service of these sales and deals. Any issues you have in those departments should be directed to the seller or respective site of sale