This post is for any bloggers or website owners out there looking for some advice on getting more entries into your giveaways.  This is something I continually work on in terms of how to promote, what works for what kind of prize, etc. I'm certainly not telling you what to do.  Everyone runs their site the way they want to but through trial and error I've found ways to encourage more entries into my giveaways.  Also as someone who is an avid sweeper I tell you ways to make it easier for your entrants (and increase entries).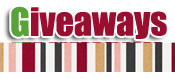 Know the value and appeal of your prize
Of course if we could all choose whatever prizes we wanted to give to our readers we'd love to giveaway $500 gift cards, Dyson vacuums, and 2 week vacations.  That's not to say the small prizes aren't fun and appealing too.  What I'm saying is, there is going to be interest and appeal for someone to enter a $250 VISA gift card giveaway than for a bottle of hand soap. Whatever you're giving away though, consider the value and appeal in what you're having your readers do to enter.  As a rule of thumb, simple and quick entries encourage more entrants.  As a sweeper myself when I see there are three mandatory entries to win a bottle of laundry detergent, I'm just not going to do it especially when Joe Shmo's blog over here is giving away the same prize and all you have to do is follow them on twitter. Also realize that some prizes are just going to have less entries because they have a narrower audience.  For instance, giving away a runners magazine subscription is only going to appeal to those that run, want to run, or know someone who runs where a $20 Walmart gift card can be useful to many more people.
Mandatory Entries
This is usually the first entry and often the only entry NEEDED, to be entered into the giveaway/sweepstakes.  I listen to my readers, I've heard other bloggers and sweepers voice their opinion. There is an overwhelming majority that say they really don't like seeing giveaways with more than one mandatory entry.  I know I'll pass a giveaway right up if I see it has 3 mandatory entries just to qualify. Don't make me subscribe to your newsletter, like your on facebook, AND leave a comment just to qualify to win a flashlight.  I won't do it and from what I've read, there are a lot more that won't either. Honestly, I'd stay away from it even for big giveaways because you could always add those things to bonus entries and people are more likely to complete it and actually want to.
Bonus Entries
This is one I had to change myself.  I listened to my readers opinions and those of avid sweepers.  It's tempting to throw every single social media follow into your bonus entries, sign up for this, subscribe to that, and vote for me here, type entries as well.  But I've cut down on those myself because the people say "we don't like seeing lots of entries"  not sure why, I always felt bonus entries were bonus entries and they can do them if they want or not do them.  Honestly though, since reducing the amount of bonus entries in my giveaways I've seen more unique entries. Who knew?
Jacking Up Your Entry Points
Ok this one might just be me but I'm looking at it as a blogger and a sweeper.  The blogger side of me doesn't like seeing someone have 25+ entries for each and every action in the giveaway form.  Sure it might sound good to say hey I got 3000 entries for my $5 gift card giveaway but when you're assigning "facebook like 25 entries" "twitter follow 25 entries"  All it's doing is inflating number.  From a sweeper side, especially one that isn't aware of this tactic, they may see that your giveaway for a bottle of body lotion has 1200 entries and it turns them off and they think "I won't win it anyway" I prefer to provide one entry for each action.  If there is one I really want to encourage I might make it 2 or even 5 but the 5 is a rarity.  This also gives entrant a truer idea of odds.
Make It Easy
I already talked about the mandatory entry being easier but this is in reference to any entry whether mandatory or bonus.  Don't make entrants search high and low for your twitter follow button or email subscription form.  Put the clickable link right in the entry form.  It's easy, only take an extra second and in forms like rafflecopter and giveaways you can even reuse a form and it will be there until you delete it.  Don't assume entrants are going to go over to your sidebar or homepage to find your social links because they may not.
Here is an example of how to do a clickable link in giveaway tools.  I wanted PenGems.com to be clickable.  I typed out the sentence as it would show up. Click and drag over "PenGems.com" so it's highlighted, then click "add link" in the right above the text box. A box will pop up showing what you highlighted as being clickable then it asks you what url you want it to direct to and you paste the url in, that's it. You just made the entry easier for your entrant.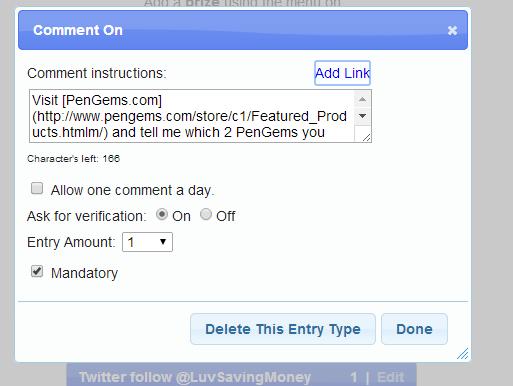 Let Entrants Help You Spread the Word
What I mean by this is, offer a daily tweet option or a social share option.  Some entrants like daily options to get more entries in especially for a great prize.  If you're forming the tweet make it simple and to the point so if someone else sees it, they know exactly what is going on "Enter to #win a $20 gift code to Jewelrycoco.com ends 8/2 US"  and include the link. You just told them everything in that tweet: who it's open to, when it ends, what it's for, and where to enter.
DO NOT False Advertise or Over-exaggerate
I'm a fan of low entry giveaways. I like the odds, they are usually smaller prizes that will save me money on groceries like coupons for free juice or laundry detergent.  What I can't stand is when someone is claiming low entries and you eagerly go over to the site and see that there are 8000 entries for one prize.  I feel duped and I feel like they were crying wolf to get page views. I won't even enter at that point.  Don't over-exaggerate. If your prize is a $20 off coupon don't say it's a gift card, there is a difference in some cases.  If the winner is going to have to pay shipping say that upfront, you don't want a winner coming back at you upset that they had to pay shipping.  I realize there are times that the sponsor is not always upfront and honest and can put you in a bad position.  I learned a long time ago to ask all the pertinent questions when it comes to reviews and giveaways products for my readers.
PROMOTE PROMOTE PROMOTE
Lastly, companies want bloggers to do reviews and giveaways to gain exposure.  Word of mouth is an age old an proven method of advertisement.  You shouldn't promote a smaller giveaway any less than you promote a large giveaway.  Share on all your social media channels (where allowable), add to giveaway linkies, cross promote with blogger friends, tell your friends and family about it in person, etc.  Do audience specific promotion.  If you're giveaway is open to Canadians add it to Canadian friendly linkies, If you're in a couponing group and you have full value coupons to give out, tell that group about it (again, where allowable)
That being said, I want to know your opinions.  If you have something to add, if you have a suggestion for my giveaways, let's hear it!