Prize is sponsored by Woot! I have not received any compensation for this post.  This post does contain affiliate links. I will receive a small compensation for actions completed through some links. 
I've had Amazon Prime for years and I've never regretted it. Between the free Prime shipping, Prime videos to watch, free Kindle reads, and more it's been totally worth it for my family of 6.  As a deal hunter it's helped me save money.  Now there's even more ways to get great deals with Amazon Prime. You can still Try Amazon Prime 30-Day Free Trial
Woot!? The original daily deal site, was founded in 2004.  It initially only offered one daily deal a day at incredible prices. Once it was sold out that's it.  After it was snatched up by Amazon in 2010, Woot!? now offers daily deals and other limited time offers over seven categories of shopping.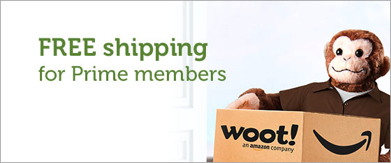 Amazon Prime members can now get free shipping from Woot!  That's right! Now not only can you find great deals on Woot! but Amazon Prime members can get them shipped free too!  Just login to your Amazon account through this link: woot.com/prime
Check out their flash deals for ridiculously low prices on items before they sell out.  Just scrolling through today I found an awesome deal on on Otterbox phone case, costumes, gardening tools, and more!
Woot! has something they offer called their signature Bags of Crap or BOC for short.  BOCs are a random collection of items stuffed in a box and sold to you.  BOCs can contain anything.  Wooters have received everything from laptops and brand new headphones to rubber duckies and giant metal roosters to shirts and even a single shoe.  You never know what you might get in a BOC.
If you're not an Amazon Prime member yet you can sign up through this banner. They still have the 30 day free trial too!
GIVEAWAY
2 US Luv Saving Money reader will win
a Woot! signature BOC with a guaranteed value of at least $30