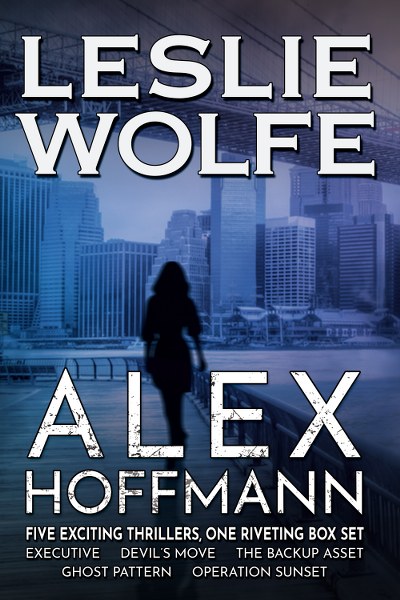 Alex Hoffmann: Five Exciting Thrillers, One Riveting Series by Leslie Wolfe Genre: Crime Thriller, Suspense
If James Bond were an American woman who preferred angry mojitos to martinis, her name would be Hoffmann. Alex Hoffmann. "In Alex Hoffmann, Leslie Wolfe has created a character the equal of Clive Cussler's Dirk Pitt and John Sanford's Lucas Davenport." – Five-star review on Amazon. Five full-length, exciting action thrillers, one seriously gripping series. Discover Alex Hoffmann, the fearless rookie private investigator, and join her on a breathtaking ride that culminates with her facing off with the most dangerous intelligence asset the Russians have ever produced. It's a hell of a ride. Executive A rookie private investigator. An unexpected killer. Espionage, current technology, warfare, and a hint of greed. A friendly fire incident in Afghanistan takes a serious toll. A drone, out of control, brings death and wreaks havoc on a Florida highway. An apparently successful corporation comes under scrutiny. Devil's Move Here, at home, the enemy has a new target. We know the day of the attack, Election Day. We know very little else. America has overhauled its voting system using the latest technology. It was supposed to make our elections safer, but it's only managed to make them a target. As we elect a President, conspiracies and murder take aim at our most cherished institutions. The Backup Asset Espionage has a new dimension. Everyone is gettable. The United States is in the crosshairs of an unstoppable enemy intelligence operation and everyone is gettable. It's called the Cold War 2.0, but when someone steals the plans to America's newest weapons system, the war threatens to get very hot indeed. Alex Hoffmann puts everything on the line against unseen enemies in this gripping techno-thriller. Ghost Pattern There's no willpower, no intelligence, and no spirit that won't succumb to the right mix of drugs. When enemy interests employ the use of modern tools, weapons, tactics, and theories to achieve goals, the results have destructive, bone-chilling, and disturbing physical and emotional effects. Today's enemy is tech-savvy, manipulative, powerful, well-funded, and supported by entire networks of global experts. Operation Sunset We are under an unprecedented attack. There's nowhere to run. It's the inconceivable scenario. An unknown Russian isn't threatening a building or a city, but the future of everyone in America for decades to come. Alex Hoffmann is uncompromising and resourceful, but can she take out the greatest threat America has ever known when she doesn't even know who it is? Fans of Tom Clancy, Robert Ludlum, Ian Fleming, and Lee Child will love Leslie Wolfe. **Only .99 cents!** Goodreads * Amazon
Leslie Wolfe is a bestselling author whose novels break the mold of traditional thrillers. She creates unforgettable, brilliant, strong women heroes who deliver fast-paced, satisfying suspense, backed up by extensive background research in technology and psychology. Leslie released the first novel, Executive, in October 2011. It was very well received, including inquiries from Hollywood. Since then, Leslie published numerous novels and enjoyed growing success and recognition in the marketplace. Among Leslie's most notable works, The Watson Girl (2017) was recognized for offering a unique insight into the mind of a serial killer and a rarely seen first person account of his actions, in a dramatic and intense procedural thriller. A complete list of Leslie's titles is available at http://wolfenovels.com/order. Leslie enjoys engaging with readers every day and would love to hear from you. Become an insider: gain early access to previews of Leslie's new novels! Website * Facebook * Twitter * Bookbub * Amazon * Goodreads $50 Amazon

…Chapter 3: Job Search …Saturday, April 10, 6:22PM
…Ridgeview Apartments
…San Diego, California
Your next opportunity awaits.
"I definitely hope so," Alex mumbled, waiting for a new search page to load, while staring at the promising
slogan of yet another job board.
With little patience for what she was doing, and in desperate need of a job, Alex was browsing page after page
of countless job postings, reading ads, and looking for possible fits. With rent due in just two weeks' time and
no money left in the bank, she was considering a variety of jobs, spanning from boring-to-death customer
service to marketing, but not ignoring any other available options. It was no longer the issue of making the
right career choice; it was about survival and paying the bills.
At 29, she was living alone in a small two-bedroom apartment that looked like a war zone. Not preoccupied by
the appearance of her home, she had furnished the apartment with a bizarre selection of items, all serving the
purpose of functionality. She had focused on what she needed at particular stages in her life, with no
consideration given to furniture styles or colors.
Her desk was huge, quite old, and made of solid wood. It had two sets of drawers, one on each side. Not one
square inch of the desk's surface was visible, as it was covered with bills, handwritten notes, and office
equipment. Her computer took most of the available space, together with a modem, two printers, a scanner,
and a phone, all connected by numerous intertwined wires.
The past few days had been carbon copies of one another— search after search, application after application.
She had no choice but to keep going.

Follow the tour HERE for special content and a giveaway!a Rafflecopter giveaway