A Fresh Restart by Chelsea Falin Genre: Contemporary Romance
A sweet contemporary friends-to-lovers romance novella with a strong dose of second chance at love and a sweet HEA. No cliffhangers. (Heat Level: 2 flames.) Josette Miller and Walker Anderson grew up together in small- town, Dade City, Florida. Inseparable during their youth, Josette dreamed of growing up and moving away. When she left ten years ago, Josette didn't know how Walker really felt about her. But Dade City just wasn't the same with Josette, and Walker left shortly after, regretting he'd never told Josette how he felt. In a twist of fate, Josette and Walker find themselves moving home within months of each other. They aren't kids, anymore, and the attraction this time around is mutual. Maybe a "Fresh Restart" is just what they needed to get their happily ever after. Add to Goodreads Amazon * B&N
Chelsea Falin is the 25 year old independent author of well over ten titles. She began writing with intents to publish in 2006, at age 16, and finally published in 2009, at age 19. Chelsea writes in a variety of genres, including but not limited to: romance, young adult, comedy, cooking, poetry, and dramatic fiction. Professionally, Chelsea is also a freelance blog/article writer, web designer, and book blogger. In her personal life, Chelsea is the mother of a six year old daughter. In her free time, she enjoys reading, writing, fishing, hiking, biking, traveling, and spending time with her friends or family. Website * Facebook * Twitter * Instagram * Amazon * Goodreads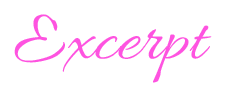 Walker stretched his back. As his arms reached high up over his head and slightly
back, he let out a great sigh. It'd been a long day already, and the sun was only reaching it's
noon zenith. He sighed.
"Son? Where are you at?" Walker could hear his father's voice from near the front of
the old home. He walked towards the sound slowly, ready to sit a minute. He only needed a
minute.
"Here, Daddy. What's up?" His father shook his head and his gray hair reflected
sunlight.
"Do you ever stop working?" Walker smirked as he father chuckled. "I know there's
a lot to do, but it doesn't all have to be done in a week."
"Yeah, I know it doesn't. I just want to get it done. It'll be hanging over my head if I
don't." Walker sighed as he looked at the property and house. He shook his head in a way he
knew was an exact imitation of his father. "Still so much to do…" The house hadn't even
been touched yet. After half a week of ten-hour days, the yard only looked slightly better.
"Yeah, I know." Walker watched his Daddy's face grimace. "It's a damn shame,
really. This place used to be so nice. You remember?"
Walker smiled. "Yeah, Daddy, I do."
Walker thought about the many weekends he'd spent here growing up. His
grandparents had always kept the property maintained and the home sparkling, no matter that
it had always been no more than a small two-room shack they'd built on over the years.
Walker snorted as he thought about how he and his little brother Dusty had snuck over that
dilapidated fence in the back to go play with the Miller kids. Suddenly, he laughed out loud
so hard tears ran down his face.
His father was looking at him with an eyebrow raised. "What's so funny, son? You
getting loopy from heat exhaustion or something?"
Walker shook his head. "Daddy, do you remember when Rose was brand new and she
came home? Dusty and I tried to sneak her over the fence to show the Miller kids?" Walker
choked on his laughter. "The look on Momma's face! My God! I'll never forget that!"
Daddy started laughing, too. "I don't know what the hell y'all were thinking, but I
should of known then your sister would have more sense than any of y'all."
"Hey, whose making all that racket?" A stern voice called out from behind them.
Walker turned, his body tensing through his shoulders as it did when he was
frightened or angry. He wasn't sure which he felt right now. Walker listened to the sound of
clumping boots for a long minute before a Chestnut brown head moved towards them, stray
hairs flying everywhere. Bright green eyes glinted mischievously in a darkly tanned face
sitting above a tall, lanky body.
"Damnit, Gunner!"
Gunner laughed as he reached Walker and gave him a tight one-armed hug, slapping
him on the back. "I heard you were back in town, you old rascal. Couldn't quite believe it
until I heard all of that hee-hawing. I'd know that laugh anywhere."
Walker shook his head. "Yeah, I'm back in town. I'm fixing this old place up,
actually."
Gunner raised an eyebrow, "Oh yeah?"
"Mhmm."
Gunner glanced at his daddy. "Hi, Mr. Anderson. How are you?" Gunner reached out
and shook the older man's hand.
"I'm just fine, Gunner. Thanks for asking." Daddy sighed. "I'm actually going to
head home. It was nice seeing you… and, Walker, be sure to make it home for supper. You
know your Momma will pitch a fit if you don't." Gunner smiled and nodded in response.
Gunner grinned, eyes twinkling even more mischievously than usual. "Know who
else is back in town?" Walker shook his head. "Josette."
Walker grinned stupidly, despite his best efforts not to. "Oh yeah? How long is she
stayin' this time?"
"Permanently." Gunner continued, "Momma left her and Charlene the house, and
Josette only just decided to stick around. Take care of things. Said she needed another fresh
start, even if it was in an old place."

Follow the tour HERE for special content and a giveaway!a Rafflecopter giveaway