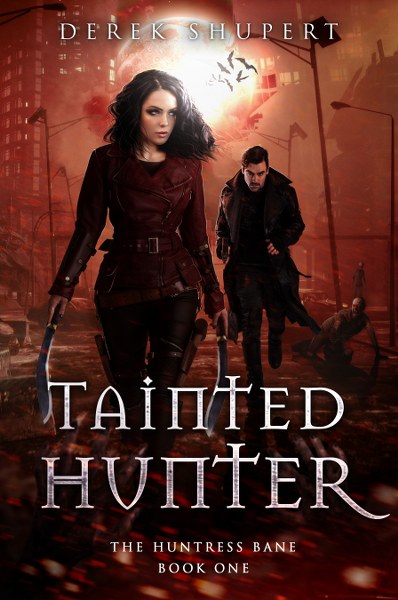 Tainted Hunter The Huntress Bane Series Book 1 by Derek Shupert Genre: Dark Fantasy
Vampire venom runs through her veins. But in her heart, she's vowed to kill every last one of them. Lone hunter Amanda burns for revenge. After years of torture at the hands of the bloodsucker king, she's determined to destroy the creatures who enslaved her. But a pitched battle with her tormentor ends in a stalemate and leaves her alone in the wastelands—grievously wounded. Rescued and healed by a mysterious stranger, Amanda and her new ally set off for the last fortified human city. But when she learns her old nemesis plots to raze it to the ground, she fears she won't arrive in time to prevent the massacre. Can Amanda find her way to the town before a rabid feeding frenzy decimates the inhabitants? Tainted Hunter is the pulse-pounding first book in the Huntress Bane dark fantasy series. If you like bold heroines, gory combat, and edge-of-your-seat suspense, then you'll love Derek Shupert's action-packed tale. Buy Tainted Hunter to wage war on an army of darkness today! ** Only .99 cents Oct 24th – 28th!!** Add to GoodreadsAmazon * DerekShupert.com Crimson Thirst The Huntress Bane Series Book 2
Her hands are happily stained with monsters' blood. But slaying the horde's leader may require joining the creatures she loathes… Though her vampire heritage fosters mistrust, half-breed hunter Amanda fights for the humans in this fateful war. So when bloodsucking fiends breach the walls of mankind's last fortress, she ignores the city fathers' demands and creates a trail of undead carnage. But even she is stunned when a rogue vamp battles by her side to repel the invasion. Convinced this mysterious traitor could be the ally they need to turn the tide, Amanda embarks on a dangerous quest through the wastelands to learn who he is. But with her quarry holed up in a vampire stronghold, there's every chance she's walking straight into a trap. Can Amanda survive treachery and manipulation to tip the scales of this conflict, or will she be lured to her death? Crimson Thirst is the savage second book in the Huntress Bane dark fantasy series. If you like gutsy heroines, apocalyptic landscapes, and page-turning action, then you'll love Derek Shupert's heart-pounding tale. Buy Crimson Thirst to join the battle against ruthless beasts today! Goodreads * Amazon
Derek Shupert is an emerging Science Fiction Author known for his captivating dystopian storylines and post-apocalyptic-laden plots. With various books and anthologies underway, he is also the author of the Afflicted series and Sentry Squad. Outside of the fantastical world of sci-fi, Derek serves as the Vice President at Woodforest National Bank. During his free time, he enjoys reading, exercising, and watching apocalyptic movies and TV shows like Mad Max and The Walking Dead. Above all, he is a family man who cherishes nothing more than quality time spent with his loved ones. Website * Facebook * Twitter * Bookbub * Amazon * Goodreads

Standing on the porch, of the ramshackle house, my gaze stays locked on Mathesis's
shadowy silhouette.
The clear skies overhead allow the radiance of the moon to splash over the vapid lands. It
isn't much, but enough for me to work with.
"Then come claim your prize, my sweet Amanda."
His red eyes linger in the darkness. His voice taunts me, and whispers softly in my ears,
trying to distract my thoughts, so I succumb to his devilish desires.
His minions growl and taunt me as well. Pairs of distant red eyes shift within the veil of
night on my left and right.
I twirl the Kukri machete in my hand. If I have to plow through his legion of dead to have
my blade taste Mathesis's flesh once more, then I shall do it without pause.

Follow the tour HERE for special content and a giveaway! a Rafflecopter giveaway