The Gilded Stone Dark Tides Book 5 by Candace Osmond Genre: Time Travel Fantasy Romance Publisher: Guardian Publishing Publication Date: April 30, 2020
Make a choice. Go back in time. Save them from the devil… What good is a happily ever after if it's all ripped away by the hands of a devilish siren? When Dianna's children go missing, she and Henry are left with no choice but to do something they swore they'd never do again…travel back to the 1700s. But with their children's lives in the hands of an unpredictable siren, they must make a hasty decision; trust that the sea creature will return their kids…or find a way to go back in time and risk never coming home again. They soon realize they'll have to travel further than they've ever gone; beyond our world to the mythical realm of Faerie to save their children. A task easier said than done. The rumored entrance lays across the ocean. They needed a ship. And a crew… In hopes of saving the family they started in the future, Dianna and Henry must search for the family they left behind in the past and travel across the sea to an unknown world. But four years is a long time and things aren't quite as they left them. Can they sail across the sea and uncover the entrance to Faerie before it's too late? Or will they find themselves broken hearted and lost in time with nowhere to go? Fans of OUTLANDER and PIRATES OF THE CARIBBEAN are obsessed with Dark Tides! One-click The Gilded Stone, book five in the #1 International Bestselling Series today! **Only .99 cents!! ** Add to GoodreadsAmazon * Apple * B&N * Kobo * Smashwords * Books2Read
The Devil's Heart Dark Tides Book 1 Goodreads * AmazonThe Pirate Queen Dark Tides Book 2 Goodreads * AmazonThe Blackened Soul Dark Tides Book 3 Goodreads * AmazonThe Siren's Call Dark Tides Book 4 Goodreads * Amazon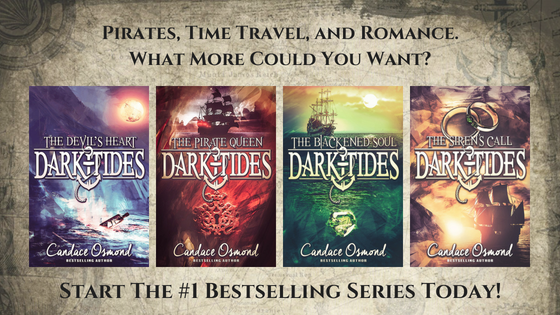 Bestselling Author and freelance writer/editor, Candace Osmond was born in North York, ON. She published her first book by the age of 25, the first installment in a Paranormal Romance trilogy to which two others were published with it; The Iron World Series. Candace is also one of the creative and AVN Award nominated writers for www.sssh.com, an acclaimed Erotic Romance website for women which has been featured on NBC Nightline and a number of other large platforms. Aside from fiction, Candace is also an award winning Interior Designer and writer for Adorable Home Magazine. Now residing in a small town in Newfoundland with her husband and two kids, Candace writes full time developing articles for just about every niche, more novels, and a hoard of short stories. Website * Facebook * Facebook * Twitter * Instagram * Bookbub * Amazon * Goodreads * Smashwords $10 Amazon gift card

I swiped a full bottle of rum from one of the tables and bounded for the front door. Away from
everyone, from all the blaring sounds that assaulted my ears. It made it hard to think straight. But as
I strut across the front lawn of The Siren's Call, heading for town, something Lottie said stuck in my
mind. She misses them. I took a swig of rum as my boots crunched the dry gravel of the path that
led away from the house. Well, I don't miss them.
No, there's only one person I long for in this world and it's you.

Follow the tour HERE for special content and a giveaway!a Rafflecopter giveaway