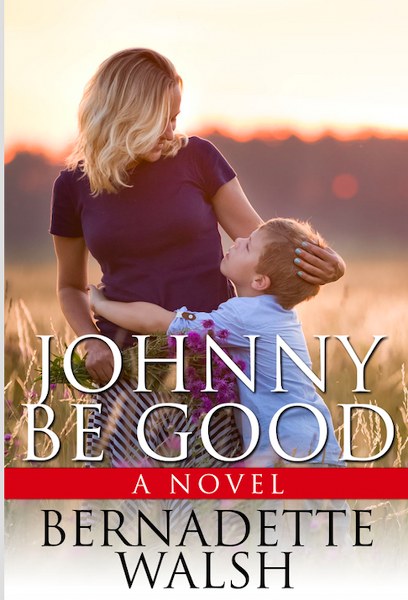 Johnny Be Good North Shore Stories Book 3 by Bernadette Walsh Genre: Women's Fiction, Light Romance
SOMETIMES A WOMAN DOES WHAT SHE HAS TO DO TO PROTECT HER FAMILY. Peggy Lynch has too many children and too much to do. Unlike the pampered wives in her affluent Long Island suburb, Peggy's not married to a doctor or a lawyer. She's married to an uneducated Irish immigrant twelve years her junior, and has to work two jobs to help make ends meet. In between the carpools, the laundry, and the food shopping, she also has to make sure her youngest son takes his ADHD medicine so he doesn't flunk out of high school. Maybe if her lazy husband would get off his ass and help around the house, she'd have time to connect with her children and be the type of mother they deserve. But Peggy lacks that luxury because if it wasn't for her, the whole family would fall to pieces. Years have passed since Peggy ruled the house and Veronica is no longer her mother's obedient little girl. Moving into her childhood home with her husband and infant twins, she's starting a new life and should finally be happy. Right? Wrong. While cleaning out her old bedroom, Veronica finds a letter from her deceased mother. If Veronica were smart she'd burn it and leave her family secrets buried with the dead. But as her mother so often said, Veronica's never been that smart. She rips open the envelope and proves her mother right… Goodreads * Amazon
The Girls on Rose Hill North Shore Stories Book 2
THREE GENERATIONS OF WOMEN; THREE GENERATIONS OF SECRETS Ellen Murphy spent her childhood in an idyllic house by the sea. A house surrounded by flower filled gardens and a white picket fence. A house she fled at eighteen. A house full of secrets. When Ellen's mother Rose, an ex-nun, is diagnosed with terminal cancer, Ellen reluctantly returns home to care for her and uncovers a clue to the one secret that has haunted Ellen all her life: the identity of her father. But that is just one of the many secrets hidden behind the beautiful facade of the house on Rose Hill. "The Girls on Rose Hill is a beautifully written story about the complicated relationship between three generations of women. It will touch you, make you laugh, and make you cry. Bernadette Walsh's subtle use of language, traditions, and manners painted an authentic portrait of an Irish Catholic family. I loved it." Add to Goodreads Amazon * Books2Read
Cold Spring North Shore Stories Book 1
AN INNOCENT GIRL IS A DANGEROUS THING Twenty years ago Maura Lenihan was the curvaceous red-haired teenager at the center of a political sex scandal. Today, Maura is a thirty-five year old hospice nurse who spends her days caring for the cancer-ridden and comatose and her nights reading romance novels. Her life is boring and safe and just the way she likes it. However, Maura's safe cocoon is now threatened both by the press' renewed interest in the twenty year old scandal and the attentions of her most recent patient — a thirty year old Wall Street investment banker whose black hair and blue eyes are oddly familiar. Add to Goodreads Amazon * Books2Read
I have always been a bookworm and had always meant to write a novel "someday." You know, when I won the lottery and could live in beach house and feel inspired. Twelve years ago I decided to stop waiting for my winning lottery ticket and sat down and started writing. In between work and family obligations, I piled the words on top of each other until they formed sentences, paragraphs, chapters and eventually a book. While I've hopped around genres, all of my books to date have a common theme: strong women handling what life throws at them the best way they can. My titles include: Gold Coast Wives, The Girls on Rose Hill, The Devlin Witch (Books 1-4 of the Devlin Legacy Series), Cold Spring, Johnny Be Good, See Me and Friends Forever. Covers and other information about my books and my writing can be found on my website www.bernadettewalsh.com . Website * Facebook * Twitter * Instagram * Bookbub * Amazon * Goodreads

EXCERPT from The Girls on Rose Hill
Suddenly, I was starved. I hadn't eaten much more than the occasional sandwich during the last few
weeks. The restaurant wasn't open yet for dinner. Brendan slipped the hostess a twenty. She led us to an
outdoor patio and brought us two very strong martinis. I didn't have the energy or the interest to respond
to Brendan's banalities so after a while he stopped talking, and we sat there quietly and drank our martinis
while the boats sailed by.
By the second martini, the restaurant opened and the waiter bought us two T-Bones, which we
ate in silence, although the silence was now companionable rather than strained. By dessert and my third
martini, I was feeling a bit "merry" as my grandmother would say, and was ready to talk to Brendan.
Grateful for a now appreciative audience, Brendan regaled me with his latest office coup, one of his many
attempts to displace his law firm's current managing partner.
We chatted about country club gossip and our sons' complicated love lives during martini
number four. I laughed at Brendan's flirty banter; he was a philandering asshole, but he could be very
funny, especially after a few drinks. It was still light out when I swayed through the restaurant parking lot
to my car. Brendan, who was sober, at least compared to me, drove us home.
He helped me out of the car and up the steep front steps.
"Good evening, Ellen," Barbara Conroy trilled from her front porch.
"Hi, Barbara," I slurred. Brendan poured me in the front door. I stumbled into the hallway and
knocked over the brass umbrella stand. For some reason, Brendan found that very funny.
He laughed. "I can't remember when I've seen you this lit." Brendan steered me toward the
stairs.
"I'm perfectly fine," I huffed.
"Of course you are, sweetheart, but you've had a long day. We both have. Why don't we go take
a nap." Brendan practically pushed me up the stairs and into Kitty's room.
"This isn't my room," I protested weakly, as Brendan slipped the linen shift from my shoulders.
"I don't think this is a good idea." I moaned as his hands travelled down the front of my body and cupped
my still firm breasts. He then gently pushed me onto Kitty's bed. The old bed creaked under our weight.
His mouth expertly covered mine and despite the vow I had taken three years earlier not to be seduced by
him again, I responded.
Follow the tour HERE for special excerpts, guest posts and a giveaway! a Rafflecopter giveaway