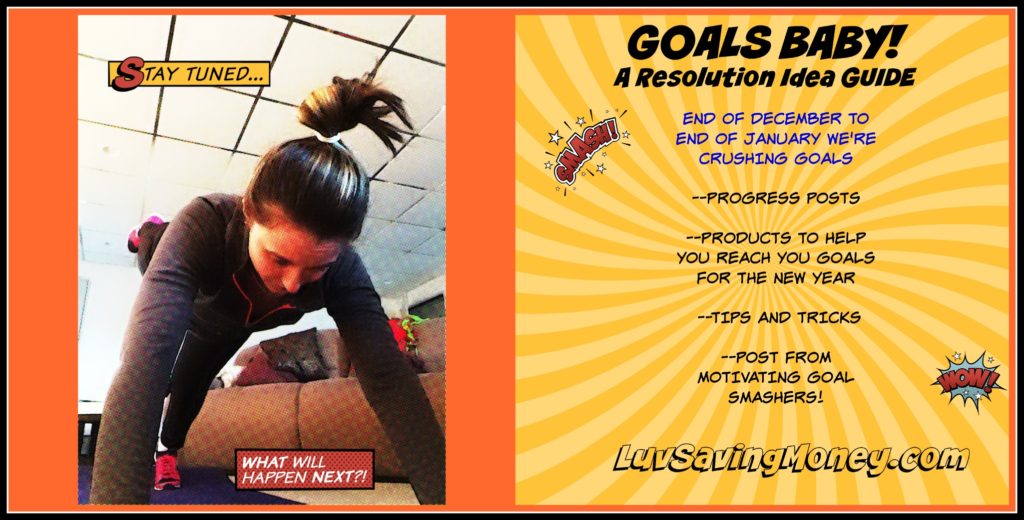 As a mom, I'm back and forth about what cleaning products to use. I want something safe to use around my kids..and heck..myself too but I also want it to be effective. When my 3 yr old daughter or 7 yr old son wants to help me clean I want to let them. But I can't just hand them some bleach and say "here you go, get to it" Nope, I have been handing them a homemade cleaning solution like vinegar and water or an essential oil cleaning blend. Then I discovered e-cloth.
In an effort to both organize my cleaning cupboards and reduce scary, non-people friendly cleaning agents I found e-cloth is the answer to both. With e-cloth you can clean with just the cloth and water. BUT it's been proven to remove 99% of bacteria on hard surfaces. Since we all know the kitchen is prime territory for germs I asked to try the kitchen cleaning two cloth pack and the stainless steel cloth since almost all my appliances are stainless steel, not to mention the facet.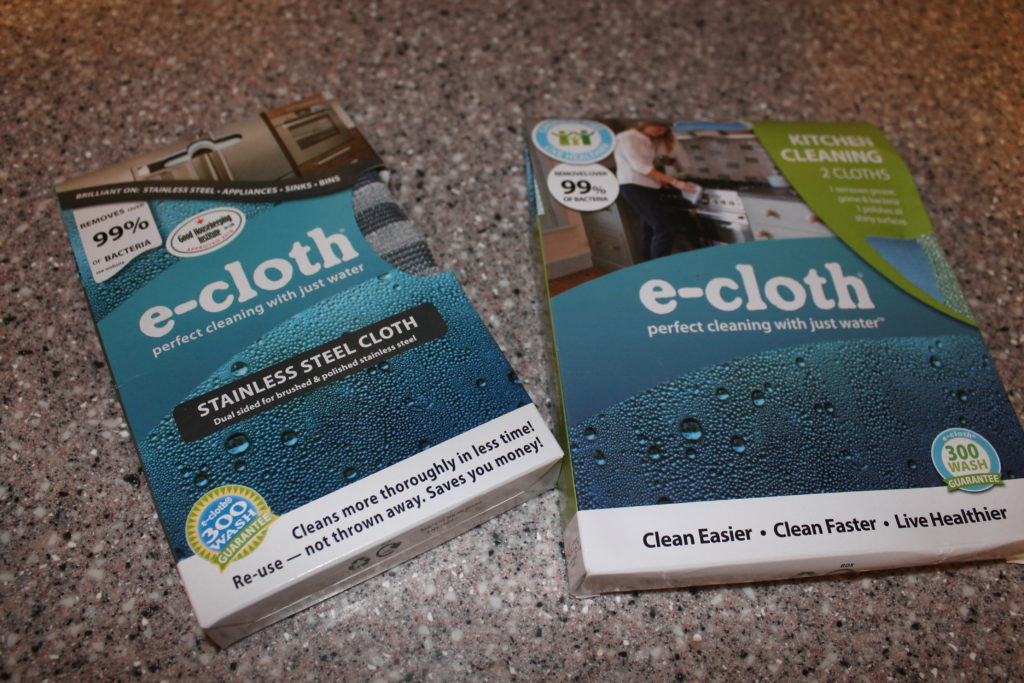 Besides bearing the seal of the Good Housekeeping Institute UK, e-cloth was also featured in the May issue of Real Simple and has been rated best of the best in 3 separate categories.  Each cloth is good for 300 washes guaranteed. Reuse, yet another green feature of this product.
But the question is, how well do they work.  When  I decided to start cleaning, my little helpers just had to get in on the cleaning action.  I gave each one a cloth, showed them how they work and let them try. They kept asking, "What can we clean next?"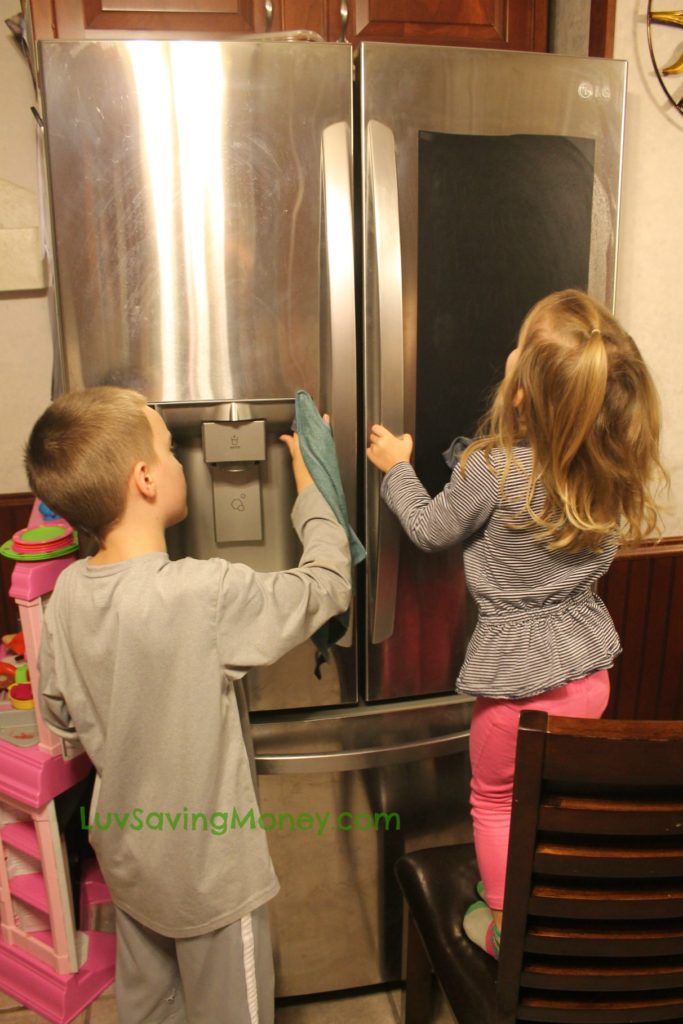 I didn't know what I should expect with just water and the e-cloth…oh and two little ones cleaning.  They enjoyed themselves cleaning. After they were done I did have to hit a few patches they missed but honest, I think it turned out great. Just as good, if not better than my regular cleaning products.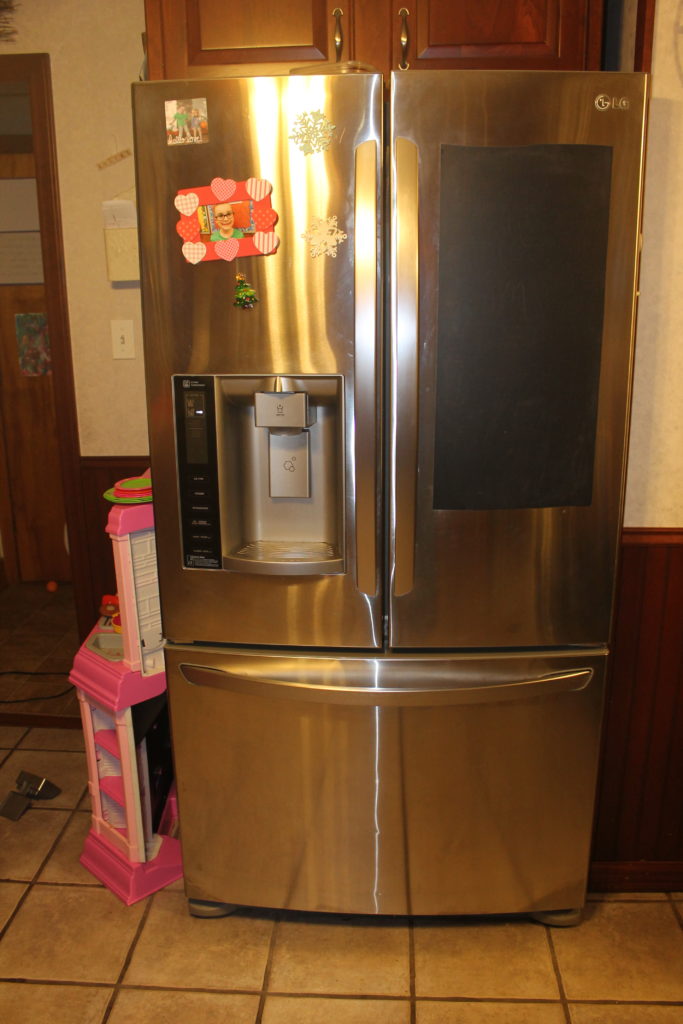 We used the stainless steel cloth on all the appliances.  I used the kitchen cloth on the cupboards, counter tops, and microwave.  I only felt I  needed to re-wet the cloth once during the cleaning.  I was really impressed with it.
e-cloth can eliminate the need for a cupboard full of cleaning products saving you space, money, and peace of mind since no chemicals are involved. Excellent green cleaning option
So to recap on the benefits of e-cloth:
Chemical-free cleaning
Reusable
Safe to use around children
Works well
Holds Good Housekeeping UK seal
Affordable
Reduces need for space for other cleaning products
Washable
Options for almost all your cleaning areas: Kitchen, Bathroom, Floors, and more
New Year Goals e-cloth can help with:
Reduce and Reuse
Removing chemicals from the home
Reduce clutter in your cleaning cupboard
Save money buy cutting cleaning supply costs
Buy e-cloth product HERE
Find e-cloth USA on facebook: facebook.com/eclothUSA
e-cloth on Twitter: @ecloth
GIVEAWAY
1 US Luv Saving Money readers will win
an e-cloth kitchen 2 pack and stainless steel e-cloth
I received the above mentioned products at no cost in order to complete an honest review. Any opinions expressed are my own. This post does contain affiliate links.  I will get a small commission from sales made through my links.