Chicken Soup for the Soul and Zaycon Foods provided me with complimentary products. The opinions I have expressed are my own
I've been wanting to make a homemade chicken and dumplings for a while now.  For whatever reason it seemed like it would be difficult to me. With a family of 6 I'm always looking for ways to make meals to feed everyone and still stay on budget.  I also want to make things my kids will actually eat.  I picked up my recent order of Zaycon Foods natural chicken breasts and Chicken Soup for the Soul sent me some of their new grocery products.  So, I figured, stop procrastinating Angie and just do it. My kids love to help me cook and bake so 2 of  my boys were in the kitchen with bells on when I told them I need product models and cooking helpers.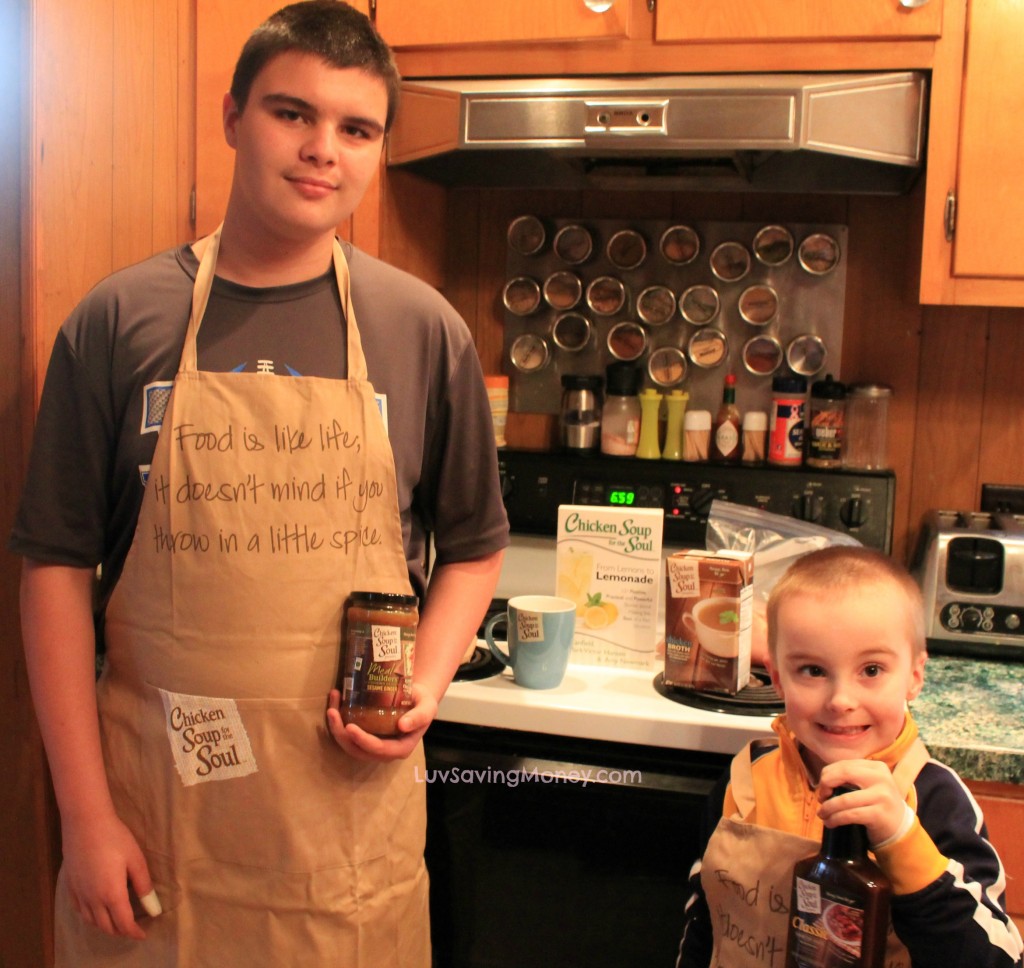 I adapted a family recipe I had for chicken paprikas.  I figured, everyone like the chicken paprikas it's basically the Hungarian version of Chicken and Dumplings so …here it goes.
Homemade Chicken and Dumplings
For dumplings:
3 eggs beaten
3 cups of flour
1 Tblsp salt
water
For chicken:
I got a big pot of water boiling first for the dumpling and a smaller pot of water boiling for the chicken.  I cut my Zaycon Foods Chicken breasts up into bite size pieces (easier for my 5 yr old and 2 yr old to eat) I filled my 2 quart sauce pan about 3/4 of the way with water and got it boiling.  I added the chicken pieces to the water and cooked my chicken this way.  This made for a tender chicken. I left it cook on medium/high in the pot for a while while I made the dumplings.
Next we mixed up the dough for the dumplings.  Mix the first three ingredients of the dumplings together in a mixing bowl.  Slowly add water.  You want it to be a sticky consistency.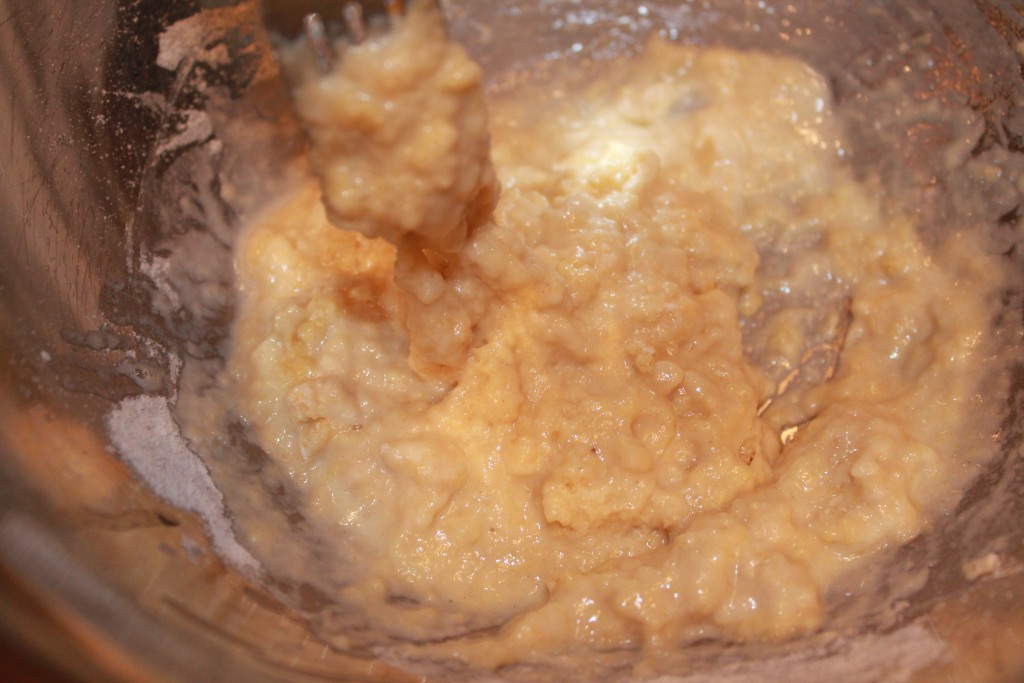 You will be dropping it by spoonfuls into that big pot of boiling water you started.  Once it's the right consistency, take a teaspoon and drop the dough by spoonful into the boiling water and cook until it floats.  You don't want to put too many in at a time.  If they stick to the bottom just take a slotted spoon and scoop them out.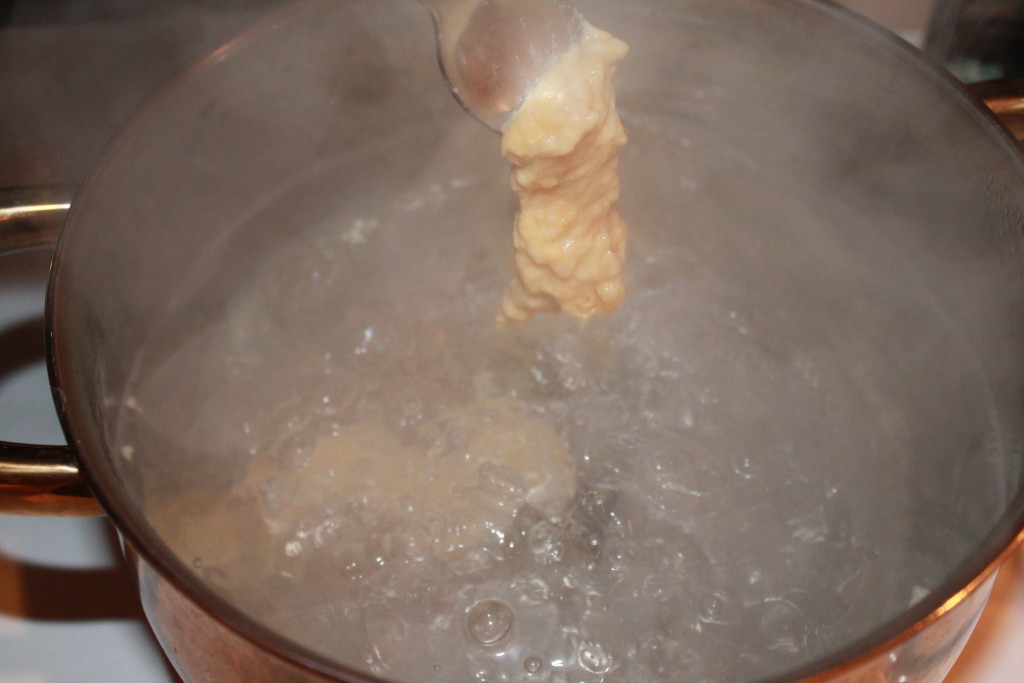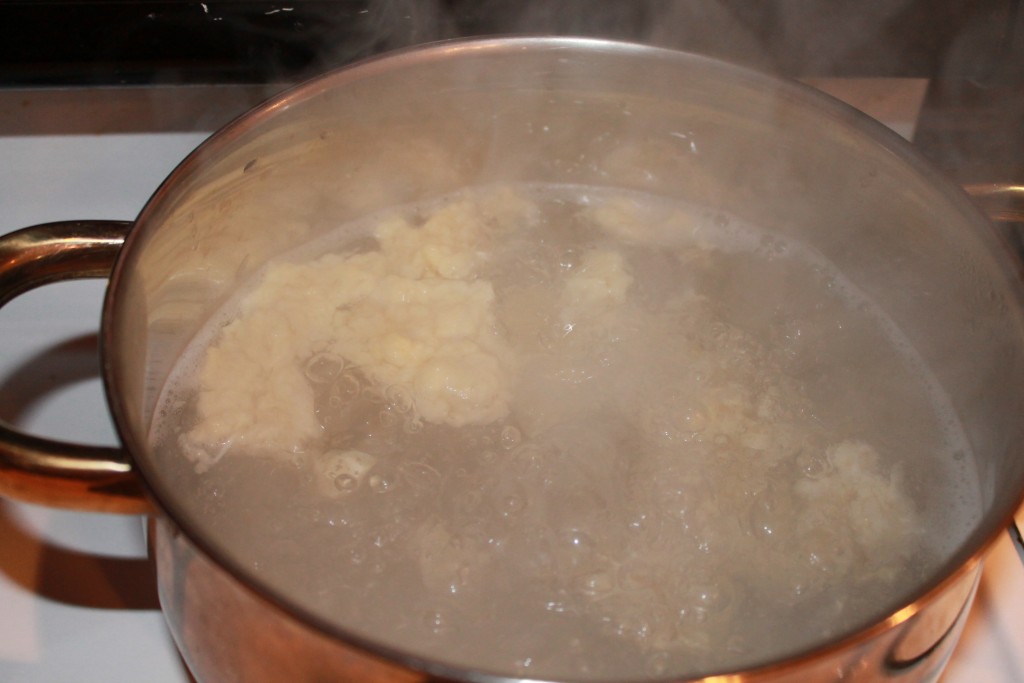 Use the slotted spoon to scoop out the dumplings and put them into a strainer in the sink while you're cooking the rest so the water can drain off.  Continue until you've used all the dough.
Go back to your chicken cooking in the pot now and add some of the Chicken Soup for the Soul Chicken Broth for more flavor.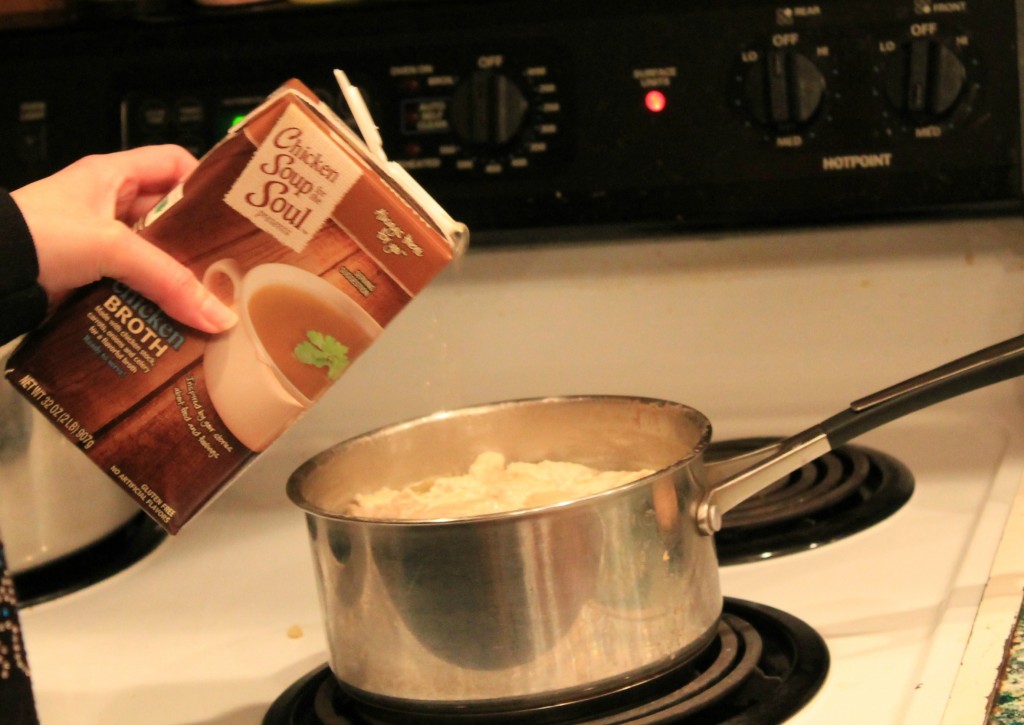 Get it boiling again. Drain the water/chicken stock/chicken broth liquid into a smaller saucepan and get it boiling in the smaller saucepan.  Remove the chicken from the heat. We're now going to make a gravy out of the broth.  I used about a 1/4 cup of cold water and add a heaping tablespoon of flour to the cold water in the measuring cup.  Mix well in the measuring cup. Then slowly add the cold water and flour mixture to the boiling chicken broth mixture.  Stir and continue cooking on high until the broth starts to thicken to a gravy consistency.  Just a note: I really liked the Chicken Soup for the Soul broth.  It had just the right flavor.  I've had other broths that tasted really fatty or really salty but this was just the perfect flavor for making my gravy or for making chicken soup.
Once you got your gravy left the only thing left to do is fix your plate. Put some dumplings on your plate, add some chicken, and ladle some chicken gravy over top.  Yum!  Very filling.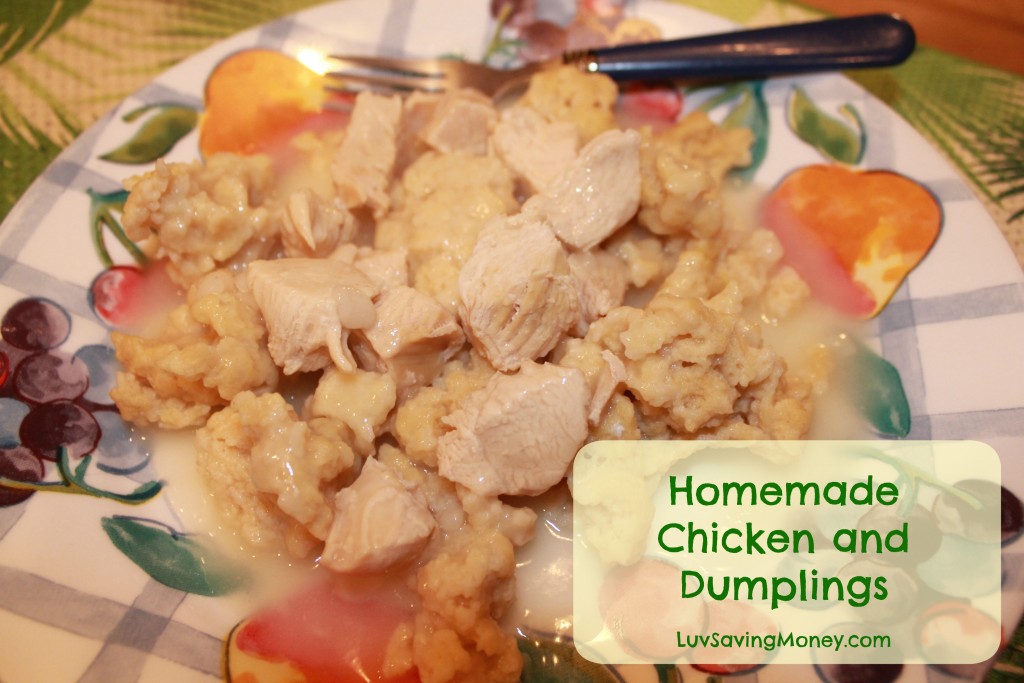 Some Thoughts After The Cooking and Eating Are done
Cooking with my kids is a good way for me to share with my kids.  I love explaining where the recipes come from. I think it's important for my boys to learn to cook from me, I mean, they aren't going to be under my roof forever.  I think cooking is an important life skill but also can be fun and expressive.  While we cooked my oldest son likes to take on more and more of the duties.  He's only 12 but I think cooking makes him feel a little bit more grown up.  We talk about school, we through in some math lessons (if we're doubling the recipe how much flour do we need?) My son talked to me about how he's excited for the first day of trout fishing with his dad.  My youngest son likes to feel like he has a part.  He's so happy to mix ingredients and dump in the ingredients.  He's so proud to tell daddy he helped make supper. Of course they hammed it up as my product models too.  I thought I'd throw one or two more pictures in here just for them.  For us it wasn't just about the time around the table but the time cooking together as a family.
In making this chicken and dumplings, I accomplished something I've been wanting to try for a while.  So what does one do after making a meal they've been wanting to make for a while, have it be successful in that everyone loved it, and everyone has a full belly?  Why sit down and read some of the Chicken Soup for the Soul book From Lemons to Lemonade!  Truly inspiring by the way.  One of those books that give you a warm feeling inside.
When I picked up my Zaycon Foods Chicken the drivers, who I later found out was named Ty, was super friendly and made my experience very pleasant.  The chicken is natural chicken breasts and they're big.  I definitely recommend Zaycon Foods chicken breasts if you have the opportunity.
As far as my Chicken Soup for the Soul kit goes I received a few items. Besides the Chicken Soup for the Soul chicken broth I also Chicken Soup for the Soul Meal Builders cooking sauce in Sesame Ginger flavor and Chicken Soup for the Soul Barbecue Sauce.  We've been itching to fire up our new grill and we still have plenty of Zaycon chicken left so I'll be testing the Classic barbecue sauce very soon.
You can find Zaycon Foods chicken and Chicken Soup for the Soul cooking products here.
GIVEAWAY
1 Luv Saving Money reader will win
Chicken Soup for the Soul broth and Chicken Soup for the Soul "From Lemons to Lemonade" book
US only