When you have a family and a budget sometimes spending things on wrapping paper doesn't make sense.  I mean you spend upwards of $5-$10 for a roll of wrapping paper only to have it ripped to shreds and thrown in the trash.  And napkins? You wipe your hands and faces with it and throw it away.  Still some things are necessary or convenient so we find ways to save money wherever we can.  Yes we're the "cheapskate" moms. I started thinking about some of the things I do and just had to wonder, does anyone else do this?
Stashing fast food napkins I mean seriously taco bell will give you 12 tacos and 34 napkins (I might be exaggerating a little bit) I take all those napkins we don't use, put them right into a freezer bag and store them away for bbq's and lunchboxes.
Speaking of freezer bags does anyone reuse freezer bags?  My mom was also a mom of 4.  I used to wash her wash out freezer bags and dry them and reuse them. I thought she was the ultimate cheapskate until I became a mom of 4 a realized how much it cost for disposable plastic bags. I don't reuse them if they had raw chicken or something in them but if I just used them to store extra clothes or something, yep, i sure do.
Saving tissue paper and gift bags yep, I do it.  I take the tissue paper out and fold it up, fold up the gift bag and store it in a tote.  I rarely buy wrapping paper except at Christmas time or larger gifts.
Hallmark can keep their $4 gift tags! It seemed like highway robbery for me to pay $2-4 for a 2×2″ gift tag for gifts especially for the kids when they don't always bother to read the card anyway.  I bought myself a packet of those card stock squares (just a couple dollars) an acrylic blog and a few stamp shapes: birthday, thank you, happy anniversary, etc.  I cut out a cardstock square stamp it and attach it to the gift. Done. You pay maybe $6-8 for the initial investment (the small acrylic square and stamps are a $1 a piece at my local Michaels and I think the card stock scrap packet is about $4 and there's probably 50 pieces of scrap cardstock in there) You're making gift tags for pennies on the dollar.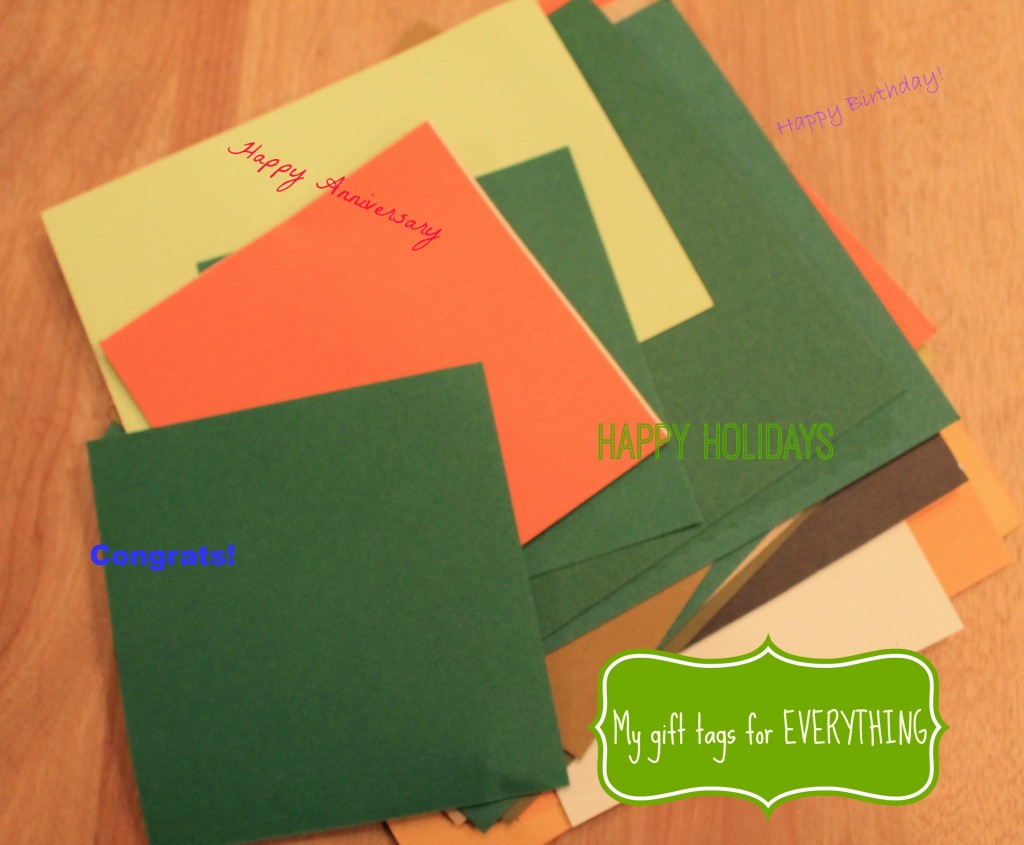 Buying Holiday wrap in February yep, I told you I only buy wrapping paper at Christmas and for big gifts.  You can get Christmas wrap dirt cheap after the holiday is over in the holiday clearance section.  I bought a bunch of rolls: LEGO Christmas, Dora, etc for 70 cents a roll last year at Toys R US. PS you can also buy just plain red, green,silver, wrap too and use it any time during the year.
Stashing non-perishable snacks in your purse or diaper bag so you don't have to pay for concessions and you're not tempted to stop for fast food.  You know when you're headed to the football game, the drive-in, wherever you think you can get away with it.  Fruit snacks, granola bars, dried fruit, whatever you can stash.
Buying reusable everything.  Fabric book covers for the kids for school, reusuable K-cup pod, washable nursing pads, steel or glass straws, whatever you can find.  I mean why buy book covers every year if you don't have to? And disposable nursing pads are expensive! On a side not, you're also living greener this way
Sticks, stick, sticks.  Seriously does anyone else do this?  I save popsicles sticks for the kids to use as crafts, to spread icing, make puppets, whatever (washed of course) I've received a few fruit bouquets and they had tons of those nice shish kabob and city chicken sticks in them and I saved them just for that purpose.
It was nice of country crock to give me this food storage container,  I LOVE those plastic containers with the lids that some of my grocery items come in: butter containers, cottage cheese containers, coffee containers, you get the idea.  They're perfect for sending food to my dad's or my father-in-laws house and not have to worry about if I get my good tupperware back.  Also good for crafts, sending to school with your kids, planting starter plants, etc.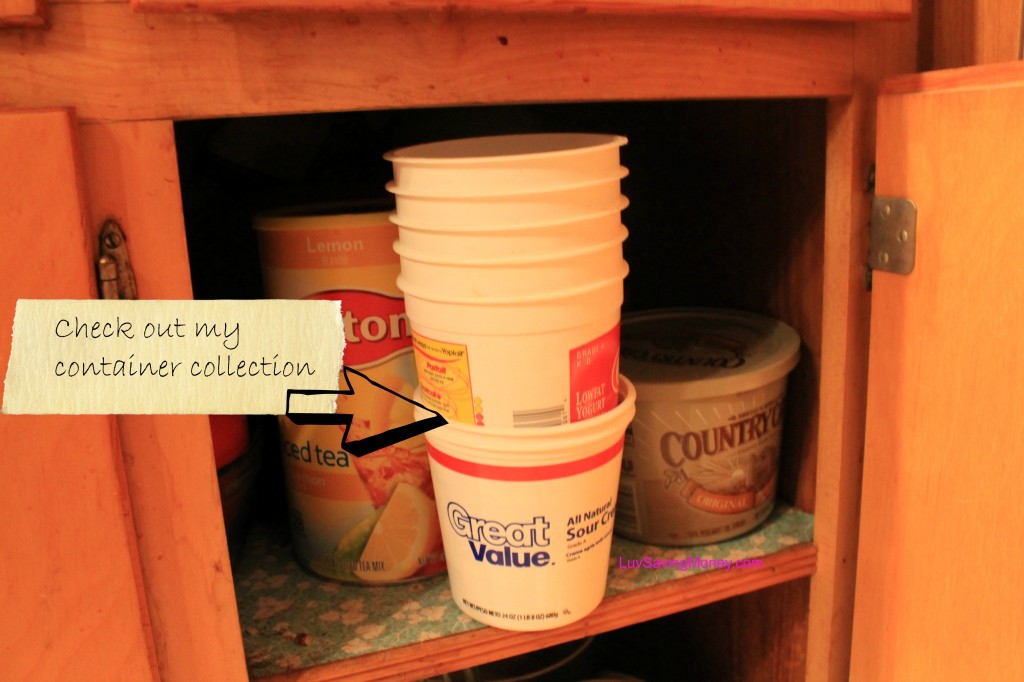 Heading straight to the clearance section.  One of the first places I go when I'm looking for something in particular.  I need a nice picture frame for the boys' school pictures, wonder if they have any decent ones in the clearance section.  Dang sugar bowl broke, I bet they have one in the clearance section..if not I'll use my blue bonnet container and mark it.
Using up every last bit, It's nut uncommon to see upside down ketchup bottles in my fridge, upside down shampoo bottles in the bathroom, a little water added to the hand soap pump, and a visibly empty (except to the cheapskate eye) eye shadow compact because, hey, there's still 2 more application in there!
Washing plastic flatware, I'll be honest I didn't always do this.  I have an aunt that does this.  I thought geez a box of plastic flatware is only $2 or $3 for the generic one at Walmart but the more I thought about it.  She's right! So I wash them and store them in a freezer bag for a few more uses.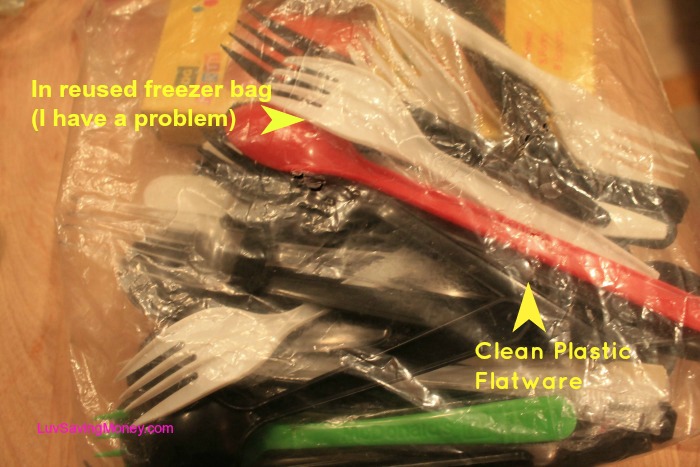 Cutting off the kids torn jeans or sweatpants and hemming them to make them shorts for the summer.  They still fit, they just have a huge whole in both knees.  Cut them off, hem them and the kids have Levi's jean shorts to play in this summer.
Who in the world buys cleaning cloths? Old towels, t-shirts with wholes, stained sweatshirts, cut them into pieces, whatever size works for you and you got yourself some new cleaning cloths.
Looking through your coupons to go out to eat.  It's been a while, let's all go out to eat.  Hold on let me check my coupon binder. I know I have coupons for a few places for free kids meals or 20% off our bill on Tuesdays.
Making old crayons new crayons, nothing like a fresh box of crayons but you have a container of broken crayon tips, crayons that broke in half, and crayon nubs.  The kids don't want to use them.  Ok so you melt them down and use a candy mold or or soap mold to make cute shapes out of the nubs.  Hey kids check out these new crayons I got you!
Why would I keep buying bubbles?  You kids probably get bubbles in party favor bags, from school events, etc.  Save the bottles and wands and make your own over and over again with a blog of dish soap or bubble bath and some water.
As I was writing I kept thinking of more and more.  I got to 17 and thought, wow how many have I written.  I went back and started reading them and wasn't sure if I should pat myself on the back or use a pen name so as not to embarrass my kids.
Tell me one of your "cheapskate" habits