I'm excited to be part of BLOGFEST 2010. This is my first time particpating in any multi-blog event. The main page, A journey of books, is where you can find the complete list of participating blogs.  Also if you use the blogfest tracking list it makes it super easy for you but you can also win the grand prize.  I kind of got lost in the mix I think of the blogs.  My blog was omitted from the finalized list but it was fixed very quickly by a journey of books as soon as I noticed it.  So, I apologize, but I didn't know who I was supposed to link to next. (Each blogfest participant was supposed to link to the next blog). So my suggestion would be to either click on the A journey of books link, the blogfest banner below, or I've been using the tracking list.  That way I could keep track of who I visited and who I didn't so far. 
My giveaway is going to be an item of the winner's choice from my ETSY shop "Angie's Candles".
I make hand-poured soy jar candles, soy melting tarts, and wax dip bears.
Soy candles are healthier to burn.  I chose this wax medium because one of my boys have asthma.  I love candles and read about how to burn them healthier.  On tip is to use a wick dipper or something as simple as a metal spoon to dip the wick in the melted wax and pull it out to extinguish the flame rather than blowing them out. It also extends the life of your wick.
Soy melting tarts are meant to go in your tart warmers or potpourri warmers. This is an alternative to get a lovely scent in your home but avoid flames.
Another option is Wax dip bears.  Some of you may be aware but I'd say half of my shop visitors had never heard of them.  Wax dip bears start off as stuffed bears but are dipped and scented.  They then act as a cute room air freshener . The scent generally last for 30 days.  After 30 days you can refresh the scent by holding a hairdryer 6 inches away and warming the bear for about 30 seconds.  These make great door prizes, basket fillers, baby shower table decor, or under $15 gifts. Again, no flame but nice scent.  The bears you see in my esty shop aren't dipped yet. You choose the bear and scent.  They aren't dipped until they're ordered.  They are placed on a glass dish and packaged with Cello bags, bow, and tag.
Being a frugal gal myself I try to find the best prices I can on my materials so I can try to give you the best prices I can.  Also my etsy shop is fairly new.  I don't have a wide variety of scents yet but I order a little bit at a time.  If there is a particular scent you are looking for, email me.  If I can find the scent I can make it. 
GIVEAWAY
Prize:  One winner will win their choice of 1 item from my etsy shop (if the winner chooses melting tarts you can choose 2 sets of melting tarts since it's a smaller item).  ***UPDATE** I had put in an order just a couple days ago for the following fragrances: Green Tea, Vanilla Bean, and Old Fashion Christmas.  They aren't in my shop yet but if you would want one of those scents and willing to wait a couple days longer you can choose from them also.
Mandatory Entry:   Go to my etsy shop and tell me one scent you'd like to see in my shop that I don't offer yet in a comment. Please be sure to leave your email address so I can contact you if you win.  This must be completed before any bonus entries will be counted.  
Bonus Entries:  Leave a seperate comment for each entry.  If it has a +1 after the entry leave one comment, +2 leave two comments for that entry and so on.
1.  Heart my etsy shop (+1)  please leave your etsy name
2.   Follow FFCandM with gfc and/or networked blogs (can find in Right column) (+1 for each one)
3.  Leave a message on you facebook status to follow Angie's Handmade Candles on facebook. (To make it easier for your followers when typing it out if you type @Angieshandmadecandles it should leave a clickable link for them)  (+2)  
4.  Tweet this message on twitter (leave link to tweet can tweet 2x a day at least 2 hrs apart): 
"

Enter to win 1 time of your choice from @angiewith3 http://bit.ly/blgfst 9/12 US and CAN #blogfest

" 
5.  Enter any of my other current giveaways and leave a comment telling me which one (+1 for each one entered)
6. Visit my Merchant Circle Page for Angie's Handmade Candles perform 1 or all of the following actions:  Rate my business, leave a positive comment on my Merchant Circle blog, Follow my merchant page, or subscribe to Angie's Handmade Candles newsletter.  (+2 for each one completed)
This is a quick giveaway for blogfest 2010 Opens Sept 10, 2010 at midnight and ends Sept 12, 2010 at 11:59 pm.  Winner will be notified Sept. 13.  Open to US and CAN.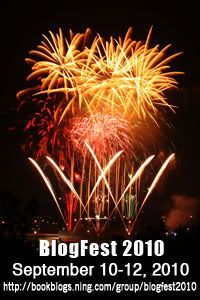 ***This giveaway is sponsored by my to promote my etsy booth.  Any opinions expressed are my own***
NUMBER DRAWN BY RANDOM.ORG IS NUMBER 58.  WINNER HAS BEEN EMAILED AND HAS 48 HOURS TO REPLY.  
Winner replied: winner is SaladforBreakfast Congrats!! 
Free Stuff, Fun Sites, Contests, and More
Sign up for Free Stuff, Fun Sites, Contest and More feed