It's Saturday October 8 and today is my birthday.  As timing would have it I also happened to get a press release yesterday telling me today is also the 20th anniversary of St Croix Habitat for Humanity AND the completion of the Eco Village.  Honestly I had never heard of the Eco Villalage but, as I read about it and watched the video I just thought it was an amazing project. I wish I could see this happening in more areas.  I've always been a supporter of Habitat for Humanity but this just confirms my respect for this organization .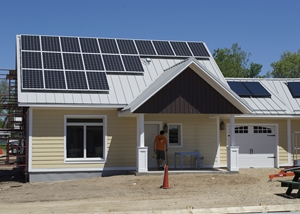 The time-lapse video for a sustainable living community in River Falls, WI  is from April 2013 to September 2016. EarthCam donated cameras, managed services, and marketing efforts for the project.
Jim Cooper, Associate Director for the St. Croix Valley Habitat for Humanity stated, "When we set up the EarthCam, we intended it mainly to showcase the Eco Village project of creating a neighborhood of high-performing, energy efficient affordable homes. It succeeded well beyond our expectations, bringing us visitors from throughout the entire country. It let others involved in creating affordable housing, potential donors and partners and anyone curious watch our progress. We will be using the archived images and timelines in fundraising efforts and presentations about our award-winning project. Our EarthCam has spoiled us and I look forward to moving it to our next effort in the spring!"
This video is really cool to watch. I think we need more villages like this in more areas.  I'd love to see more sustainable building and energy resources used for any future construction.

The video and project is Courtesy of EarthCam
ABOUT EARTHCAM
EarthCam is the global leader in providing webcam content, technology and services. Founded in 1996, EarthCam provides live streaming video, time-lapse construction cameras and photography documentation for corporate and government clients in major cities around the world. EarthCam leads the industry with the highest resolution cameras available, including the world's first outdoor gigapixel panorama camera system. This patent-pending technology delivers superior billion pixel clarity for monitoring and archiving important projects and events across the globe. In 2015, EarthCam documented $221 billion of construction projects. The company is headquartered in Northern New Jersey and maintains 12 additional offices worldwide.
Projects documented by EarthCam include: 9/11 Memorial Museum, Atlanta Falcons' Mercedes-Benz Stadium, Barclays Center, Statue of Liberty and Washington Monument Restorations, New NY Bridge, LaGuardia Airport, The Kingdom Tower, Panama Canal Expansion, Smithsonian Institution Restoration, Brickell City Centre, Minnesota Vikings' U.S. Bank Stadium, San Diego New Central Library, Qatar Rail, Whitney Museum of American Art, Louvre in Abu Dhabi, Levi's Stadium and National Museum of African American History and Culture.
Learn more about EarthCam's innovative solutions at http://www.earthcam.net/.