This post is brought to you by Hipmunk
Traveling to Cancun can be very relaxing and exciting. With its beautiful beaches and warm breeze, the island is a perennial favorite destination for vacationers. There are several things you can do to save money on your trip. Helping people save money on hotels in Cancun is what sites like Hipmunk try to do. Here are six tips that you should keep in mind for your own vacation.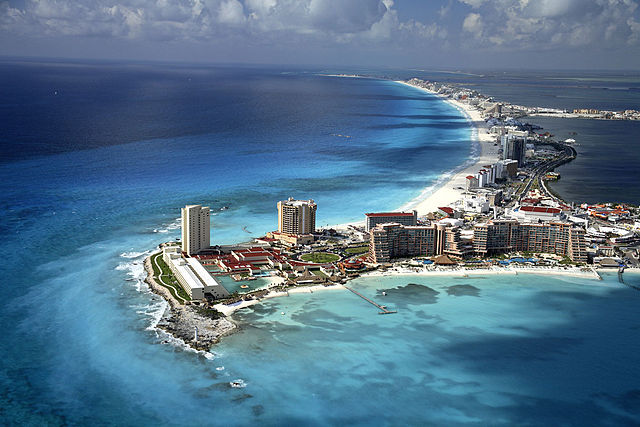 Hop on a Bus
The public buses are everywhere and they are reliable and cheap. Don't hesitate to use them to get around the island, as they only cost around 50 cents or less.
Consider an All-Inclusive Package
While it is true that in some destination trips, piecing your trip together can save you money, the opposite is true for Cancun. Many all-inclusive packages combine your hotel, meals and all drinks, including alcoholic ones, in one price.
Be Mindful of Data Roaming Charges
Most cell phone plans will charge you steep fees for international data roaming, so make certain you take the time to turn off your data roaming on your cell phone. Only turn on data roaming if it is absolutely necessary to avoid unpleasant fees on your cell phone bill.
No Need for a Phrasebook
You don't need to go out and purchase a phrasebook. It is easy to find workers who understand and speak English. While a phrasebook may not cost much, it's one expense that is unnecessary for your trip.
Travel Light
Try to travel only using a carry-on bag. By choosing the right bag, you can take full advantage of the space while saving additional checked baggage fees. You can do so by choosing clothing that is lightweight and wrinkle-resistant, layering items to change up your look. Try to minimize the number of shoes you plan to bring, as shoes take up lots of space. Choosing to travel light can also save you the time you would otherwise spend waiting in line at the baggage claim area.
Use Credit Cards for Better Exchange Rates
Using credit cards can give you better rates of exchange for most transactions. Be aware that some credit card companies do charge foreign transaction fees, however. Think about getting a card like the American Express Platinum card or another similar one that does not charge such fees.
Following these simple tips can help you save money on your next vacation. Remember to relax and plan ahead to gain the best vacation experience while also saving money.