It's that time of year again. Time to start thinking about Holiday Guides for 2017.  LuvSavingMoney's Holiday Guide is not strictly a gift guide. It includes holiday recipes, holiday decor, crafts, and yes…affordable holiday gifts.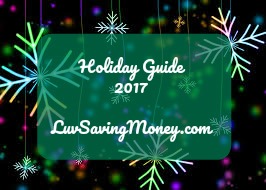 Our holiday guide will officially kick off Nov 1, 2017 and will last until Jan 1 to cover Thanksgiving, Christmas, and New Year ideas.
Businesses and/or products participating will receive a designated blog post, social shares, included on the Holiday Guide 2017 list, and featured on the side bar during the time the gift guide is live.
If you think you have a product or business that might be a good fit in Luv Saving Money's Holiday Guide 2017 please contact:  Angie via  angwith4@gmail.com for more information and prices.
Holiday Guide 2017 Participating Companies: