This is a Sponsored post written by me on behalf of Kmart for SocialSpark. All opinions are 100% mine.
Are you already thinking about starting to buy your holiday gifts?  Do you have concerns about finding the best way to budget to get the kids the things they want without breaking the bank?  Maybe you worry that the hot toy this year will be sold out when you do get a chance to go get it.  
All these concerns are a great reason to check out Kmart layaway for the holidays.  You can load up you cart with the kids' wishlists and start shopping early for the rest of the family.  Kmart layaway lets you make payments on your santa bounty starting now.  Wouldn't paying $50 a pay day until Christmas be a lot easier to handle then several hundred dollars when you're down to the wire?  Kmart offers free layaway too.  I've used Kmart Layaway before.  Another benefit is not having to find a hiding spot in the house from curious eyes.
This year there's yet another great reason to use Kmart's layaway, Kmart's Big Layaway Giveaway!  They are doing one layaway giveaway per store per week every week from 9/912 through 11/17/12!   
So why use Kmart layaway instead of the layaway at another store?  Check out this handy chart that helps explain it.
While layaways are a great way to budget, it's still important to make a budget plan.  Try to figure out how much you can afford to spend on gift for the holiday.  Don't go over that amount even when you put items on layaway.  Be sure to budget for your layaway payments when they're do.  There's nothing worse than when it gets close to your layaway pick up deadline and you realize you can't pay it off.  Layaways are great, but you still need to use financial sense.  
What would you add to your Kmart Layaway?  My 2 oldest boys really want one of these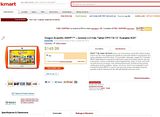 My youngest usually wants what the older ones have. I think the Meep tablet might not be appropriate for him but I thought this might be.
So if I won the Kmart Big Layaway Giveaway would be so cool!  That's a pretty big chunk of change for me.  
Sign up for Free Stuff, Fun Sites, Contest and More feed