There are a LOT of mattress companies out there both local and online. It's hard to find the right one, especially if you're on a budget. There is one mattress company that offers mattresses under $1000, has a 365 night sleep trial, free shipping, free returns, and a warranty forever!  As if that's not enough, it's has consistently positive reviews on comparison sites and customers reviews. That company is Nectar.

I have to admit, I was skeptical.  I thought, yea under $1000 just for the twin right and then super high for a queen or king. Since I have a king size bed I wanted to check it out before I posted about this on my little frugal blog.  Guys, a twin mattress is only $500.  A KING mattress is only $900. They go all the way up to California King which is STILL only $900. PLUS they have a $100 off coupon available on the site right now!!  They also have payment plan options to make it even more budget friendly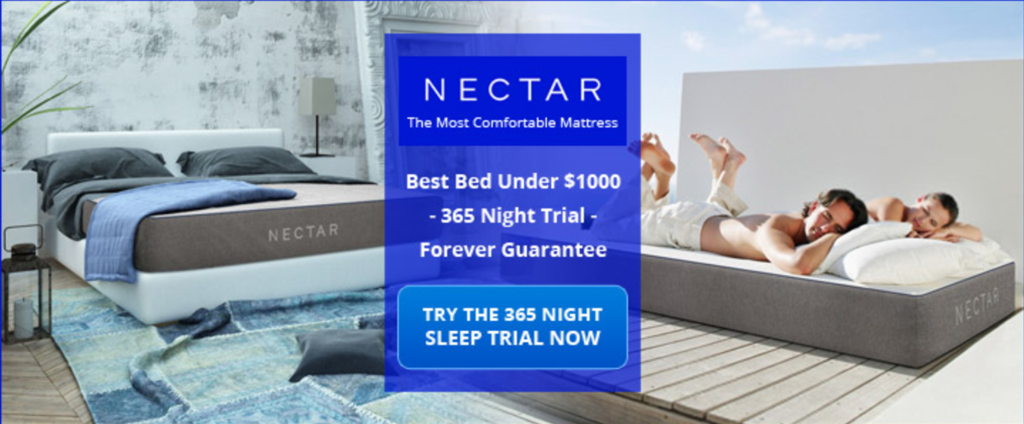 Nectar Sleep also uses hypoallergenic materials and took 3 years of development to create. And as for the positive reviews, you can see on the site. Lots of Nectar sleep customer reviews. Average rating 4.8/5.  That's pretty darn good!
With the free shipping, returns, 365 night trial, and budget friendly price Nectar Sleep will be my next mattress!
Tell me more about NECTAR mattress
This post does contain affiliate links. I will be compensated for any purchases made through my links. Regardless I only post legitimate offers from trusted sites.