Callan's Damaged Love Story Damaged Hearts Book 1 (Also July in The Calendar Men Series) by Sonya Jesus Genre: Contemporary Romance
I don't do love. Or hearts. Or anything that can get broken… I'm already broken enough. If you're looking for the perfect guy, with imperfect actions and an undamaged heart…Stop! Keep scrolling…because I'm not effing good at being good. I'm not boyfriend material. I fill my loveless heart with sex-filled nights and distance myself from any type of commitment—while I still have the power to. Soon, I'll relinquish my freedom to adulthood and take over Cohen Enterprises, but until then, I own my independence. I breathe bad decisions, blink away my flaws, and enjoy the detached life I'll never have again. At least I try to. My guilt-free mornings and shameless nights abruptly stop when I make my next mistake with my brother's girlfriend. Now, I can't stop thinking about Delilah. She triggered my heart alive, and I'm torn between the girl I might be falling for and the only person I respect. Add to GoodreadsAmazon US * Amazon CA * Amazon UK * Amazon AU
Sonya ́s a science nerd who decided to give into her creative fictional side in order to balance out the non-fictional scientific side of her PhD. She doesn ́t have much free time, but she spends it enjoying her family and friends, watching Netflix and playing with her dogs. Website * Facebook * Twitter * Instagram * Amazon * Goodreads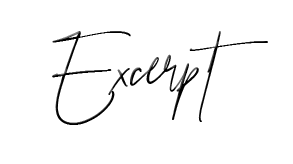 I'm all out of wishes, and the only things shooting are my thoughts. Like bullets, my own words hit me,
weakening the stubborn denial and revealing the one thing I feared.
Fuck, I tell the stars. One night is not enough.
I glance down at Dee. Her dark hair is spread out over my chest, the soft hum of her breath tickles my
skin, and I'm pretty sure a little drool has dried on my abs.
I memorize the moment. Like I memorized the last five or six hours where we introduced our bodies to
each other, warding off the truth with sex. We both avoided the inevitable and tiptoed around the idea of
error—never fully admitting the truth: what we were doing was wrong.
I brush my fingers over Dee's soft locks, stirring her awake. She tilts her head, so she can see into my
eyes. We watch each other, searching the crevices of our irises for the same promise our breaths
chased before.
We both sigh and look away. The only thing we can promise each other now, is to never talk about this
night.
"You were one of the rules," she says softly.
"I figured as much." Their adventure, into whatever the fuck they were doing, drew the line at me.
"We can't…" She reminds me of her choice. She'd rather have Jace than me.
I'm not the better man.
The better man would've never slept with his brother's girlfriend.
Follow the tour HERE for exclusive content and a giveaway! a Rafflecopter giveaway