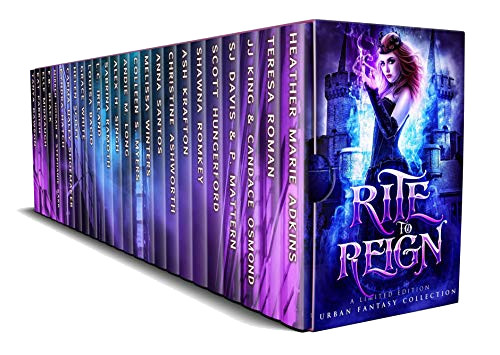 Rite to Reign
Boxed Set
Genre: YA Urban Fantasy, Paranormal Romance
Something wicked this way comes…
Willful witches, supernatural sorcerers, cruel queens,
and powerful priestesses fall out of favor and rise to rule in this
highly sought-after collection of spellbinding stories!
More than 20 award-winning and bestselling authors have come together
to
curate this bewitching boxed set collection of the best PARANORMAL
ROMANCE and URBAN FANTASY books in the genre, each brimming with
stories of royal magic.
Journey through worlds of danger and
mayhem, where witches and warlocks battle for influence and wizards
fight for unrestricted power.
But reader beware: the highly
addictive stores in RITE TO REIGN will put you under their spell. One
click to secure your limited edition copy today!
Featuring Stories from :
USA Today bestselling author Heather Marie Adkins
Teresa Roman
JJ King writing with Candace Osmond
USA Today bestselling author SJ Davis writing with P. Mattern
Scott Hungerford
USA Today bestselling author Shawna Romkey
USA Today bestselling author Ash Krafton
USA Today bestselling author Christine Ashworth
Anna Santos
Melissa Winters
Colleen S. Myers
Andie M. Long
Alex H. Singh
Sabrina Ramoth
L.C. Ireland
Louisa Bacio
Grace White
Helen Scott
Carma Haley Shoemaker
Kyndra Hatch
Mirren Hogen & Stephanie Barr
E.B. Black
Ella Middaugh
Kat Parrish
Tanya Dawson
**Only .99 cents!!**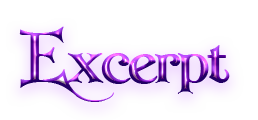 From The Cursed Prince by Teresa Roman
Pieces started clicking in to place. These brothers had a very strange preoccupation with magic. That
was the for my second invite. Too bad I wasn't able to indulge their fantasies. "There are no witches in
my family if that's what you're getting at."
"How can you be so sure?" Frederic asked.
Before I had a chance to answer, Alexander stood up. "Do you hear that?" He looked across the table
at me. "Johann Strauss is my favorite. Would you care to dance with me?"
"I … I'm not much of a dancer."
"Don't worry about that. I'll lead, and you follow. You'll be waltzing in no time."
Before I could protest, he walked up to me and took my hand, leading me away from the table. I felt
Nicolai's eyes on me as I started dancing with his brother, and my cheeks flushed. I focused on
Alexander's feet and mine, trying not to trip. After a few minutes, I grasped the basic steps.
"Come, Nicolai. Take over. You're the best dancer out of all of us."
Nicolai seemed reluctant.
"Go on," Frederic urged. "We know how much you enjoy dancing."
He took Alexander's place. One hand held mine while the other rested on my hip. I felt self-
conscious, worried that he'd noticed the sweat on my palm or my lack of dancing skills. He clearly knew
what he was doing. Yet somehow, despite my nerves, as we continued to dance everything seemed to fade
away. I even managed to ignore the pounding of my heart. It felt like it was just the two of us in that
room, even though his brothers hadn't gone anywhere. A hundred different questions perched themselves
on the tip of my tongue, but I couldn't bring myself to actually ask any of them.
When the song was over, Nicolai dropped his hands to his sides and turned to look at his brothers.
"There, are the three of you satisfied now?"
Follow the tour HERE
for exclusive excerpts, guest posts and a giveaway!