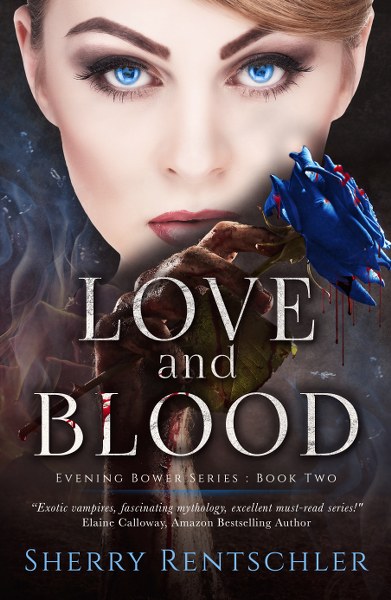 Love and Blood
Genre: Paranormal Romance

When Rhea and Amor-el defeated the vampire horde, they thought they won.
When Rhea birthed Destin, the miracle son, they thought they fulfilled an
ancient prophecy.
When the blue roses bloomed, they thought they achieved a long-denied
bliss.
They were wrong.
Now, the blue roses are dying. A tarot card reading warns of impending
dangers and an impossible future. In this gripping sequel to the
bestselling Time and Blood, a strangely ailing Rhea, a desperate
Amor-el, and a jealous Destin must confront familiar enemies banding
together against Rhea and her bower family. These powerful
adversaries plan to kill the phoenix, her lover, and her son; steal
The Great Book of Forgetting, and end the prophecy.
When arson and murder strike too close to friends, they question loyalties
and deny love when they need it most. Blood stains the bower.
To protect her family and the prophecy Rhea makes the ultimate
sacrifice. After all, in the battle between love and blood, blood never lies.
Her decision will change the bower – and her – forever.
**Only .99 cents!!**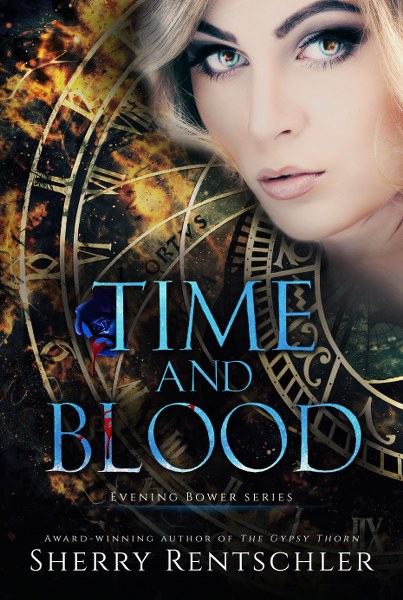 Time and Blood

Historians in Atlantis inscribed a prophecy in The Great Book of Forgetting
about a pair of phoenix whose union would change the future of all
magical creatures. When the sea swallowed Atlantis and all her
inhabitants, time forgot the people and this prophecy.
But one creature survived.
Rhea is a scarlet phoenix and the last of her kind. She escaped Atlantis
with The Great Book and for over ten thousand years roamed the earth,
grieved for her lost immortal beloved, and endured nightmares from
her past lives. Today, she hears a familiar voice on the wind luring
her to a new place. Rhea follows and hopes for the impossible.
She crossed millennia to find him.
Jean-Louis is a 250-year-old vampire in New Orleans. For fifty years,
nightmares
plagued him, and a violent wind haunted him whispering in a foreign
tongue. In his dreams, Jean-Louis sees the face of a woman he knows
and aches for but has never met. He feels her approach; however, the
vampire senses a connecting malevolence waits in the shadows.
He risks his immortality to keep her.
An accident will bring Rhea into Jean-Louis' arms. The shock will give
new life to the ancient prophecy. But others whisper of the legendary
phoenix and are hunting for Rhea. They must steal The Great Book and
prevent any chance of the prophecy's fulfillment. If they fail, the
phoenix must die.
Together they battle destiny for the future.
Rhea will risk everything for love, even death.
When time and blood converge, blood must win.

2018 Global Ebook Awards Legacy Award for
Excellence
2018 Global Ebook Awards Gold Medalist (Cover)
2018 Global Ebook Awards Silver Medalist (Fiction:
Fantasy/Contemporary)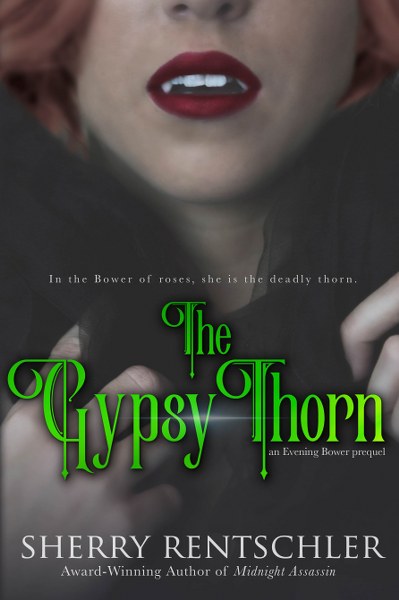 The Gypsy Thorn

She is
chosen.
When Atlantis fell into the sea, a single creature survived–a scarlet
phoenix. She escaped with ancient man's historical record, TheGreat Book of Forgetting. This book recorded mankind's every legend
and prophecy. Only the Archangel of Death understood man's survival
depended on the fulfillment of one particular prophecy, that of the
scarlet phoenix.
Rhea is the scarlet phoenix, transmuted into human form with wings of
fire. She hides The Great Book from those seeking to steal it and
prevent the prophecy. The Archangel befriends and protects her as he
watches her traverse time and mold history. She is the proverbial
rose that blooms in a future garden.
Jean-Louis Riviere is an aristocrat who became a vampire during the
American
Revolution. He is haunted by an ill wind whispering strange and
incredible possibilities. His family ties will lure those who wish to
destroy the prophecy; however, the Archangel also knows his blood is
all that will save the rose and secure the future
Drahomira is a gypsy, a bastard princess, and a vampire. The Archangel
of Death
chose her to protect the phoenix because she is an irreverent killer
but loyal to family. She will journey across continents and be the
catalyst that brings Rhea and Jean-Louis together. First, she must
leave her people, her throne, and her lover, cross a continent for
vengeance, die, and be reborn. Only then will she discover that she
is the rose's legendary thorn in the Evening Bower.

Sherry Rentschler's
fiction and poetry has appeared online and in print.
She's a previous Assistant Editor, Amateur Poetry Journal (online),
and a newspaper photojournalist. She lived in Italy, traveling around
Europe, the Middle East, the Caribbean, Puerto Rico, and Greenland.
Rentschler has three award-winning books of poetry,
a fictional memoir and an award-winning and bestselling paranormal
romance series, The Evening Bower. Her one book of photography, I
Wish You Joy is Rentschler's only photographic compellation and makes
a lovely coffee table pictorial.
Among Sherry's numerous
awards include a 2018 Global Ebook Legacy Award, a 2018 Global Ebook
Gold Award, two 2018 Global Ebook Silver awards for Fiction, a 2018
Readers Favorite Honorable Mention for her fantasies The Gypsy Thorn,
and Time and Blood. Plus two 2017 National Indie Excellence Award
Finalists (The Book of Now interior and poetry), 2017 eLit Book
Silver Award for poetry (The Book of Now), a 2017 Indie Press Award
for the cover of her non-fiction poetry, The Book of Now, 2017
Readers' Favorite 5 Star reviews for Breaking the Glass Slipper, and
The Book of Now.
Among her hobbies are all things vampire,
plus dragon collecting, photographing trees, and dancing with
faeries. She loves old Sherlock Holmes movies, reading urban and
gothic fantasies, fine wine, and consuming rich, dark chocolate.
Rentschler is a retired USAF veteran and currently resides in North
Carolina with her husband, also a retired USAF veteran. They await
the return of the dragons.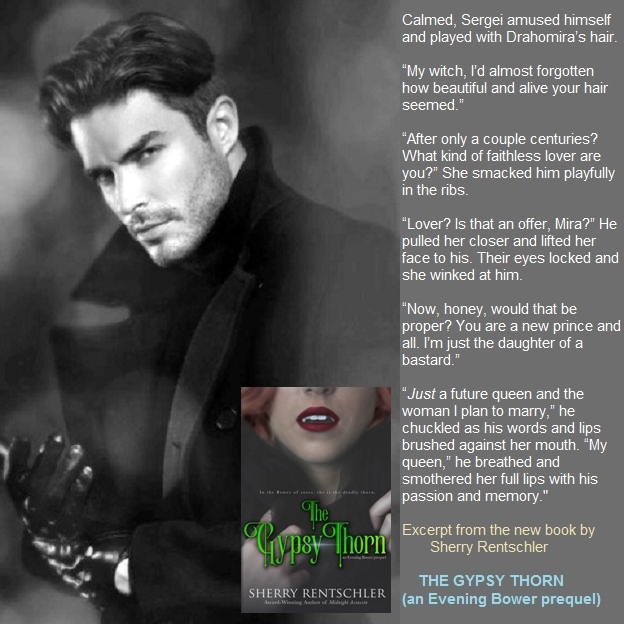 NEXT AND OVER THE HORIZEN
Every writer is working on something. For me, it's the next book in my Evening Bower series. This one
will be called The Gypsy Curse and fans of my redheaded vampire Drahomira will be on the lookout for
it. Plus I'm working on a novella of vignettes between my characters. These would be moments/scenes
that didn't make it into the books or things I thought would be fun if they had happened. I expect to off
this in the Spring of 2019.
I'm also working on a series of workbooks for people who want to write and just don't know how to get
started. These aren't going to teach you how to write and publish, but to teach you how to begin to write
every day and tap into the muse. I hear from people all the time who say, "I don't know how to write. I
don't know what I know or what I think." These fun workbooks will be able to be repeated and will help
established writers too. They are excercises for the muse. Like any muscle it improves with strength.
I am thinking long term too. I've been coaching and taking editing work and may begin scaling back so I
can concentrate more on personal writing. I want to create a few anthologies too with other authors who
feel as I do about inspiring new writers. That's far over the bend at the moment, perhaps in 2020.
My only goal as an author is to bring joy to a reader. Make them yell or sigh, love or cry, my one goal is
to make a reader FEEL. If I do this, I have succeeded in life.
I think I would like for readers to tap into my poetry too. I've three volumes of poems and all of them
different. If you want to really know what I think about things, read my poetry like in Paper Bones or The
Book of Now.
Follow the tour HERE
for exclusive excerpts, guest posts and a giveaway!