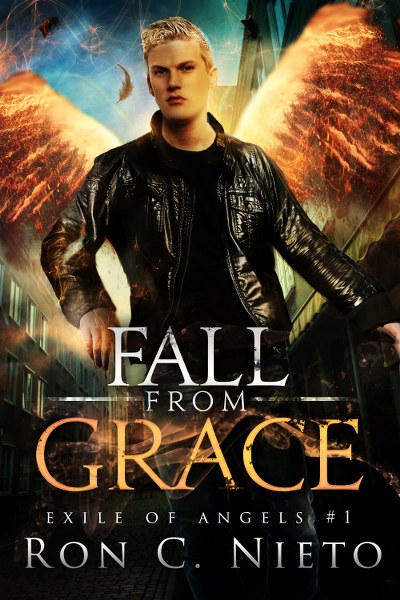 Fall
From Grace
Exile
of Angels Book 1
by
Ron C. Nieto
Genre:
Urban Fantasy
Hell
was meant to be a timeless prison. It's not.
Henry
Black, former Archangel of Secret Knowledge, wants some peace of mind
after untold millennia locked up in Hell, but the guilt of inhabiting
a body that is not his own and of having left behind his brothers and
sisters still damned to solitary confinement eats him up inside.
Old
sins are hard to cleanse.
He
thinks he can atone by doing the right thing—play the older brother
to his host body's kin while upturning every secret buried in
Creation until he finds a way to free every single angel who fell—but
with every fact uncovered, he finds himself one step further from the
release he craves and one step closer to more chains that
bind.
Maybe
the only way to be at peace with himself is to face a new war head
on…
Rise
To Freedom
Exile
of Angels Book 2
I
am a demon possessing the body of the late Malik Sadik. 
Truth.
Yes,
the former Archangel of Truth now inhabits the body of coffeehouse
barista Malik Sadik. But Malik wasn't a willing participant to this
possession, not like Henry Black. The human Henry Black willingly
gave over his body to the Archangel of Secret Knowledge. Malik, on
the other hand, was merely in the wrong place at the wrong time.
I
still feel human. Truth.

Yes,
Malik still feels human. But he's not human and a war is brewing.
When Hell threatens to unravel and its black hunger eats and corrupts
those Malik has learned to care about, he must make a choice between
what he knew as an angel and what he has begun to feel as a man.
So,
what happens when Truth isn't right?
Ron
C. Nieto is a fantasy and romance author who has been writing in her
secluded fortress for the longest time. Recently, she had a talk with
her cat and decided that she should share her creations, because it
was selfish to hoard them all for herself.



John knocked on a broom closet.
Okay, maybe it isn't a broom closet, but it's the same size as one.
"Come in," Black called out.
John opened the door and they filed in. Like a joke from an old Marx Brothers
show. The tiny office didn't have windows, and the desk inside was made of aluminum
and steel, one of those cheap things old men bought at Home Depot for their DIY
dreams. It had a laptop to one side and two piles of paper to the other. The top sheet of
each pile was covered in designs and diagrams, sketched in different colors. The pens
used were lined up, straight as a ruler, each pen a quarter of an inch apart. The whole
table spelled out "Spartan OCD," and behind it sat Henry Black.
Albino. Certified genius. And former Archangel of Secret Knowledge.
Not a cop, even though he was currently running Detroit's Fifth Police Precinct.
Black gestured for them to sit down. The small room had four chairs for visitors,
two in front of the desk and two lined up against the wall. All four of them were also
cheap Home Depot purchases, and the steel groaned when John plopped down. Malik
sat at the cop's right, and Ed closed the door and hovered in front of it.
"Found anything yet?" John asked, nodding to the piles of paper.
Black smiled, the corners of his lips tucking up on one side, and he finished the
diagram he'd been working on before adding the sheet to one of his piles.
Green drawing. What did that mean? Damn, the man color codes too much."Why don't you tell me what you found?" he shot back, ignoring John's
question.
John grinned and relaxed. Black brushing him off didn't bother him, or at least it
didn't bother him as much as it pained Malik.
"Well," he began, "you were right this time. We found one of those corrupted
people. A woman." His smile lost its luster, the memory of the raid weighting on the
room.
Black nodded. Damn smug bastard.
"Did you see anyone else? Any… ah, clue that might reveal an incident?" he
asked.
"Just the woman. And her babe. No one else, no signs of violence or anything."
John stopped, hesitated. "You know, it would help a lot if you were more specific about
these 'clues' we're meant to look for."
"I do know," Black said. Smug, smug bastard. He drummed his fingers on the
desk, playing a soft tune. His gaze slipped high for a moment, as if lost in thought, but
he didn't look sad or sorry. We've just told him this damn incident of his touched a baby
and see if he cares. "Any anomaly?" he asked.
Nope. Nothing beyond the fact that we were dealing with Hell and possessed
humans, and somehow this has become our normal life.
Follow
the tour
HERE
for exclusive excerpts, guest posts and a giveaway!