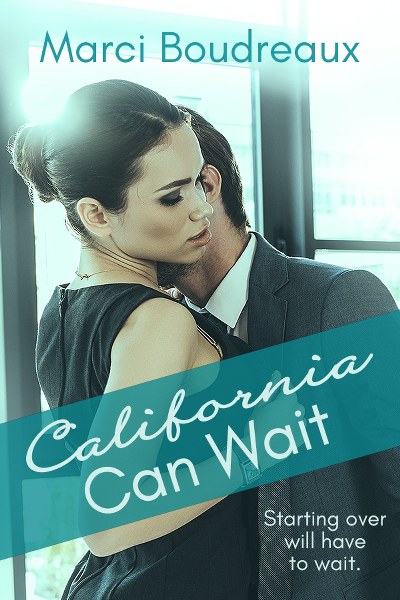 California Can Wait
Genre: Contemporary Romance

Reporter Andrea Davidson isn't running from her mistakes. There's no escaping
the career-ending mess she fell into back home. But she is moving
forward, and is halfway to a new life in California when someone
breaks into her motel room. She's lost her computer and her dignity,
but that's only the beginning of her newest problem: local news
editor Graham Bradley.
Graham Bradley doesn't know a thing about the newspaper business. A widow
with a promise to keep, he's got more than just his own personal
welfare riding on this small-town paper. The last thing he needs is a
pushy woman with a secret in her past and a vicious red pen throwing
all his mistakes and insecurities front and center on his desk. Faced
with an impossible choice, Graham hires Andi, but hopes she's not
just the last-and maybe worst-in a long line of bad decisions. Saving
the small-town Gazette is the second chance both Andi and Graham need.
But with bill collectors calling, Andi's past catching up fast, and the
chemistry between them making work next to impossible, will Andi and
Graham get the second chance they both desperately need? Or will
their demise be the next big headline?
As a teen, Marci Boudreaux skipped over
young adult books and jumped right into the world of romance novels.
She's never left. Marci lives with her husband, two kiddos, and
their numerous pets. She is a freelance writer appearing monthly in a
variety of local magazines as well as a content editor.
Romance is her preferred reading and writing genre because nothing feels
better than falling in love with someone new and her husband doesn't
like when she does that in real life.

How did you come up with the idea for your book?
That is the one question authors seem to get all the time and one that isn't always easy to answer.
Characters and plots tend to evolve over time and don't always have a clear starting point.
That's not the case with California Can Wait.
I know exactly where this book came from. At the risk of sounding too much like an E.L. James rip off,
this book used to be fanfiction. Not for Twilight however. There were never any sparkling vampires here.
My fanfiction habit was based on the now defunct soap opera One Life To Live and that is where this
particular story got it's origin. So many of the readers who struggled through my bad grammar back then
are still reading my stories—luckily, I have better grammar now!
If you are a fanfiction writer or reader, you know how passionate we fans can be when the shows don't do
the characters justice. In this case, the writers were really trashing my favorite character Viki Lord
(played by the amazing Erika Slezak). After hitting what seemed like rock bottom, she disappeared off-
screen for several months for a bit of a character reboot.
In the meantime, I whipped up this fanfiction story that the readers just loved. Years and years later, I am
still asked if I can take this story or that story and make them into novels. That's actually a bit more
challenging that it seems because fanfiction already has a world and established characters, but this
particular story was a bit easier. Since I was introducing new characters in a new town where our heroine
had gone while not on-screen, I was able to eliminate any potential copyrighted material fairly easily to
add to a for-sale product.
The characters in California Can Wait have grown quite a bit from where that story was, but the readers
who were with me back then are going to recognize a lot of elements from the original. And new
readers…without this confession, you never would have known!
Follow the tour HERE
for exclusive excerpts, guest posts and a giveaway!



a Rafflecopter
giveaway