This post is sponsored by TATU Digital Media. Any opinions expressed are my own.
Traveling to see family for spring break or Easter?  Trying to find ways to make your dollar stretch so you can fill your gas tank to get there AND fill Easter baskets. Ahold stores are offering 4X gas rewards with the purchase of select gift cards but only until 4/20/17!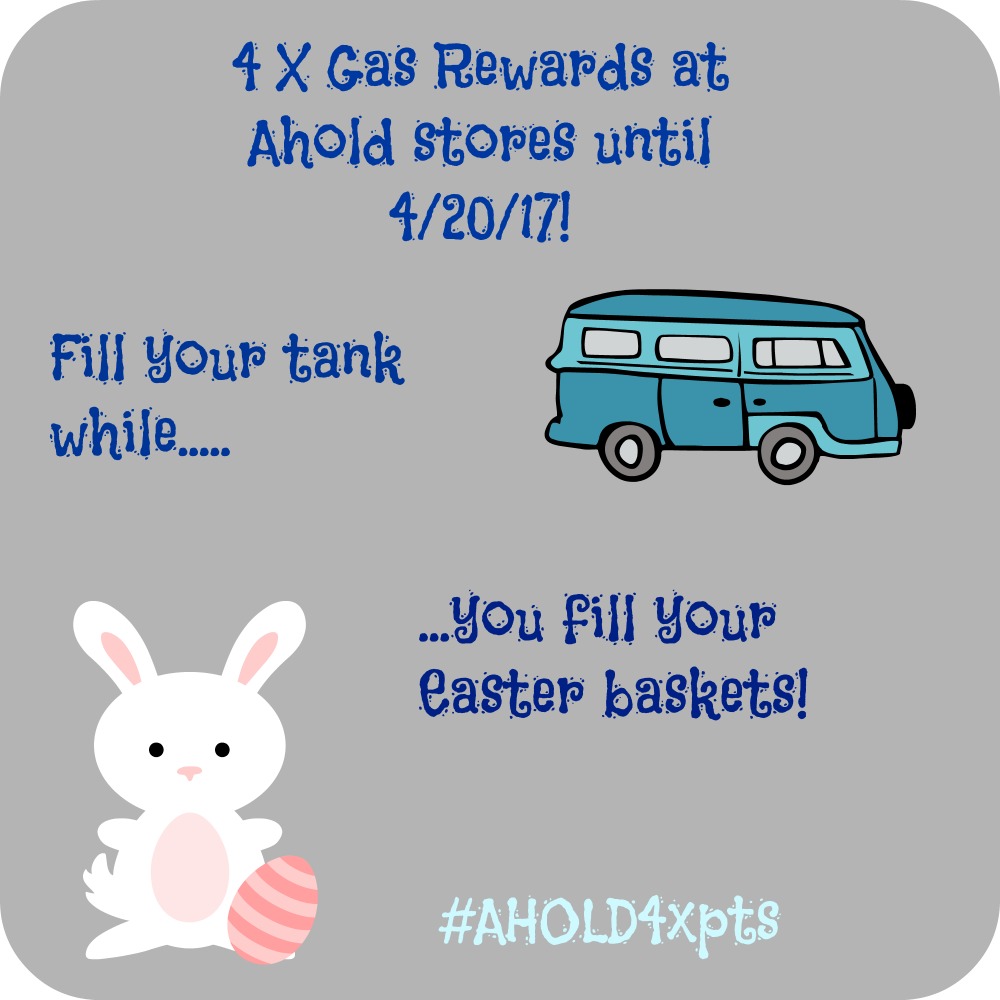 When you buy select gift cards at Ahold stores until 4/20 you'll get 4x gas rewards!  Participating gift cards include: American Eagle Outfitters, Applebees, Toys R Us, Xbox, Fandango, Google Play, Bass Pro Shops, iTunes, JCPenney, AMC Theaters, Domino's, Red Robin, Regal Entertainment, GameStop
I know my boys would love to have a GameStop gift card or iTunes gift card in their basket instead of a bunch of candy. AMC Theaters or Regal Entertainment gift cards would be great to entertain the family during spring break or Easter break. Buy a Toys R Us gift card then use it to fill little ones Easter baskets.  Use your favorite rewards credit card when purchase the gift card to not only earn the gas rewards but credit card rewards too!  JCPenney gift cards are great for purchases Easter outfits.
Another idea to get the biggest stretch from your dollar. Buy one of the participating gift card with your rewards credit card = Earn rewards there. When you buy the gift cards at Ahold stores = 4x gas rewards. Use the gift cards to shop online through your favorite cash back site = earn cash back there. So to recap you'll earn: credit card rewards, 4X gas rewards, and cash back buy doing it this way and shopping online.
Don't forget the summer break will be coming up for the kids for school. (I know I'm already thinking about that).  You could stock up on movie theater gift cards for things to do on a rainy day in the summer. Grab Bass Pro Shop gift card to get your fishing gear, camping chairs, and anything else you  might need to make your summer break fun. Grab Dominos or Red Robin gift cards for a day off from cooking and keep it for day you really need it. Lots of ways to get your gas rewards here!
Not sure if you have an Ahold store near you? No problem, find a store near you! http://bit.ly/2aHLwi8
GIVEAWAY