I received the below mentioned products as part of the Purex Insiders.
Before my two youngest kids were born and before I got into blogging I used to love to do paper crafts.  Truth is I still do.  As a matter of fact I kept a whole tote of all my supplies thinking that one of these days I'm going to get back to it.  My favorite thing to make was cards. When I had time I'd sit down and make up all kinds of cards: birthday, get well, thank you, blank notes, etc.  I didn't have to buy cards and they were unique.  Then when I needed a card I'd just pull one out.  I loved it, it was a way for me to express myself.
Spellbinders Celebra'tions Collection by Richard Garay is a complete collection of dies, stamps, paper, inks, and accessories.  All pieces are created to work perfectly with each other.  I was sent 2 kits to try.  When I saw that one of them was the Celebrate Party Hat Card, I couldn't wait to try it.   The kit came with everything but the glue I needed to put this cute card together.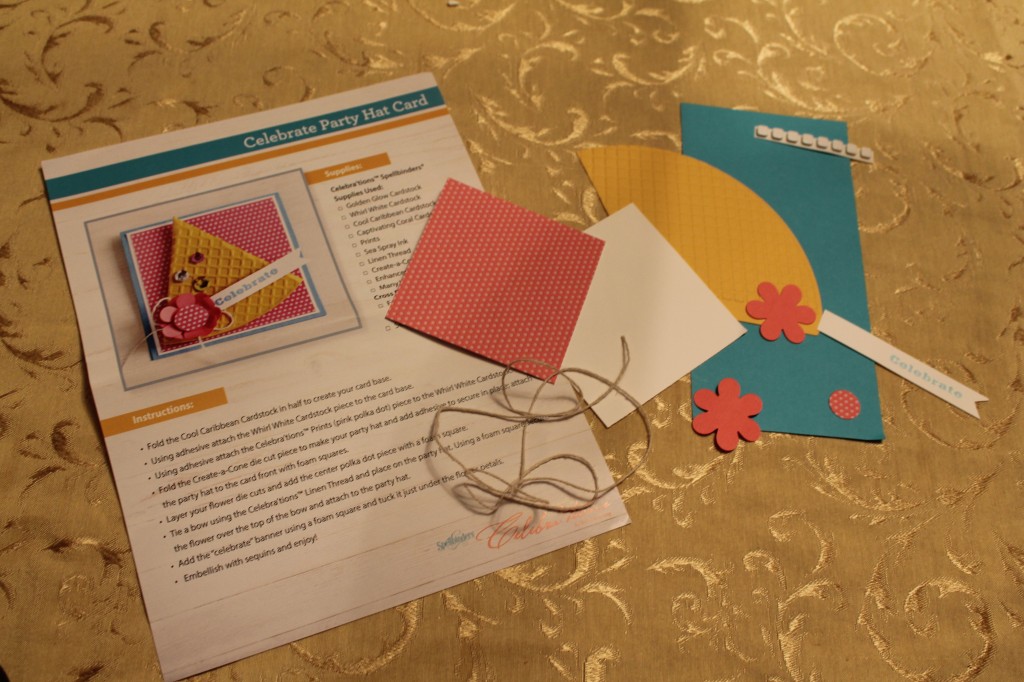 The pink polka dot paper was actually 2 sided.  The other side had a sort of polka dot confetti look to it so I decided to give that a try rather than sticking with the pink side.  It had easy step by step directions and I had this card together in no time!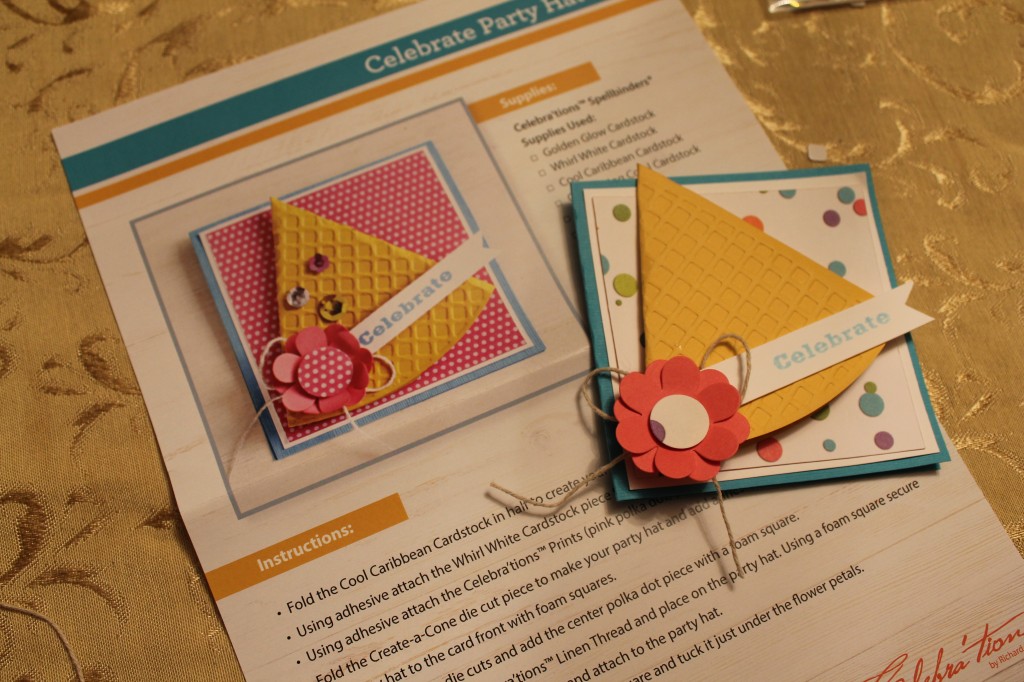 I decided on the less pink design because I plan on using this card to go along with a baby gift I bought.  I think this will be cute to write a note about celebrating new life.  I may even punch a hole in the corner and tie it to the gift bag with the excess linen thread that came with the kit.  This card is a cute size to use as a gift tag.  What I like about the kits I received is you don't have to be crafty or have knowledge of paper crafts to get the finished product.  I love paper crafts too because you can just use the picture or directions as an inspiration and go your own way if you want.
Spellbinders also sent me the Spellbinders Celebra'tions Clear Polymer Stamps.  If you've never used clear polymer stamps before, you need to have an acrylic block to stick them to to stamp. The acrylic blocks come in different sizes and you can find them at about any craft store that sells paper crafting supplies.  I found some at Michaels for $1 a piece.  I probably use the 2″ x 2″ in the most but you can get bigger ones to create phrases and things with more than one word stamp like the ones included in my kit.
The polymer stamps self stick to the block and are easily removed to reuse.  Don't forget to clean your stamps off before storing again.  You can clean them with soap and water but they do make special stamp cleaners that also help condition your stamps so they don't dry out.
Do you do paper crafts?  Have you ever wanted to try?  What crafts are you into?