When my hubby and I moved into our house it looked so big and empty. We started with mostly hand me down furniture. We had a futon for a couch, a small tv from my hubby's room at his dad's house, and a couple of framed art pieces I brought with me from my place.  His mom gave us a few too. Nothing really matched but at the time I was happy to just have something to perk up the walls a bit and make it look more..homey.
It's amazing what the right picture can do for a room.  Since we've been married we're upgraded things and replaced the mismatched things as we went. One thing I wanted for our home was a beach scene picture.  We don't really have any beach decor in our house but for me it would be more like a picture to look at when I need to cool down for a minute or just need to mentally step away for a minute.  The beach is my happy place.  Hubby and the kids love it too. Fulcrumgallery.com has so many art pieces to choose from.  Black and white, portrait, etc. They had so many awesome beach art pieces for me to choose from.  I ended up going with this one.
It's such a warm picture.  It's not busy.  The adirondack chairs with the umbrella on the beach, just two, looks like they're waiting for me and hubby to get away.  The the sand dunes giving a sense of privacy but still welcoming.  We're headed to the beach in August and I can't wait.  I also love water pictures.  Beautiful photography of crystal blue ocean waves and things like that.  Sometimes I think I was meant to be born by the ocean.  Look at this gorgeous professional photographer piece by Ken Paul called Caribbean Blue.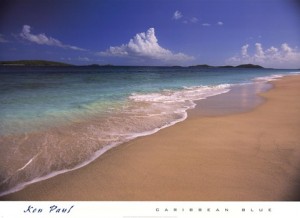 When I was asked to choose one piece form their site I had such a hard time.  The one I chose in the first picture is under $100 with the frame I chose.  I had the option to get it as a print, laminate, canvas or framed.  When you choose framed the price does go up a bit and you have many frames to choose from.  Some frames cost more than others.  I liked the frame I chose because  I think it kept the sense of light and warmth with the picture.
I could easily spend an hour just looking over the site and envisioning different pieces for each room in my house.  I encourage you to visit Fulcrum Gallery now, at the time of this posting they have 40-50% off sitewide!
You can also find Fulcrum Gallery on these social media sites:
Twitter: @FulcrumGallery
Facebook: facebook.com/fulcrumgallery
Pinterest: pinterest.com/fulcrumgallery/
GIVEAWAY
1 Luv Saving Money reader will get to choose
any ONE  of the following: print, canvas, poster, OR framed art under $100 (including shipping) on the site
US only
I received one or more of the products mentioned above for free using Tomoson.com. Regardless, I only recommend products or services I use personally and believe will be good for my readers.