**I received the below mentioned product in order to complete an honest review.  No other compensation has been received.  Any opinions expressed are my own**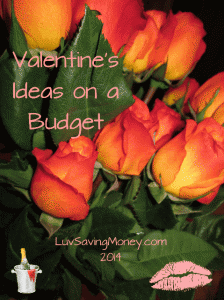 Valentine's Day is next week!! Can you believe it?  Guys and gals will be getting ready for Valentine's Day with their sweethearts.  What kids of things do you do to get ready for a special date night?  Making sure you're freshly shaved, making sure your skin is soft and smooth, and of course you want to smell good. 
Actz Cosmetics has a big selection of natural body products for Valentine Pampering.  For the single gals, maybe a spa day with your besties.  I'm a sucker for luscious bath products that make my skin feel good.  When they look good too, it's like eye candy for me.  Take a look at Actzcosmetics.com, I don't know weather to eat it or use it on my body lol.
Actz Cosmetics uses natural ingredients. Their products are eco-friendly, paraben free, phthalate free, and vegetable derived. They're also a company that does MORE by supporting domestic violence victims and their children.   I received a generous amount of products to try from Actz Cosmetics.  I had to show you how the product came packaged.  I thought it was a clever idea for packing not to mention eco-friendly and budget friendly!
Yep that's popcorn as packing.  What a great idea! I received so many great products I'm gonna talk about a few of them.  I LOVE sugar scrubs.  My skin gets so dry especially in the winter time (like now!).  I use a sugar scrub on my legs a couple times a week and the rest of my body at least once a week.  Look at this yummy looking sugar scrub I received.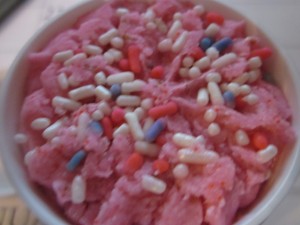 It looks like sprinkles on top when you first open the container.  I had a hard time finding the scent of each of the products I received.  It seems most of them were the Love Spell scent which makes sense for Valentine's Day.  The scent was wonderful.  I could smell it as I started to take the lid off.  The consistency of this product reminded me of cocoa butter but there were the granules in it to help slough off the dry skin.  The jar says "made with natural butter and natural seeds.
As I used it on my body in the shower it did foam a bit like soap.  I could feel almost instant relief from my dry skin on my legs when I applied it.  The only suggestion I have for this product is that it says you're supposed to keep water out of the container and apply with dry hands or a scoop.  My container didn't come with a scoop and it's hard to use dry hands in the shower.  I'd like to see it come with a little make up spatula or even a popsicle type stick maybe.
Another product I received was this cute little glycerin soap from their "shower candy & desserts" selection.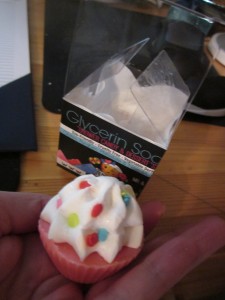 This little cupcake soap smelled like bubblegum.  My youngest son claimed this one.  He says "mommy I like cupcakes". Of course, I had to tell him it was soap and not a real cupcake. I'm not really sure what the "icing" is made from but it has a sort of spongy texture just like the small glycerin soap I received.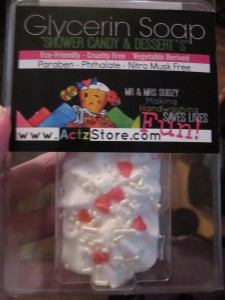 I personally used this little soap.  I thought the spongy frosting part of the soap would disappear right away but it didn't.  The "icing" part of the soap seems to have some kind of moisturizer built in because it's lubricated when wet than the glycerin part. I also received one of the Floating soap bars from the Marshmallow collection.  This bar is very light and airy.  And yes it really does float in the tub.  I love the texture on the top of the bar.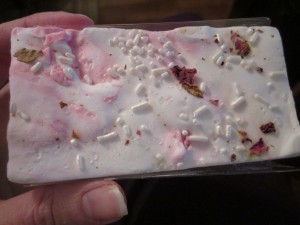 Are these pictures making you hungry? Marshmallows, cupcakes, sprinkles, oh such a tease and they all smell so good.  The body butter I received came in a squeeze bottle with a flip top spout.  I rather liked this method of dispensing the body butter.  In the past, I've used body butters in a tub and scooped it out with my fingers.  This was much less messy.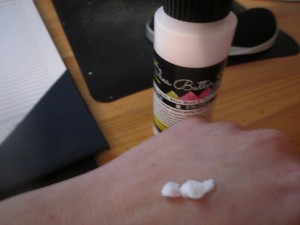 I also received a body spray in the Love Spell scent.  A little spritzer bottle.  When it initially came out of the bottle I honestly thought it smell more like a margarita or maybe fruit punch but after it settled on my skin for a little bit my it started to work with my body chemistry and matched with the scent of the rest of the products I received.
Last but not least, I received a sample for the Actz Cosmetics Tangerine Calendula Face Wash.  I never tried a face wash quite like this.  It had a thicker consistency.  I honestly could not smell the tangerine part of it but could definitely smell the calendula.  At first I didn't think I'd like it on my face with the thicker consistency until I washed my face.  It seemed to have some moisturizing properties because the skin on my face felt almost instantly quenched. I was surprised for a face wash.
There are products for kids and guys too on the site.  I know that was a lot of products to talk about in one post but I felt they all bared a mention.  In short, the products are wonderful.  They have some really great products that will definitely get you looking your best for Valentine's Day.  There's a lot of cute kids products too  I'm already eyeballing things for basket fillers like the Sudzy Fairies Bath Water Colors or bathtub crayons.  Personally the next product I want to try is the Shaving Taffy.  Once last thing, you HAVE to check out the dessert soaps and tell me it doesn't look like you're looking at a dessert menu!
You can find Actz Cosmetics on these social media sites:
Facebook: facebook.com/ACTZStore
Pinterest: pinterest.com/actzcosmetics/