***I wrote this post as a blogger for the US Family Guide. I will be received this brush set to review. No other compensation has been received**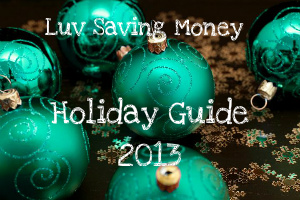 Do you have  a beauty junkie you need a gift idea for.  There could be many ideas but this 24 Piece Professional Makeup Brush Set with Travel Case might just make the make up guru on your list break out her video camera for a YouTube make up tutorial.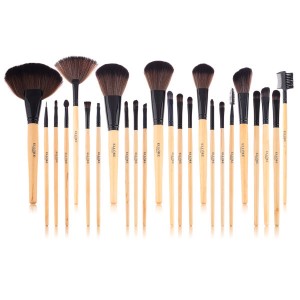 The Ellore Femme 24 Piece Professional Makeup Brush Set with Travel Case provides you with specific tools cover a wide range of areas! From eyes to lips to second foreheads and boast a luxurious blend of soft animal hair and synthetic bristles. The slim brushes stay neatly lined within a fold-up PVC case.
24 professional makeup brushes
Designed for foundation, blush, eye shadow, and more
Bristles made from natural animal hair and synthetic fibers
Fold-up leather case for easy transport
Dimensions: 9.85″ (L) x 4.9″ (W) x 1.9″ (H)
Isn't gorgeous???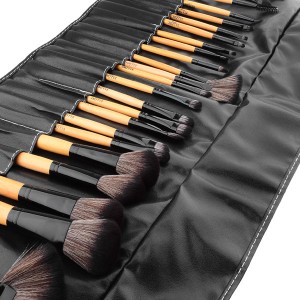 Included Brushes
Bevel eyebrow/eyeliner brush
Concealer brush
Eyebrow and eyelash comb
Eyelash brush
Eye-shadow brush
Fine eyeliner brush
Foundation brush
Highlight brush
Large bevel contour brush
Large eye-shadow brush
Large powder brush
Lip brush
Medium bevel eyebrow/eye shadow
Medium bevel eye-shadow brush
Nose-shadow brush
One large fan-shaped extra-powder brush
Powder and blush brush
Small bevel eyebrow/eye shadow brush
Small fan-shaped extra-powder brush
Sponge eye-shadow brush
Two medium eye-shadow brushes
Two small eye-shadow brushes
Roll-up leather case
My Readers save $120 Off Ellore Femme 24 peice makeup brush set with promo code BL29 http://www.ellorefemme.com/usd/24pc-make-up-brush-set.html
Regular Price: US $149.99
Blog Price: $29.99 with Promo Code: BL29
I'm know make up artist but the idea of using these tools to apply my make up gives me inspiration.  I honestly enjoy doing my make up when I have the time to do it the way I want it.   I can't wait to try out this beautiful and inspiring make up brush set from Ellore Femme!