**I will receive a wooden spoon for sharing this post**
Red Gold, the makers of the Tuttorosso brand have been around since the 1940's.  The focus growing locally in the midwest.  The midwest has the perfect growing season for tomatoes for another of reasons.  You may already use Tuttorosso products in your family meals.  I know I have.
Speaking of family, many families have things that are passed down through the generations.  Maybe it's a recipe, a piece of jewelry, or something else that special in your family.  Wooden spoons are something that is popular to hand down to the next cook in the family.  To celebrate the nostalgia and heritage of the wooden spoon, Tuttorrosso will be giving away 3,000 wooden spoons over a 3 week period starting October 22 on their facebook page: http://www.facebook.com/tuttorossotomato
Simply like their facebook page, fill in your contact info, and they will randomly draw winner for the wooden spoons.
This just added, Tuttorosso is going to do a special giveaway of a wooden spoon to one LuvSavingMoney reader.  I got mine and it's really a good quality spoon.  Very solid and bigger than the cheap ones I have.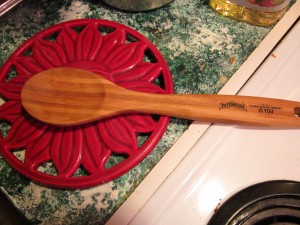 GIVEAWAY
1 Luv Saving Money reader will win a wooden Tuttorosso spoon
US only